You may have caught wind of the feel-good tale about Carson King — a 24-year-old who held up a sign in front of cameras that asked for help in replenishing his supply of Busch Light beer and then donated the more than $1 million that came in to the University of Iowa's Stead Children's Hospital.
Well, the sunshine-filled story got awfully dark Tuesday night.
What happened?
The Des Moines Register posted a profile of King on Tuesday evening that on its face appeared in line with the feel-good nature of what had transpired.
But dropped in at the end of the article was a revelation that a "routine background check of King's social media revealed two racist jokes, one comparing black mothers to gorillas and another making light of black people killed in the holocaust. The joke tweets date back to 2012, when King was a 16-year-old high school student."
More from the Register's profile:
When asked about the tweets, King was remorseful and thanked the Register for pointing them out, saying they made him "sick." He has since deleted them.

"That's not something that I'm proud of at all," he told the Register during the day Tuesday.

Tuesday evening, King spoke to local television stations about the now-deleted tweets.

"I am embarrassed and stunned to reflect on what I thought was funny when I was 16-year-old," he said in a statement posted by WHO-TV. "I want to sincerely apologize."

He also read the statement in a video posted by KCCI-TV.

Anheuser-Busch InBev, Busch Light's parent company, announced in a statement Tuesday night that they will "have no further association with [King]," though they will honor their agreement to match the funds for the children's hospital.
Sometime after the King profile went live at 9:33 p.m., Twitter users caught wind of the controversy and were angry that King seemingly was forced into the position of having to apologize for his teenage posts — and folks were angry at the Register for bringing them up. There were calls to boycott the paper, cancel subscriptions, and have the Register issue a front-page apology to King.
Two hours later, at 11:36 p.m., Carol Hunter — the paper's executive editor — posted an explanation, saying the paper's editors weighed the options: Should King's "highly inappropriate ... public posts" be brought to light so those donating to his cause could know? Or should the tweets not be part of the story, given they're seven years old and King was "remorseful"?
"Eventually, Register editors decided we would include the information, but at the bottom of the story," Hunter said. "We thought we should be transparent about what we had found, but not highlight it at the top of the story or as a separate story. It was planned as a few paragraphs toward the bottom of the profile."
She added: "Reasonable people can look at the same set of facts and disagree on what merits publication. But rest assured such decisions are not made lightly and are rooted in what we perceive as the public good."
Twitter users get angry
Soon Twitter users — incensed that King's name was seemingly being dragged through the mud after doing so much good — decided to turn the tables and do a background check of their own on Aaron Calvin, the Register reporter who penned the King profile.
And the armchair sleuths said they uncovered "racist" Twitter posts from Calvin — and they reposted them for all the world to see. Here's a small sampling: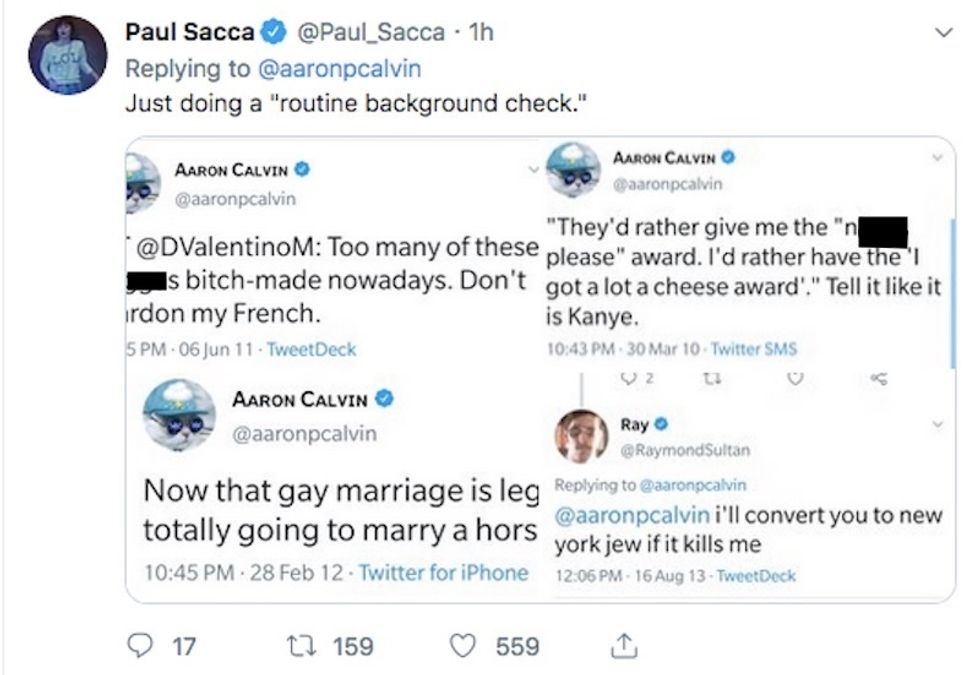 Image source: Twitter, redacted
Calvin also was alleged to have posted tweets saying things such as "f*** all cops" and "who isn't verbally abusive to their gfs."
And amid the flurry tweets dredged up from the reporter's social media past — many of them from the same time period that he found King's tweets — Calvin's Twitter account soon went from public to protected.
What's more, the Register noted on Twitter that it had launched an investigation concerning allegations against "one of our staffers." Reactions to said post were unkind to say the least:
"F*** you."
"I know when I read an uplifting story about someone, my first thought is 'but what did they tweet when they were 16?' Thanks for the thorough reporting."
"Did you do a 'routine background investigation' including social media before the staffer was hired?"
"Can't wait for the front-page story about what a bigot he is."
"Trust me, this is just the beginning. Everyone working at @DMRegister better be prepared for the same treatment. We're combing thru ALL of your social media posts going back to whenever you got on social media. Get ready to taste your own medicine jerks!"
"Fire the writer. Fire the editor. The original tweets should never have been part of the story. This is why the reputation of the media is in tatters. The writer's tweets are just icing on the cake."
Fox News said that Calvin issued a statement on Twitter prior to his account being protected: "Hey just wanted to say that I have deleted previous tweets that have been inappropriate or insensitive. I apologize for not holding myself to the same standards as the Register holds others."
Anything else?
Hunter's explanation regarding the Register's handling of King's tweets also said King's "news conference was covered by local television stations, which first reported on the racist posts and King's remorse. After those stories aired, Busch Light's parent company announced it would honor its pledge to the children's hospital but would sever future ties with King."
However, a WHO-TV reporter said King learned at 2:16 p.m. that Busch was cutting ties with him, and the press conference wasn't until 7 p.m.
Carson tells me he knew at 2:16PM that @BuschBeer was severing ties after tweets brought to its attention. Busch L… https://t.co/yRymtE7UtT

— Keith Murphy (@Keith Murphy) 1569384384.0
TheBlaze on Wednesday morning reached out to Calvin for comment regarding what Twitter users said they found on his account, as well as to Hunter for further explanation regarding the process for choosing to run King's tweets. Neither immediately responded to TheBlaze's messages.