Valerie Plame, the former CIA officer at the center of a George W. Bush-era leak scandal — but who has recently been in the news lately for all of the wrong reasons — has announced that she is running for Congress as a Democrat in New Mexico.
The former CIA operative is running for the seat in New Mexico's 3rd Congressional District, which is being vacated by Rep. Ben Ray Lujan (D), who has announced he is running for the U.S. Senate.
"Over 10 years ago, I chose to make New Mexico my home and it has become my heart," Plame said on her campaign website. "I have lived all over the world and have never felt more connected to a place and its special people than in the Land of Enchantment."
Plame has made the news again over the past couple of years — but largely because of her overt anti-Semitism.
In September 2017, she tweeted out an article from the anti-Semitic conspiracy site Unz, which was titled, "America's Jews Are Driving America's Wars." The story was rife with overt Jew hatred.
"For those American Jews who lack any shred of integrity, the media should be required to label them at the bottom of the television screen whenever they pop up, e.g. Bill Kristol is "Jewish and an outspoken supporter of the state of Israel," author Philip Giraldi wrote.
After receiving fierce blowback, Plame apologized on Twitter, claiming that she somehow missed the anti-Semitism in the article.
Who could have known that an article titled "America's Jews Are Driving America's Wars" might be anti-Semitic trash? https://t.co/v06gjRbTk6

— Matt O'Brien (@Matt O'Brien) 1506014786.0
Prior to deleting her Twitter account Thursday, Plame's latest tweets were her apologies for the anti-Semitic posts.

As recently as Thursday morning, however, Plame still had tweets up advancing anti-Jewish 9/11 conspiracy theories.
Valerie Plame is running for Congress as a Democrat, and now, all of a sudden, many legacy media outlets have seemi… https://t.co/n1qiA2PbIA

— Jordan Schachtel (@Jordan Schachtel) 1557419521.0
"I never heard this story about 9/11: The Dancing Israelis," Plame wrote in a 2015 post that was live on her Twitter account as of Thursday morning.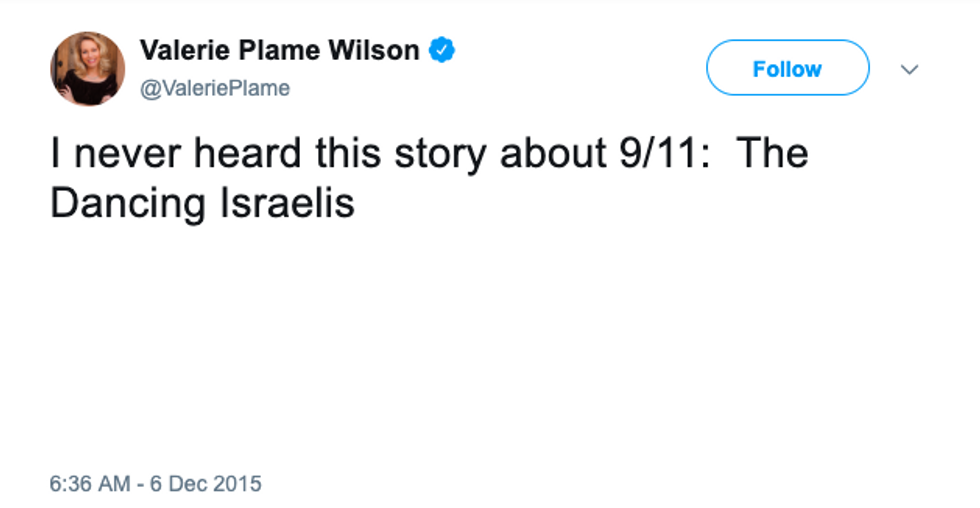 Image source: Twitter screenshot via Archive.org
After she left the CIA, Plame took up political advocacy and remained on the foreign policy scene. During the Obama administration, she advocated for unilateral disarmament and for a pro-Moscow and pro-Tehran foreign policy. As an officer at the Ploughshares Fund, she was a key component for the Obama administration's salesmanship of the nuclear deal with Iran. She later resigned from Ploughshares following her anti-Semitic tweets.
If she is elected to Congress, Plame would join a Democratic caucus in the House that is already plagued with anti-Semitism scandals, which are largely emanating from newly elected Reps. Rashida Tlaib (D-Mich.) and Ilhan Omar (D-Minn.).