A T-shirt showing an image of President Donald Trump and the messages "NOPE" and "Vive la Rêsistance" was displayed in a New Jersey public school classroom, TapIntoRoxbury reported.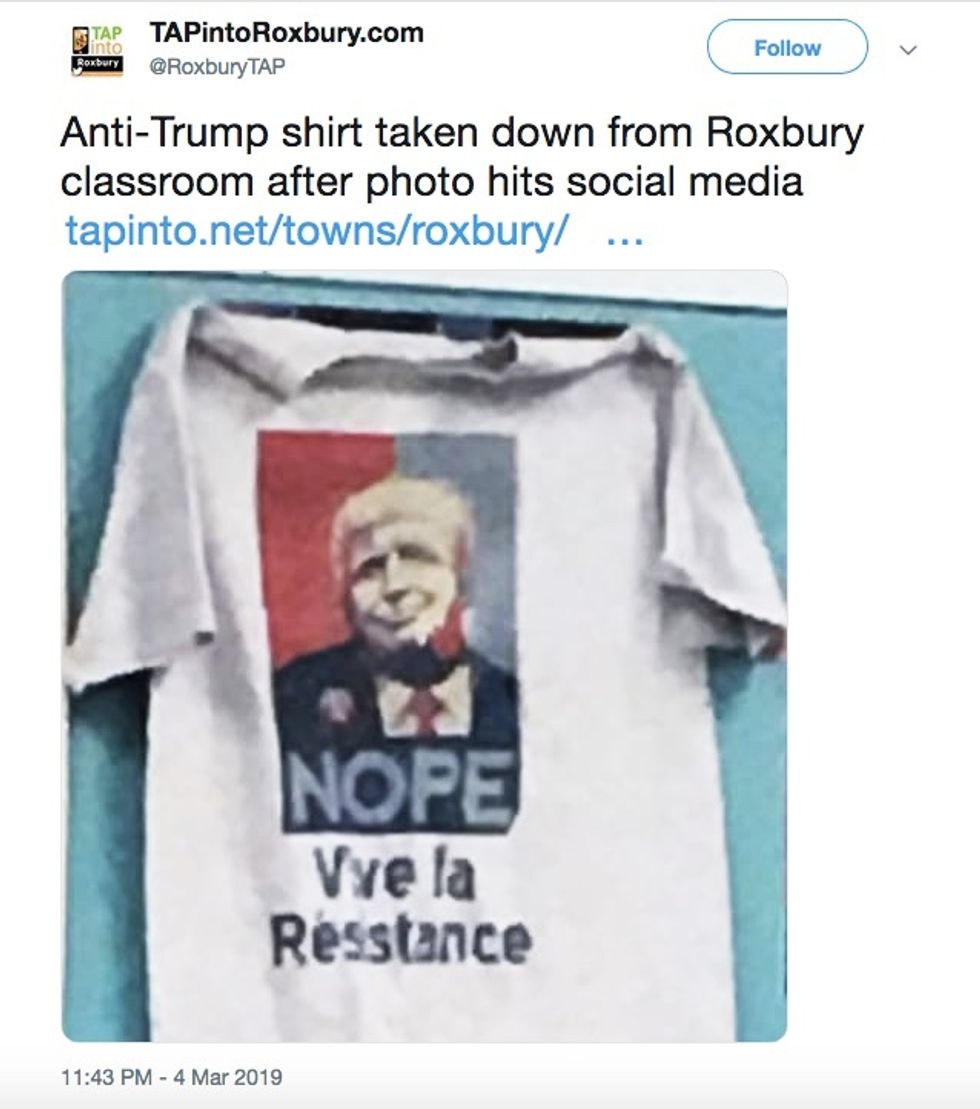 Image source: Twitter
A student took the photo of the T-shirt hanging on a wall in the Roxbury High School classroom and shared it with Succasunna resident Laurel Whitney, who posted the image Sunday on a private Facebook page dedicated to Roxbury education issues, the outlet said.
"What do you all think about this hanging in a classroom in RHS?" Whitney asked on the page, according to TapIntoRoxbury. "I thought teachers were supposed to refrain from imposing their political views on students?"
Whitney said the photo was taken Feb. 13, WKXW-FM reported, which would mean the T-shirt had been displayed for weeks.
Roxbury Schools Superintendent Loretta Radulic said after a school board meeting Monday that a student gave the shirt to a teacher and that the shirt was taken down Monday as well, TapIntoRoxbury reported. Radulic added to the outlet that the teacher in question wasn't engaging in political indoctrination by allowing its display.
Whitney shares some history

Whitney said her son graduated from Roxbury High School in 2016 and had a political clash with the same teacher, WKXW reported:
She said her son, who is Jewish, was assigned a current events project on Israel using Al Jazeera as a primary source. Whitney said school administration ignored her emails pointing out what she said was the Middle East-based news organization's anti-Semitic language. She said her son ultimately redid his project so as not to fail the class.

According to Whitney, other parents have privately worried about the same teacher promoting his political views to students but are reluctant to go public with concerns because their children are still enrolled in school.

Whitney said after multiple complaints from her and other parents, "at this point he should be made an example of rather than defended by the superintendent."
What happened to the teacher?
Board President Leo Coakley said the issue was handled in executive session prior to the public portion of the school board meeting as it was a personnel matter, TapIntoRoxbury reported.