A local Antifa chapter tried to doxx women who exposed a "teen pride" event at a Washington state public library over the weekend which featured Planned Parenthood providing condoms and discussing "safer sex" as well as drag queens and a chest binder raffle.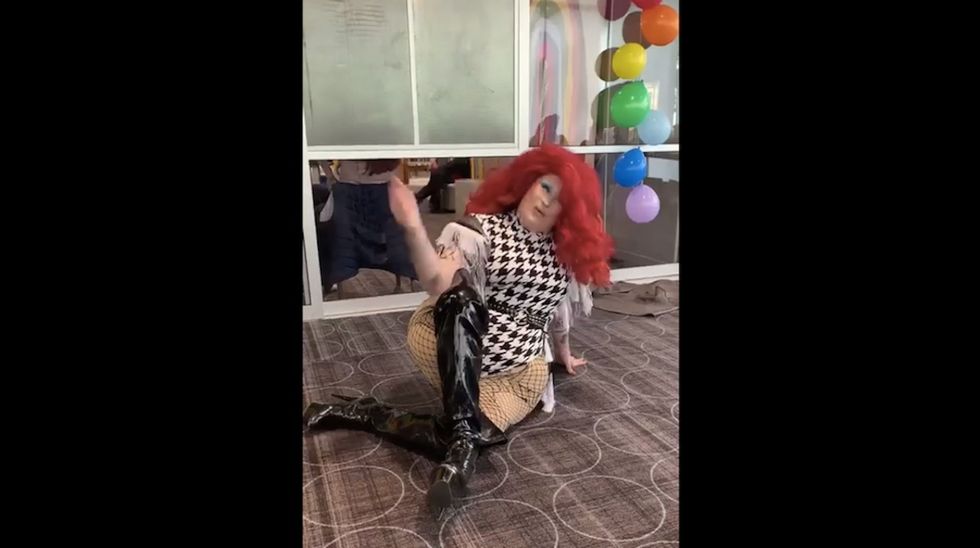 Image source: Facebook video screenshot
Sarah Thomas, public relations specialist for the King County Library System, told TheBlaze that during the teen-only portion of the Renton Library event on Saturday "only adults with youth attending the program could remain at the library in a waiting area."
Thomas added that two adult women "refused to leave, despite several requests, and would not join the other adults in the waiting area. Because they refused to leave and were being disruptive — two violations of our Code of Conduct policy — they were escorted out of the library by the police to ensure that the teens had a safe and welcoming space to finish their program."
Amid this, an Antifa group attempted to publicly identify the women so others might harass them (i.e., doxxing):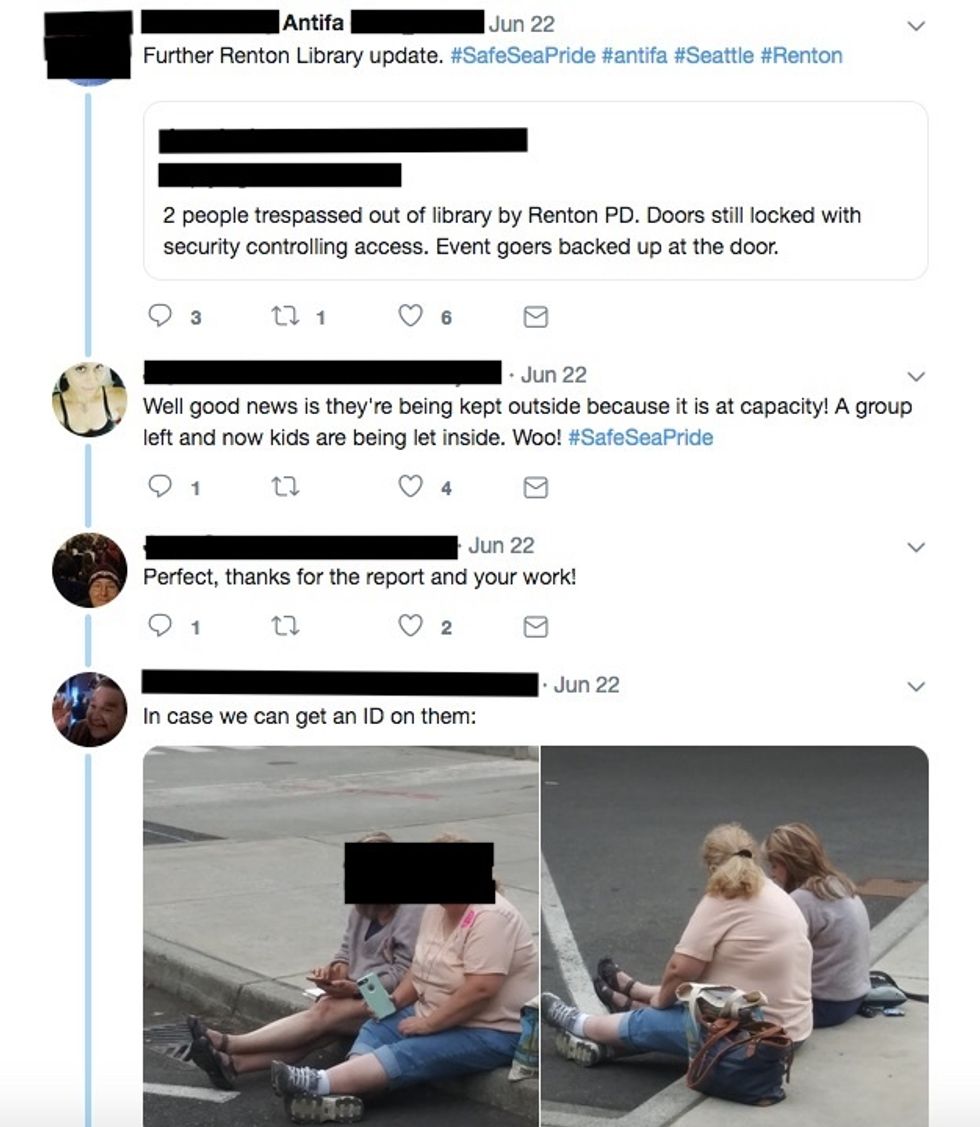 Image source: Twitter, redacted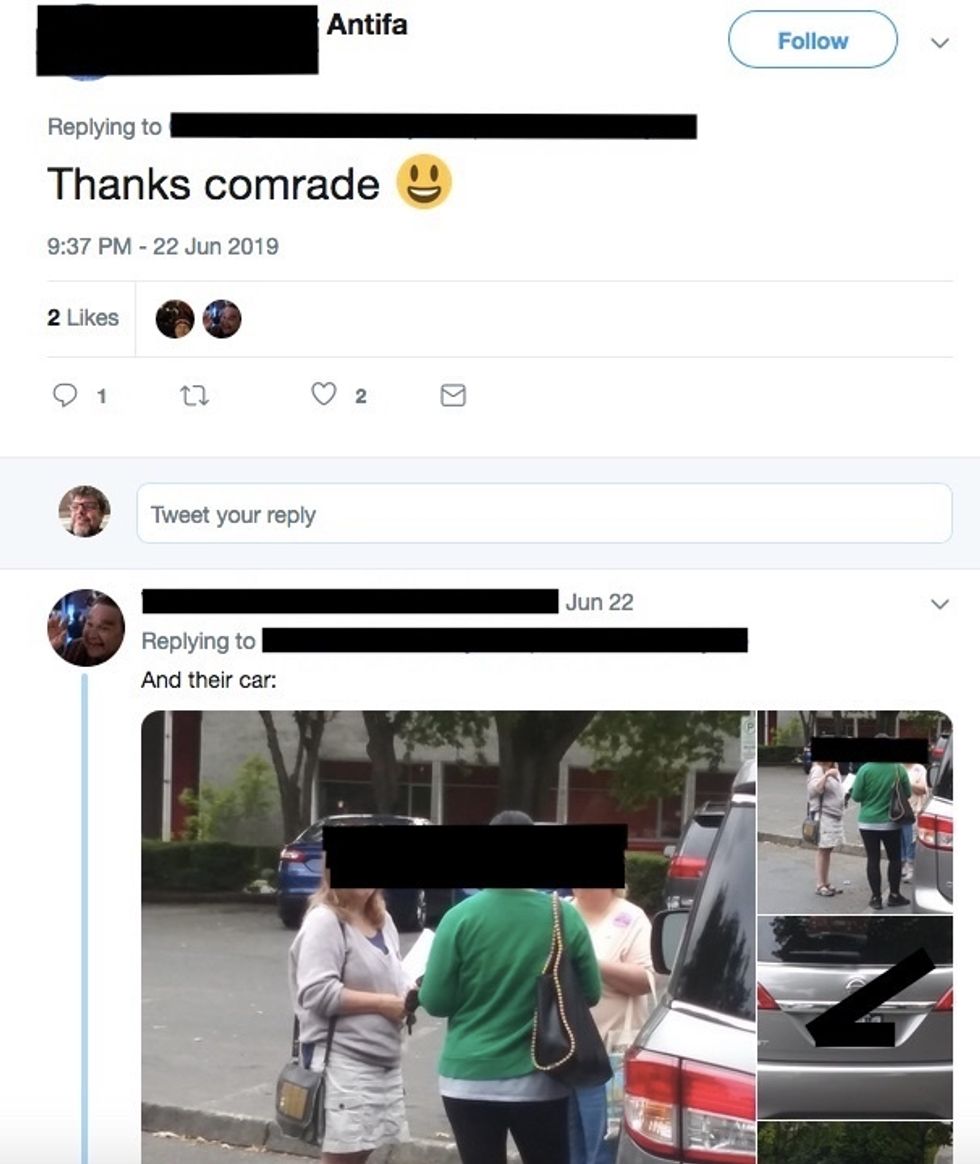 Image source: Twitter, redacted
One woman comes forward
Local mother Lynn Meagher told PJ Media she was among the women who attended the "teen pride" event for the purpose of documenting it.
"We didn't talk to any of the kids, we didn't harass anybody. We were polite," Meagher told the outlet, adding that she saw kids who "looked like they were ten" asking confused questions about the explicit materials around them.
Indeed the "teen pride" event site said it also was geared toward "tweens" (i.e., pre-teens) and that it would be "the most rainbow filled fun you can imagine!"
Facebook user Kaeley Triller Harms offered several posts related to the event, one of which said "handouts included lube, flavored condoms, and chest binders to help eight self-hating girls mutilate their bodies." Actually the photo accompanying her post notes that $50 gift cards for chest binders would be awarded to eight "winners."
Chest binders are used to flatten breasts and are often employed by transgender females: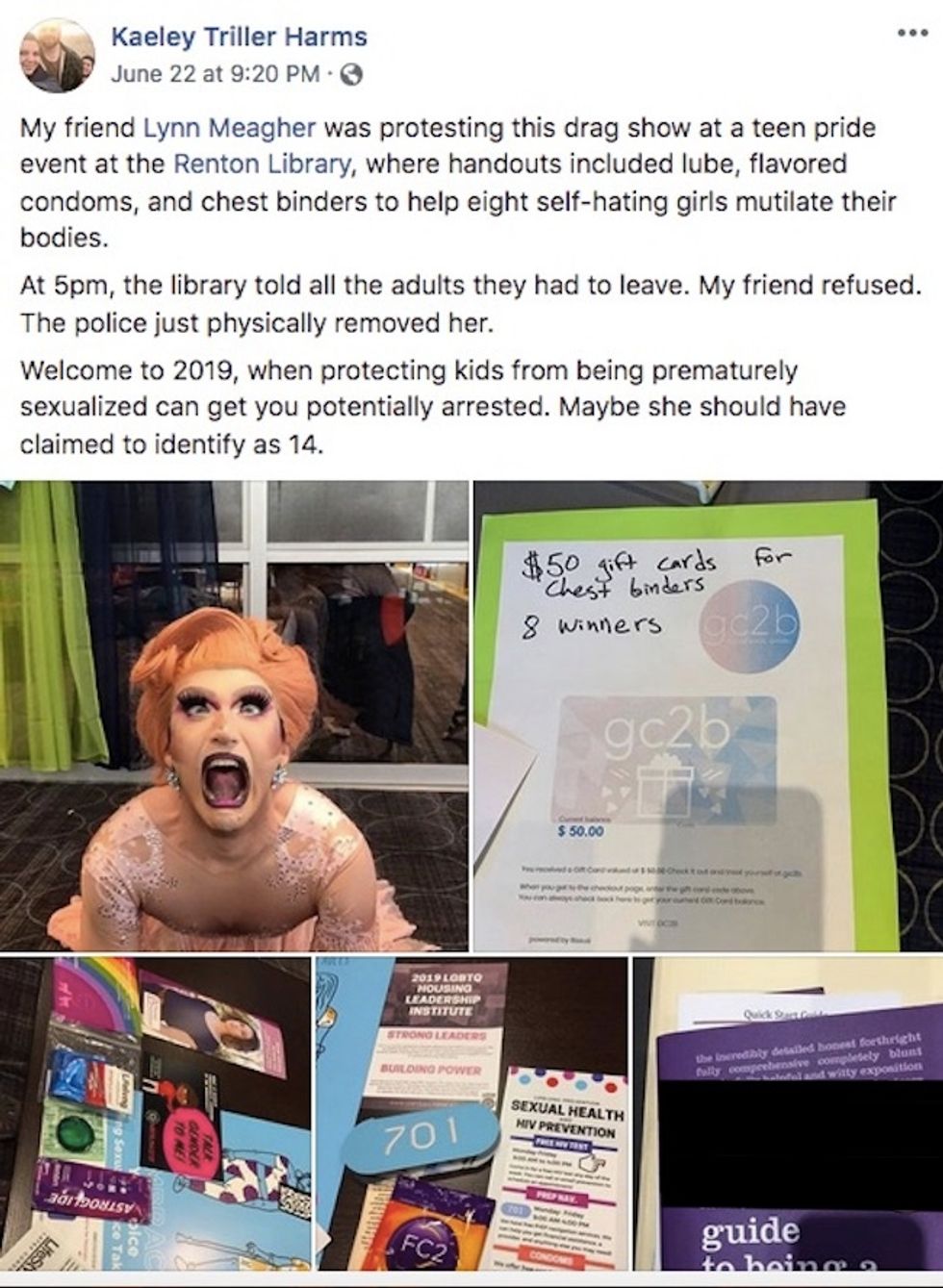 Image source: Facebook, redacted
Thomas added to TheBlaze she was unable to confirm if the condoms were flavored or if lubrication was offered at the Planned Parenthood table.
Forceably escorted out
Meagher told PJ Media that her questions about chest binding likely tipped off event staff that she and her fellow moms filming the event might not be "teen pride" allies.
She added to the outlet that "two officers grabbed my arms and pulled me out of my chair and pushed me out of the library. I said, 'Is there a reason you need to hurt me? Why are you poking my arm?' He said, 'You could walk faster.'"
Police escorted her and another mom out of the library — but a third concerned mom managed to remain after she stopped filming to be less conspicuous, PJ Media said.
Smells like Antifa
Soon Meagher told the outlet "we were surrounded by about four men who behaved in a threatening way to us; they were taking our picture and filming us and getting pictures of our cars" and that the men said "we were haters and we were fascists. They were closing in on us and trying to be really threatening. We were just standing there, three moms, praying. We ended up having to call 911 to have the police help us to get to our vehicles safely."
Meagher shot down the group's claim that she and the other moms were recording video of kids walking in and out of a bathroom, telling PJ Media the accusation is "utterly false and a defamation of character."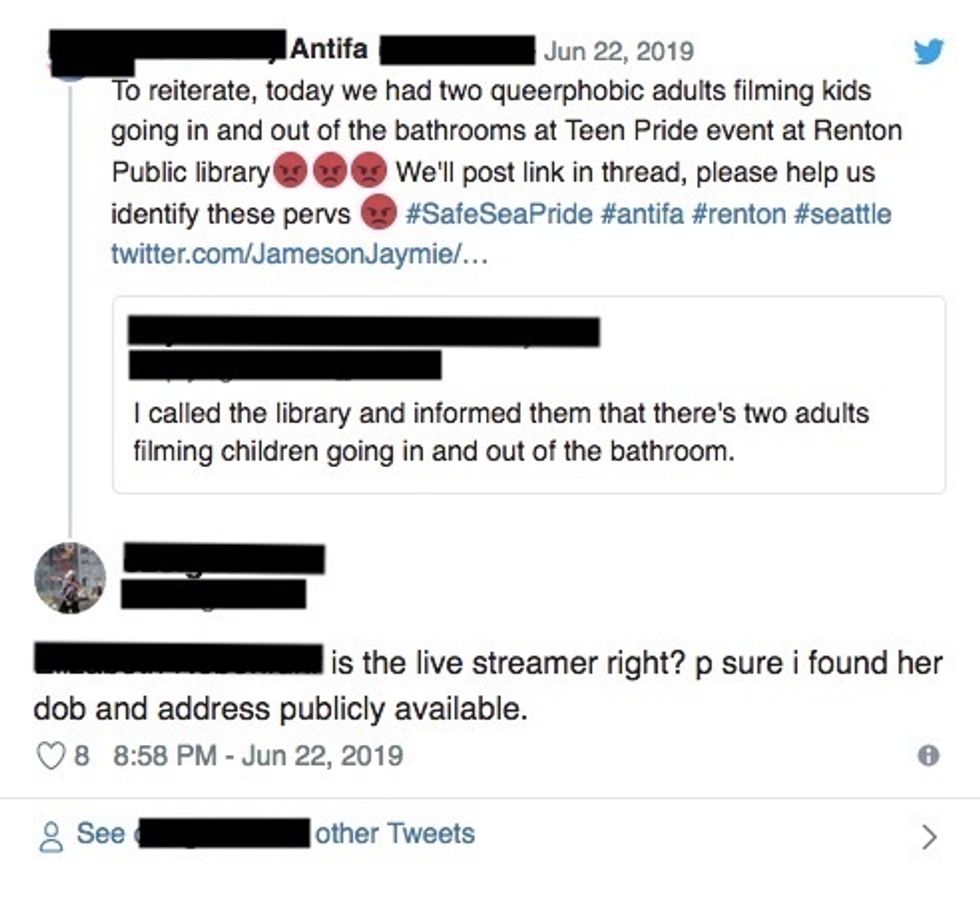 Image source: Twitter, redacted
"The video is available to view," Meagher added to the outlet. "Our friend was alone in the bathroom doing a live video in the only place she could find privacy to say where she was and what she was doing. Toward the end, a gentleman walked in behind her. She wasn't filming anyone. It's a smear."
Anything else?
The following videos show drag queen performances said to be connected to the "teen pride" event: