Rep. Alexandria Ocasio-Cortez (D-N.Y.) forcefully denied Wednesday that her arrest outside the Supreme Court on Tuesday was "performative art."
But information on social media suggests the incident was not organic — but completely staged.
What are the details?
About 30 minutes before the arrests of pro-abortion protesters outside the Supreme Court — which included more than a dozen Democratic lawmakers — a staffer for Rep. Ilhan Omar (D-Minn.) bragged on social media about the plan.
"Members of Congress, including @IlhanMN will be participating in a civil disobedience at the Supreme Court, potentially including arrests, shortly. 1 PM ET/12 PM CT," staffer Jeremy Slevin tweeted, explaining the incident would be live-streamed.
Once Capitol police briefly detained Omar, Slevin published video of her via the livestream.
The arrests, in fact, were the entire point of the demonstration — and Ocasio-Cortez admitted as much on Wednesday.
"This was an activist-led civil disobedience, where activists & organizers from [the far-left Center for Popular Democracy Action Fund ] + others asked members of Congress to submit themselves for arrest in front of the Supreme Court," Ocasio-Cortez wrote on Instagram.
The Washington Examiner described the Center for Popular Democracy Action Fund as a "progressive dark money group funded by billionaire George Soros." CPD Action Fund is the sister organization of Center for the Popular Democracy.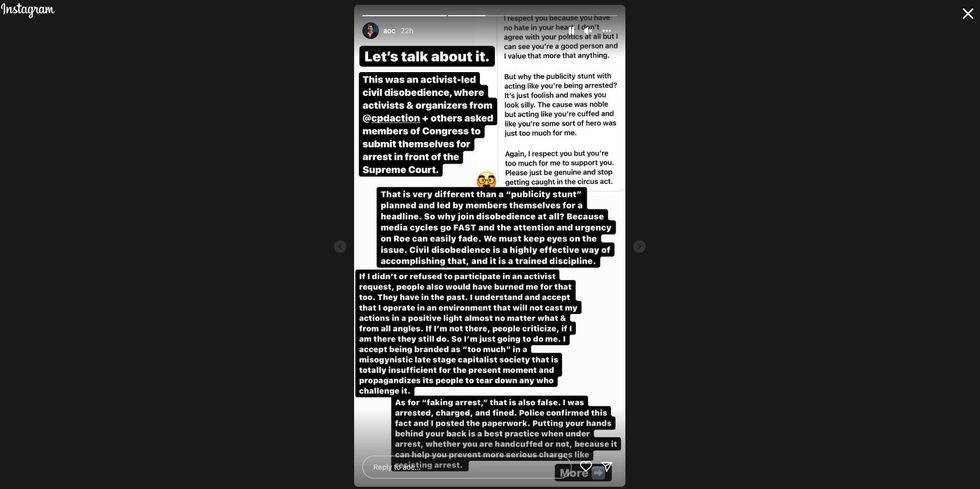 Ocasio-Cortez then claimed what happened "is very different than a 'publicity stunt' planned and led by members themselves for a headline."
She is right. But it was a publicity stunt nonetheless, planned by activists to raise money for abortion rights.
In fact, CPD Action celebrated the arrests on Facebook and directed supporters to an immaculately designed landing page about the incident, urging supporters to donate money.
"Moments ago, leaders from CPD Action network organizations, members of Congress & more participated in a powerful civil disobedience demonstration & got arrested to protect our RIGHT to SAFE & LEGAL abortions," the Facebook post read. "This is a clear message to SCOTUS and lawmakers that #WeWontBackDown until ALL pregnancy-abled people are treated as full human beings with the autonomy to make decisions about OUR OWN bodies."
What did the Capitol Police say?
Technically, the lawmakers and everyone else detained during the protest were arrested, but none were handcuffed. They were also fined.
"As is standard for peaceful, planned protests, those who were arrested were ticketed and released on site," a Capitol police spokesperson told the Washington Examiner.
"Nobody was handcuffed, as is standard for a noncustodial arrest. Everyone was arrested for Crowding, Obstructing, or Incommoding (DC Code § 22–1307)," the spokesperson added. "They have up to 15 days to pay a $50 fine or they can have a hearing."