A business owner's impassioned rant encouraging new job seekers to add to their skillset before demanding higher pay and fewer hours is angering people online.
What happened?
The rant, which was allegedly posted in a job search group on Facebook, was screenshotted and uploaded to Reddit this week along with the title, "Local business owner shares this tantrum on her page in response to someone seeking employment in a job search group."
But the supposed "tantrum," appears to be nothing more than a poignant exhortation to prospective employees about what's expected of them in the job market.
In the rant, the alleged business owner responds to a job seeker looking for a position paying at least $14 an hour with weekends off by asking what they have done to improve their skills before expecting a cushier job.
"And let me guess," the business owner writes, "you want to be off every night by 5 p.m., [work] no more than 25 hours a week and you expect benefits for your entire family paid by the company!"
"Huh... No!..," she then states.
Later in the post, the business owner writes, "The times may be changing but what change have you made? What online courses have you taken? How many books have you read? What certifications have you completed? ... What the heck have you done to earn anything?"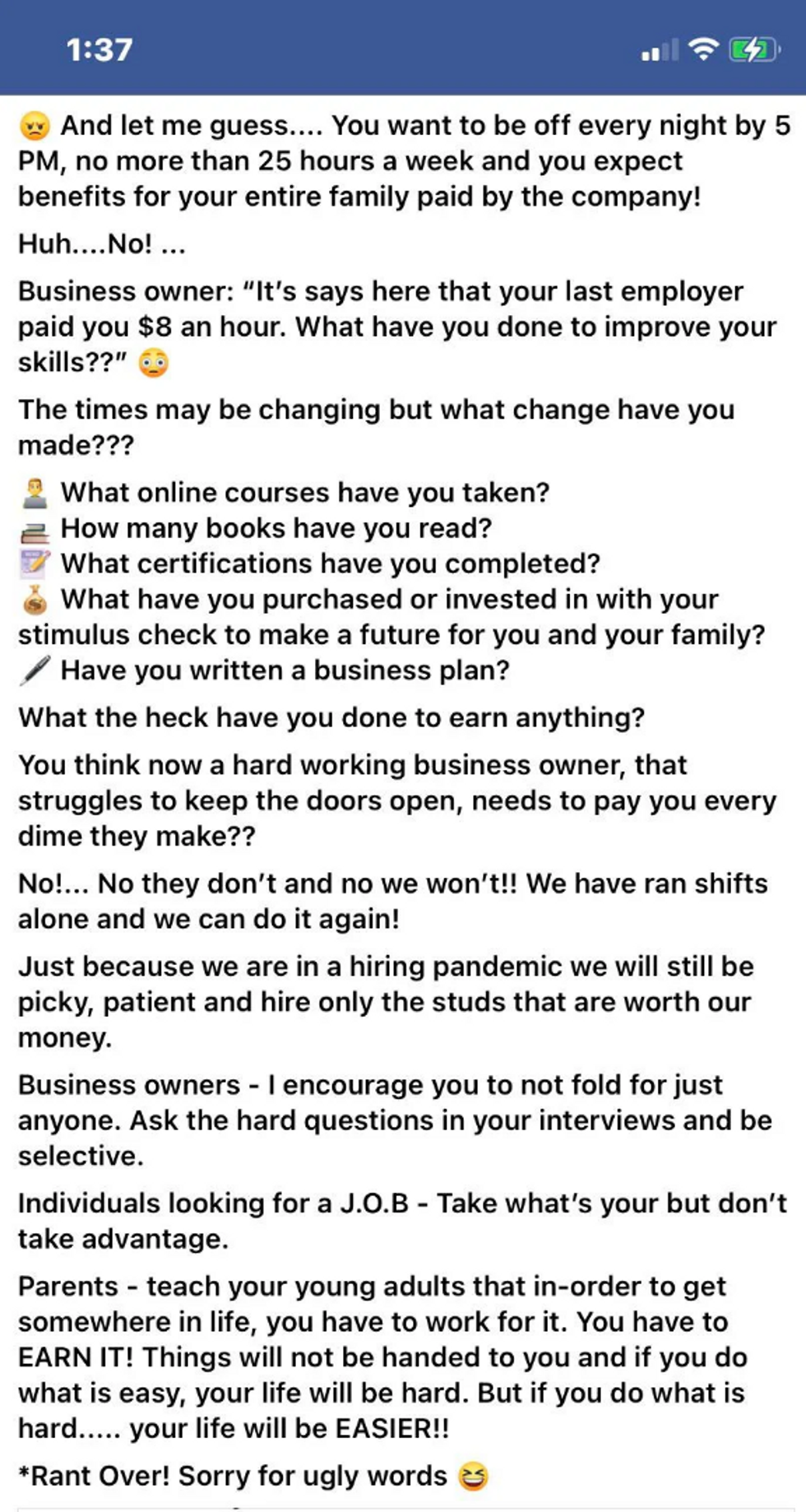 Image source: Reddit screenshot
The poster explained that even though the U.S. is currently suffering from a labor shortage, business owners should still be "picky, patient, and hire only the studs that are worth the money."
"Business owners," she said, "I encourage you not to fold for just anyone. Ask the hard questions in your interviews and be selective."
Then, turning her attention to job seekers, the business owner encouraged them to "take what's your[s] but don't take advantage."
"In order to get somewhere in life, you have to work for it," she added. "Things will not be handed to you and if you do what is easy, life will be hard. But if you do what is hard, your life will be easier!"
What was the reaction?
The screenshot of the rant was posted on the subreddit "r/antiwork," which describes itself as a forum "for those who want to end work, are curious about ending work, [or] want to get the most out of a work-free life."
As one might expect — given the perspective of this particular online community — reactions to the post were extremely negative:
"[This] person has no clue how to run a successful business," one commenter argued.
Another sarcastically said, "Lol I love small business owners like this. I love seeing their posts like this. Then later they'll post about how awful it is that their business failed because of amazon or some s**t. Guess you should've worked harder."
"If they can't pay their employees a living wage, they shouldn't be in business in the first place, banks should really be looking [at these flaws] in their business plan before giving these failed businesses loans," one person suggested.
"What you need to do to deserves a live wage: be alive," another agued.
"Hiring pandemic? No, it's a wage shortage," still another said.
Anything else?
The controversial rant comes as many business owners across the country continued to grapple with a severe labor shortage that has plagued the U.S. since the start of the pandemic but has been made worse under the Biden administration.
In November, TheBlaze reported on an Arkansas construction company owner who has been forced to pay "lazy" workers high wages even though they have "no idea" how to perform the job just to keep his business afloat.
At around the same time, the National Federation of Independent Business, a small business lobbying group, revealed that more than half of small business owners in the U.S. reported job openings that they could not fill in September, marking a 48-year record high.
Presumably, job seekers were unwilling to take the open positions due to low pay. Many business owners suspect that job seekers are content to collect federal unemployment money rather than hold down a job.