A self-proclaimed "conservative" drag queen by the name of Kitty Demure has uttered a video declaration that just might send leftists in love with Drag Queen Story Hour phenomenon over the edge.
In short, Demure told "heterosexual women" that they are "extremely, extremely irresponsible" for taking their kids to the story hours, which feature men dressed as women with full-on glitter makeup reading stories to their kids in public libraries and bookstores. Here's a video example:
What else did Kitty Demure say?
"I have no idea why you want drag queens to read books to your children," he noted in the clip. "I have no idea. What in the hell has a drag queen ever done to make you have so much respect for them and admire them so much, other than put on make-up and jump on the floor and writhe around and do sexual things onstage?"
TheBlaze last year reported on photos of children lying on top of a drag queen at a "storytime" event at an Oregon public library: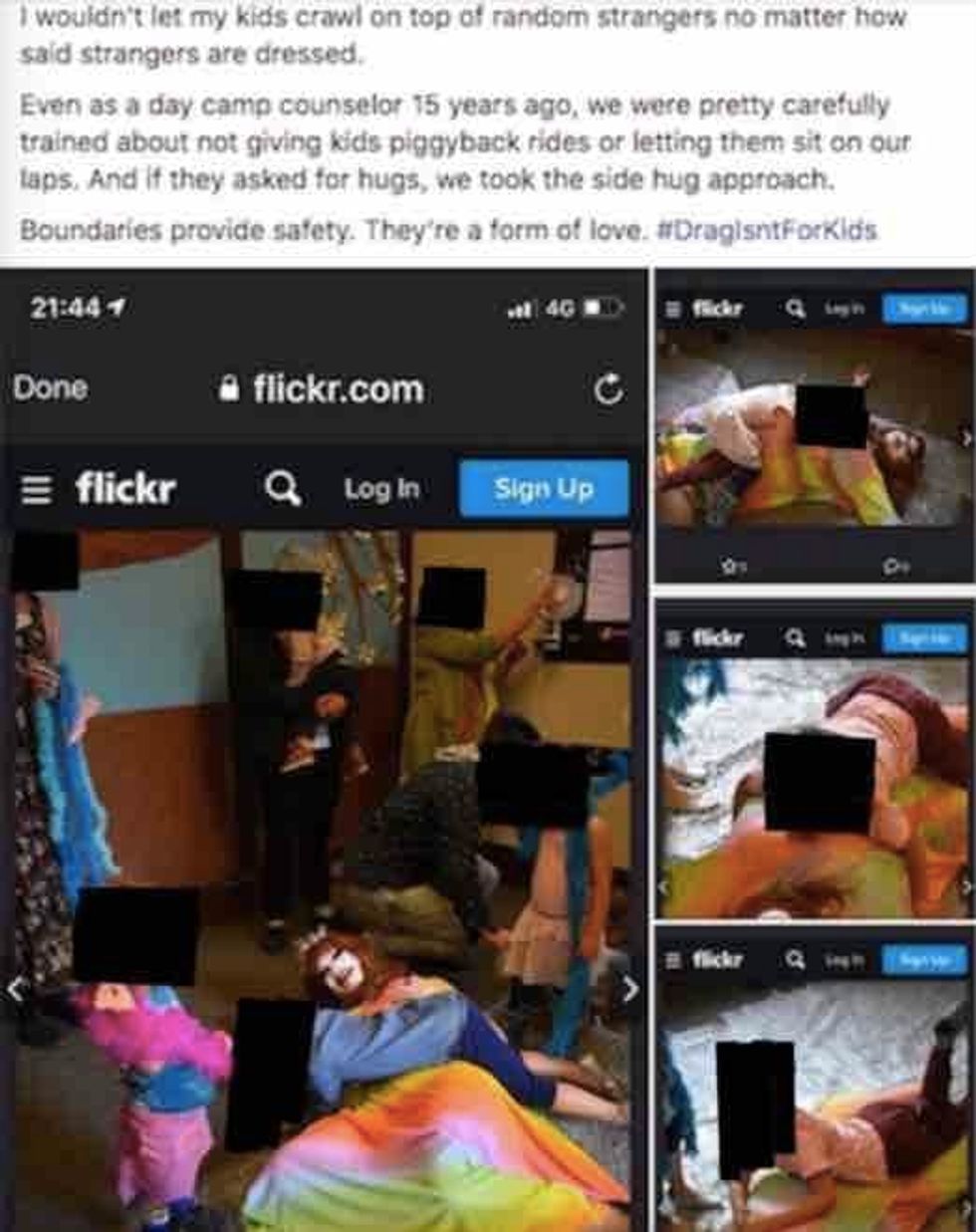 Image source: Facebook, redacted
He added, "I have absolutely no idea why you would want that to influence your child. Would you want a stripper or a porn star to influence your child?"

Who can forget the drag queen teaching little kids to "twerk"?
Demure reminded such moms that drag queens perform in adult venues, and "there is a lot of filth that goes on, a lot of sexual stuff that goes on. And backstage there's a lot of nudity, sex, and drugs, OK? So I don't think that this is an avenue you would want your child to explore."

Underscoring his message, Demure said he realizes that such moms — and by extension dads, who also have been documented in attendance at Drag Queen Story Hours — want to come across as "with it" and "cool" and "woke" and prove that they're "not a Nazi" and "not a homophobe."
"But you can raise your child to be just a normal regular everyday child without including them in gay, sexual things," he added.
Here's the clip:
Harmful to the gay community
Demure also noted that such parents likely believe they're giving a hand up to the gay community by taking their children to Drag Queen Story Hours — but he said that's far from the case.
"You're not doing the gay community any favors; in fact, you're hurting us, OK?" Demure explained. "We've already had a reputation for being pedophiles and being perverts and deviants. We don't need you to bring your children around, so you keep your kids at home or take them to Disneyland or take them to Chuck E. Cheese — but if you need your child to be entertained by a big human in a costume or in make-up, take them to the circus or something."
He concluded, "Don't ruin your child's life and don't ruin us, because that's what you're doing."
More on Kitty Demure

Demure frequently speaks out on Twitter regarding her conservative stances on Drag Queen Story Hours and other topics:
If "progressives" think that there is nothing wrong with sex workers, why don't they have prostitutes and porn star… https://t.co/X1GU6x9lSQ

— Kitty Demure (@Kitty Demure) 1579481174.0
Remember, this is the current Governor of Virginia who wants to take guns away from law abiding citizens.… https://t.co/XPXUAF8wwQ

— Kitty Demure (@Kitty Demure) 1579766029.0
I am the ORIGINAL Conservative Queen. Here is my #Walkaway video. Walkaway from the DEMOCRATS. https://t.co/6m3sxreI9d via @YouTube

— Kitty Demure (@Kitty Demure) 1579300085.0