A Maryland father was allegedly beaten to death last week after refusing a group that came to his home in Anne Arundel County wanting to fight his 14-year-old son.
What are the details?
Tracy Karopchinsky — the fiancée of the victim, 43-year-old Christopher Michael Wright — told WBAL-TV that her 14-year-old son got into a fight with another teen Friday afternoon at Brooklyn Park Middle School.
With that, Karopchinsky told the station three teens and two adults came to her house looking for her son.
"Chris came out to tell them, like, he's not coming out here to fight, and they threatened at one point to come in and get him, and then they said, 'If he's not going to fight, then you're going to fight,'" she recounted to WBAL.

The Capital Gazette reported the ages and number of alleged attackers differently, noting that a police investigation found "three or four men ranging in age from mid-20s to mid-30s arrived at Wright's home following an earlier altercation and began beating up Wright." The Gazette, citing police, said no weapons were involved in the assault.
WBAL said Wright was taken to a hospital where he died Saturday from a traumatic brain injury.

"Just looking at the damage that was done to him, that wasn't just punching that did that. Like, there's no way that punching did that," Karopchinsky told WBAL. "The damage was done before the ambulance ever took him away. I mean, he'd had a seizure. It was done. There was nothing that the hospital could do."
The station said the incident was caught on security cameras belonging to Wright and a neighbor.
Karopchinsky added to WBAL that she began to watch a video that showed old her 12-year-old son reacting to his father in trouble, noting her boy was "screaming, 'Daddy, daddy, daddy,' and running out of the house into the street to go help his dad. And I couldn't watch anymore after that. I just couldn't."
She told the station her three boys were home when their father was beaten.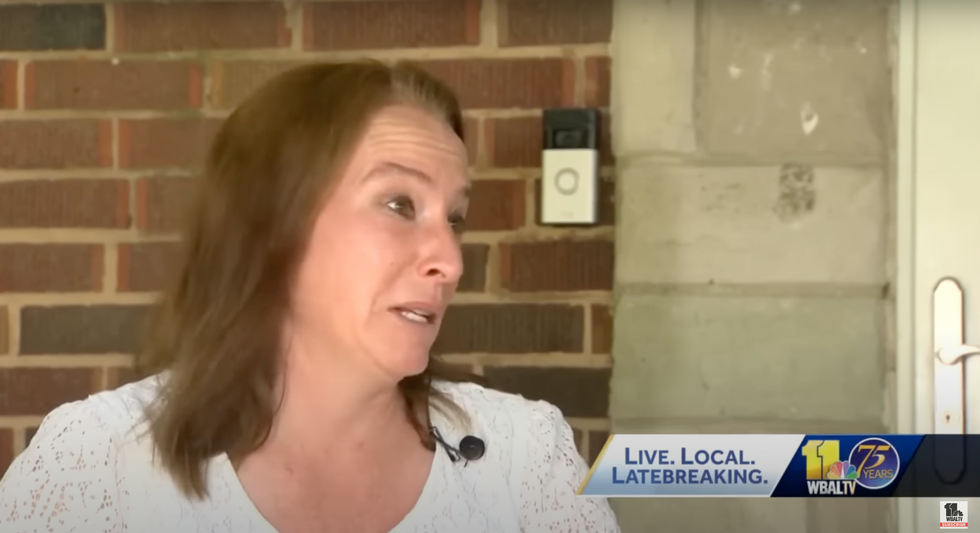 Image source: YouTube screenshot
"I'll never forget the sound, I'll never forget the noise my nephews made when we had to tell them he was gone," Kristin Karopchinsky told WBAL.
What else?
The station said school officials confirmed there was a fight at the school and that they worked to address the issue and are now working with police on the investigation.
Anne Arundel County police told WBAL that they're investigating and that charges could be filed against the individuals involved.

"Anyone who assisted, who abetted. or was an accomplice of the main suspect or the primary suspect will be culpable," Anne Arundel County police spokesman Marc Limansky told the station.
Tracy Karopchinsky warned parents that violence among teens has gone too far and that parents need to step up, WBAL said.

"They didn't just ruin our lives. Their lives are going to be changed forever. Their parents' lives are going to be changed forever, and nobody thinks about that just from a fight," Tracy Karopchinsky told the station. "It is everywhere, and somewhere, we as parents are failing these children ... It's not the school's responsibility. It's our responsibility."
WBAL said anyone with information can call police at 410-222-4731 or the Anne Arundel County Police Tip Line at 410-222-4700.
Family: School fight led to killing of children's fatheryoutu.be
Like Blaze News? Bypass the censors, sign up for our newsletters, and get stories like this direct to your inbox. Sign up here!