A former NFL draft pick reportedly was caught on video fighting a United Airlines worker — repeatedly punching the UA employee and even knocking him to the floor at one point and bloodying his face. But the airline worker also hit the player and actually came after him after getting punched to the ground.
According to TMZ, the football player is Brendan Langley, a third-round pick in the 2017 NFL draft. He played a bit for the Denver Broncos and now is with the Calgary Stampeders in the Canadian Football League.
Langley was arrested and charged with simple assault, TMZ reported, citing police. But the outlet added that the airline employee wasn't arrested despite Langley's claim that he didn't throw the first punch.
What went down?
The fight took place at Newark Liberty International Airport, according to the Daily Mail. The date and time of the fight — and who instigated the violence — remain unclear, but clips of the scary dust-up first surfaced Sunday.
Initially the passenger appears to get the better of the employee, slapping him once in the face and punching him several times in the face and sending him backward into the UA counter. But the employee marches forward, puts up his fists, and slaps the passenger in the face: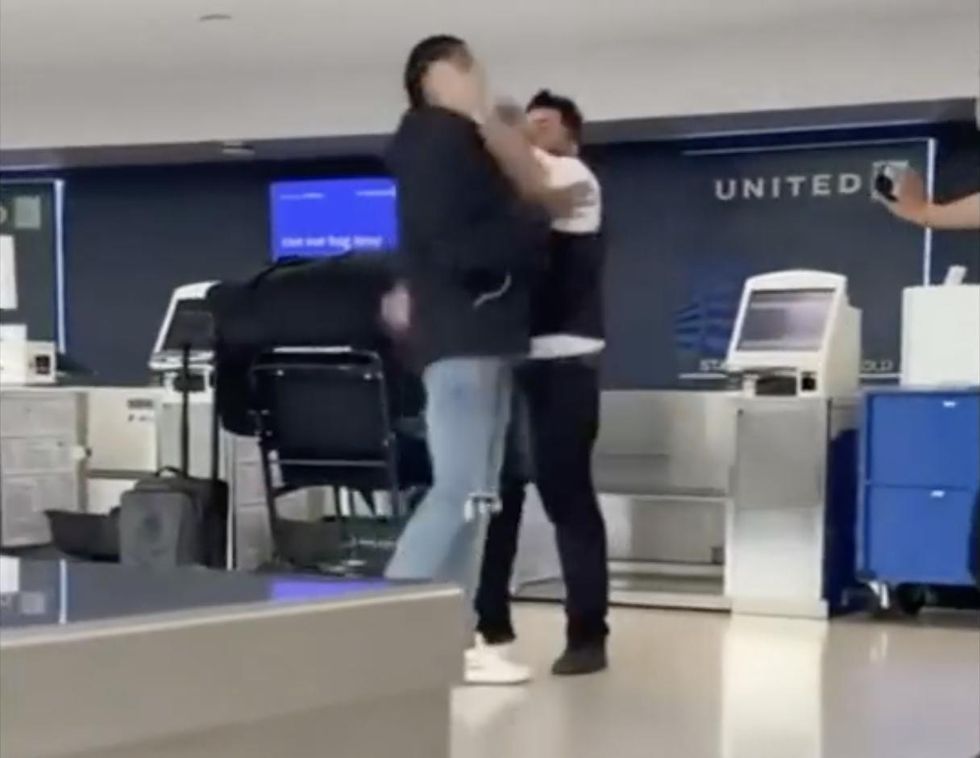 Image source: TMZ video screenshot
After getting slapped, the passenger hollers, "You saw that s**t?" and punches the employee hard in the face, knocking him backward again into the counter. The passenger then lands a second punch, and this wallop sends the worker behind the desk, after which he tumbles over an object — his feet swinging back and above his head — and falls flat on the floor: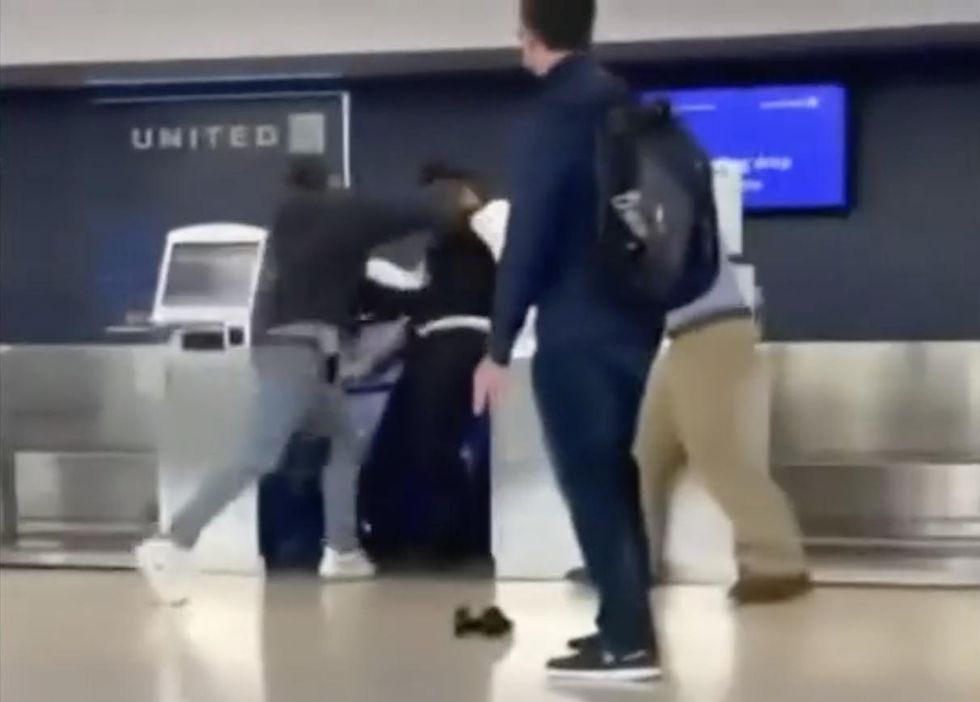 Image source: TMZ video screenshot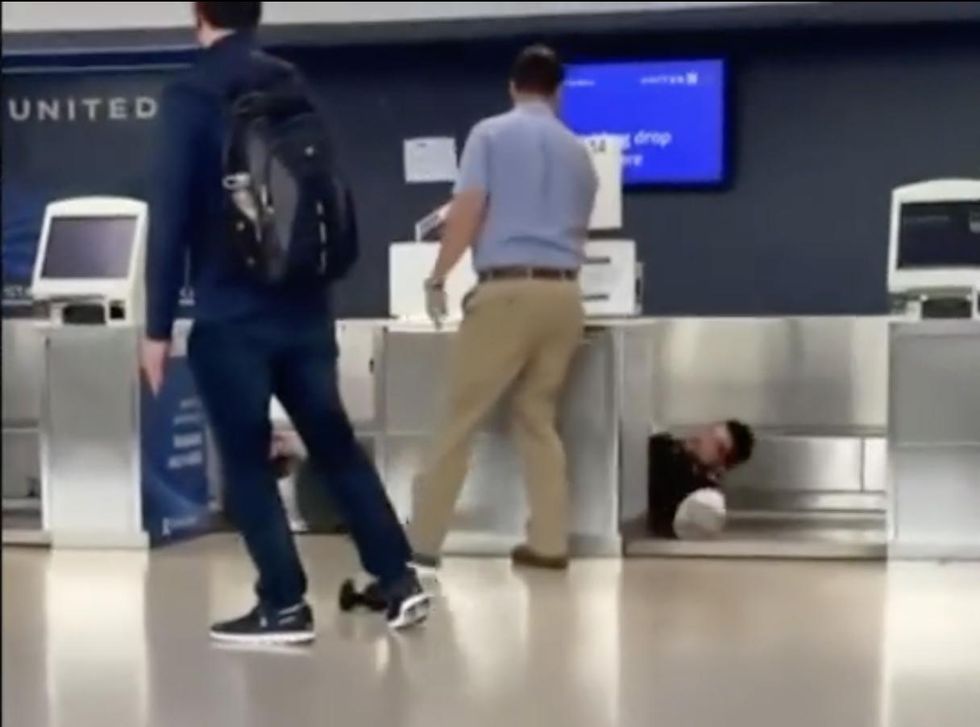 Image source: TMZ video screenshot
Despite his bloody face and appearing woozy, the UA worker manages to stagger to his feet and come back out and confront the passenger again: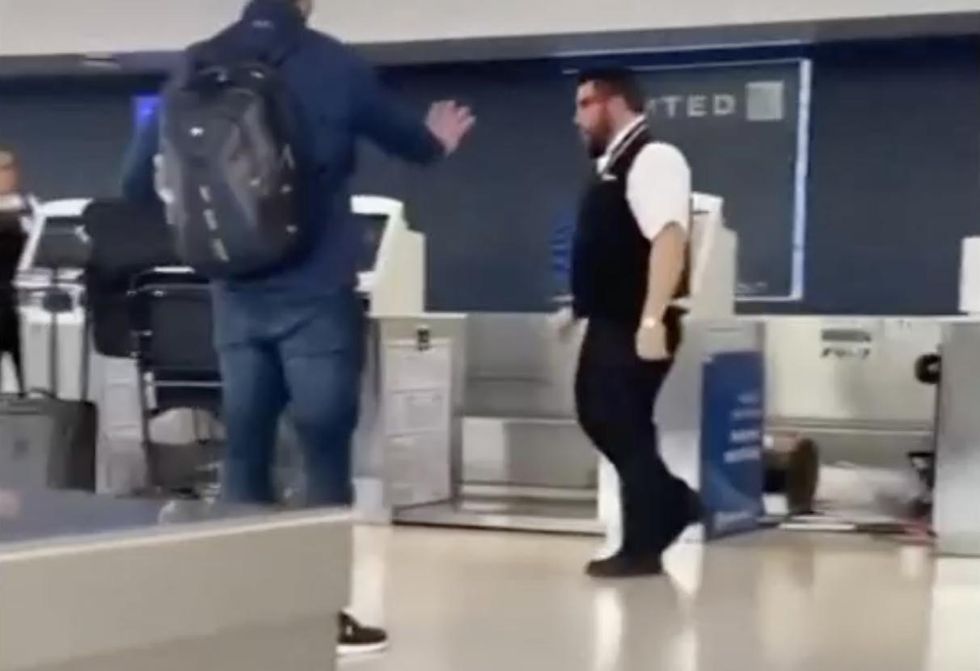 Image source: TMZ video screenshot
"He wants more!" the stunned passenger hollers.
No other violence ensues as another individual — apparently a UA employee — comes into the frame and puts her hand up as if to call an end to the fighting.
The passenger loudly adds, "He works at the airport, and he assaulted me!"
Here's the clip. (Content warning: Language):
Anything else?
According to the Daily Mail, the employee had confronted the passenger over his use of a wheelchair.
"United Airlines does not tolerate violence of any kind at our airports or on board our planes, and we are working with local authorities to further investigate this matter," the carrier told the Daily Mail in a statement.
Travel website Live and Let's Fly mocked United over the incident, bringing up the airline's "Good Leads the Way" national ad campaign that launched last week and adding that "whatever happened before the video started recording, the United agent could have walked away and called the police. Instead, he chose to fight."