At Sunday's 2022 MTV Video Music Awards, Los Angeles-based comedian Billy Eichner plugged his forthcoming film ahead of presenting the next cadre of performers. His self-promotion hinged upon a condemnation.
Eichner claimed that he needs audiences to pile into theaters to see his forthcoming film "Bros" to "show all the homophobes like Clarence Thomas and all the homophobes on the Supreme Court that we want gay love stories." Those so-called homophobes on the Supreme Court, he argued, seek to "drag us back into the last century because they are in the past." The future, he insinuated, is gay.
In his speech, he alleged that his film will be the "first gay rom-com ever made by a major studio and the first where every role is played by an openly LGBTQ actor."
Although the film might be among the first with a cast explicitly segregated by sexual orientation, it is not otherwise the first of its kind. The gay publication Out noted that, as gay mainstream releases go, "Bros" was preceded by Fox's "Love, Simon" and Searchlight Picture's "Fire Island."

Just as Eichner has made clear that he wants to make and promote gay love stories, he has similarly identified the kind of stories he does not want in circulation.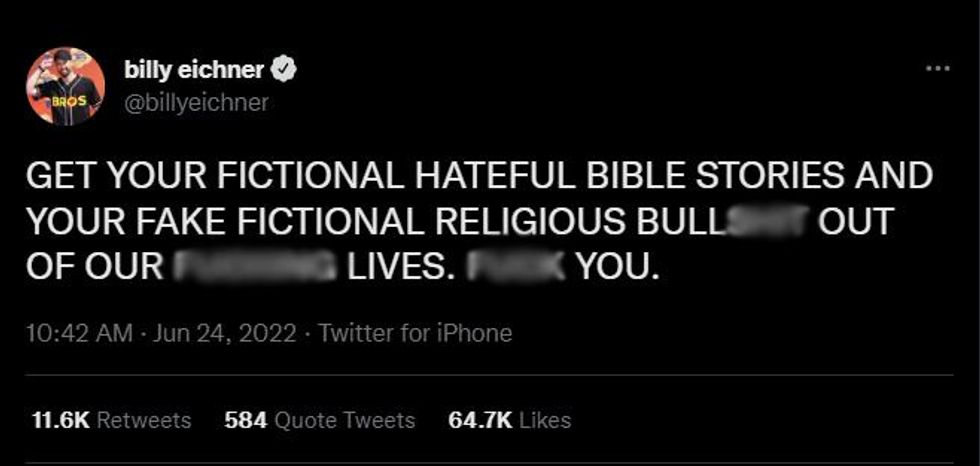 Eichner is the latest of many who have suggested that Supreme Court Justice Clarence Thomas' concurring opinion in the court's Dobbs v. Jackson Women's Health Organization decision is evidence of Thomas' irrational fear of gay people.

"In future cases, we should reconsider all of this Court's substantive due process precedents, including Griswold, Lawrence, and Obergefell," Thomas wrote in his Dobbs opinion. Lawrence and Obergefell, both invoked in Thomas' opinion, were cases that dealt with homosexual rights — homosexual sex between consenting parties in the first instance and gay marriage in the second.
"Because any substantive due process decision is 'demonstrably erroneous'," he continued, "we have a duty to 'correct the error' established in those precedents." Substantive due process concerns the idea that Americans have fundamental rights that may not be enumerated in the Constitution that courts can establish and protect.
Thomas added, "After overruling these demonstrably erroneous decisions, the question would remain whether other constitutional provisions guarantee the myriad rights that our substantive due process cases have generated."

Despite the insinuations by Eichner and others, Thomas neither qualified Obergefell or Lawrence in moral terms nor suggested that such rights could not find guarantee in other constitutional provisions.
What he did do in 2020 was point out his principle concern: These decisions were the products of anti-democratic forces.

"It would be one thing if recognition for same-sex marriage had been debated and adopted through the democratic process, with the people deciding not to provide statutory protections for religious liberty under state law," Thomas wrote in 2020. "But it is quite another when the Court forces that choice upon society through its creation of atextual constitutional rights and ungenerous interpretation of the Free Exercise Clause, leaving those without religious objections in the lurch."
Despite his framing of the matter as a subversion of the democratic process and contravention of the constitutionally guaranteed rights of religious objectors, among others, Thomas' view has been characterized as "homophobic." A petition to see him impeached amassed over 1.2 million signatures.
In June, Chicago Mayor Lori Lightfoot similarly denounced Thomas.
Eichner is a Democrat who endorsed Sen. Elizabeth Warren, participated in a Democrat voter-engagement campaign entitled Glam Up the Midterms, and serves as a senior adviser for the leftist group Swing Left. He is not, however, the only Democrat to benefit from Sunday night's defamatory promotion.

Judd Apatow, the "40-Year-Old Virgin" director who castigated Disney for not readily opposing Florida Gov. Ron DeSantis' "Parental Rights in Education" bill, is the film's producer. Among Apatow's efforts was a "Special Conversation" promoting Rep. Adam Schiff's re-election efforts in 2020.