A New York public high school recently gave students in one class a "privilege reflection form" that's turning more than a few heads, WTEN-TV reported.
The form asked Saratoga Springs High School students to score their privilege based on a variety of factors. For example, they get 25 points if they're white, 25 points if they're male, 20 points if they're straight — but they lose 100 points if they're black, 50 points if they're female, and 150 points if they're gay, the Daily Gazette reported.
And that's just for starters.
What else did the form say?
The form also included outdated and offensive words and point assignments that appeared to play on cultural stereotypes, the paper said. One example: Jewish was rated the most privileged religion — earning such students 25 points — but Christian students earned just 5 points, and if you're Muslim? A whopping 50 points off, the Daily Gazette said.
Under the "disability" category, "able-bodied" students get 25 points, but "retarded" students lose 200 points and "blind" students lose 750 points.
In the "gender" category, students get 20 points if they're "cis" and 10 points if they're "trans (passable)" — but lose 100 points if they're "genderqueer" and 500 if they're "trans."
There's even an "attractiveness" category: Students get 20 points if they rate themselves a "9+/10" — but lose 10 points if they're "overweight," 20 points if they have an "ugly face," and 40 points if they're "disfigured."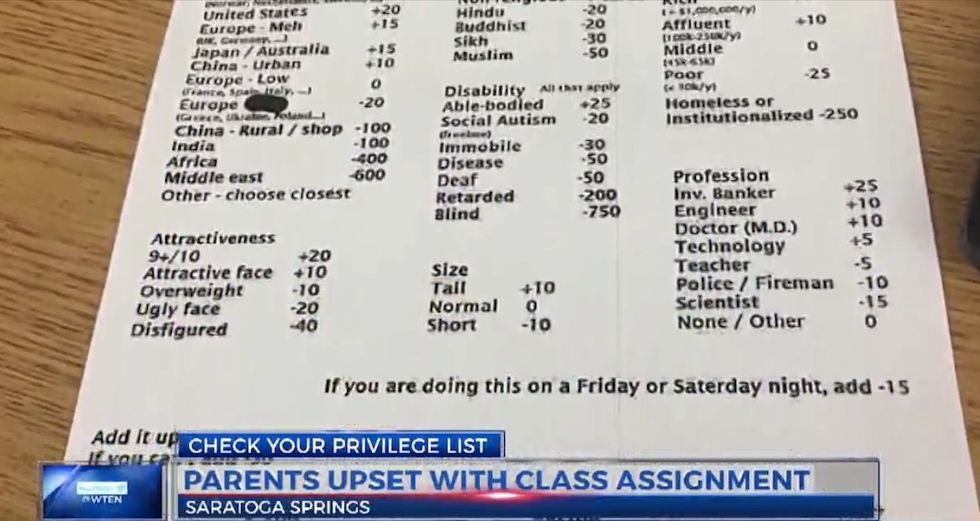 Image source: WTEN-TV video screenshot
Not to say there aren't attempts at, ahem, humor.
Students working on the form "on a Friday or Saterday [sic] night" lose 15 points, and if they can't add? That'll cost them 30 points.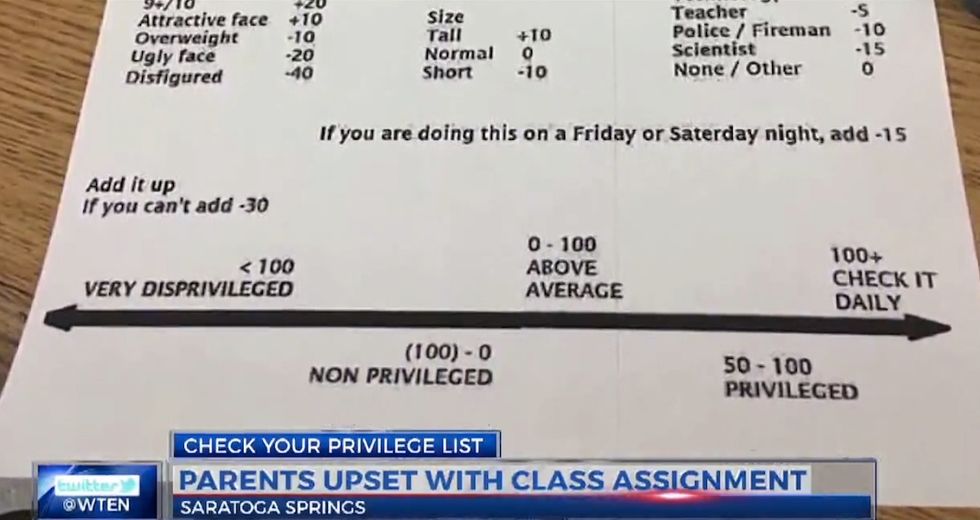 Image source: WTEN-TV video screenshot
In the end, students with final point totals of negative 100 points or less are deemed "very disprivileged" while those with 100 or more points are instructed to "check [their privilege] daily."
What was the reaction?
The Daily Gazette said the worksheet got a lot of attention after parents posted it to the Saratoga Conservative Chicks Facebook page.
"It's emotional abuse," one poster wrote, the paper said. "Students are either made to feel guilt for being white, or made to feel like victims based on the negative score associated."
Parent Michelle King — who said her daughter was given the form — told WTEN it's out of line.
"It's not acceptable. It's inappropriate. It's inexcusable to be even introduced into a classroom," King said.
Although one Facebook user wrote, "It should make Saratoga school students uncomfortable. It is a wake up call that not everyone has equal access," the Daily Gazette reported.
What did the school district say?

The Saratoga Springs School District stated, "An unmodified version of the privilege reflection form was distributed to students without the removal of insensitive words. The District does not condone the use of the document with these insensitive words," the station said.
A school district spokeswoman told the paper that district officials would consider the assignment appropriate if the insensitive words were removed, the paper added.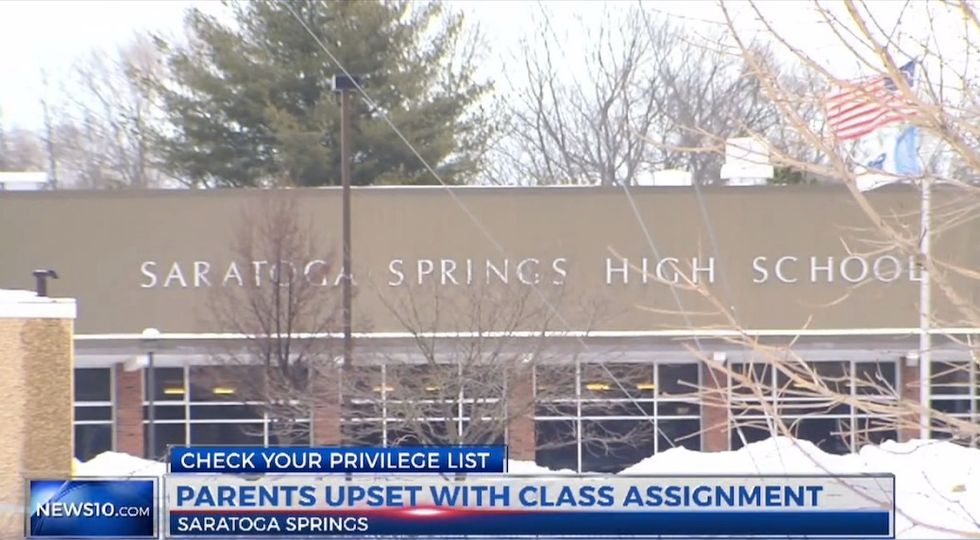 Image source: WTEN-TV video screenshot
After a school board meeting last week, Saratoga High School Principal Michelle Tsao wouldn't discuss why and how the activity was used or how the school will work to ensure similar issues don't happen again, the Daily Gazette said.
More from the paper:

Districts across the region and state in recent years have done more to promote curriculum and lessons that focus explicitly on diversity and inclusion, pointing to the importance of understanding the different places students come from and the diverse world they will leave school for.

"This topic becomes very sensitive and very personal very quickly," said Catherine Snyder, director of the Clarkson University teachers education program based in Schenectady. Snyder said the master's program she manages last year added 15 hours of workshops focused on diversity and inclusion. More broadly, she said educators are working to move from teaching tolerance – getting students to accept one another – to teaching students a deeper level of understanding one another.
"We've challenged ourselves as a profession to take a big leap from tolerance to genuine understanding," Snyder added to the Daily Gazette. "[Educators] are trying to get students to understand that people do think differently and it's your job as an individual to understand people have different points of view… Kids need to start to be more understanding, and that's not going to happen unless teachers are purposefully teaching in that direction."
(H/T: EAGNews)