Breaking news! Vice President Mike Pence is a Christian. His wife Karen is a Christian. And she's returned to teaching art — drum roll, please — at a private Christian school.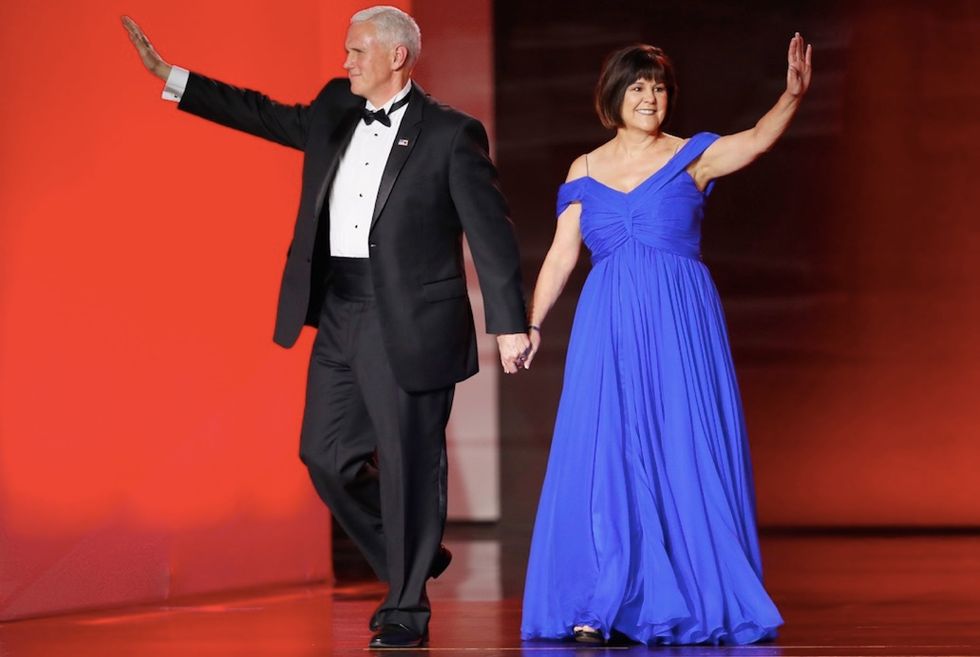 Photo by Aaron P. Bernstein/Getty Images
But the real shocker apparently is that this school prohibits "homosexual activity." In fact, it reserves the right to refuse admittance or kick out students who support, promote, or condone such behavior, according to parental agreement language from Immanuel Christian School in northern Virginia.
Here's the section in which the prohibition appears:
I understand the biblical role of Immanuel Christian School is to partner with families to encourage students to be imitators of Christ. This necessarily involves the school's understanding and belief regarding biblical morality and standards of conduct. I understand that the school reserves the right, within its sole discretion, to refuse admission to an applicant or to discontinue enrollment of a student if the atmosphere or conduct within a particular home, the activities of a parent or guardian, or the activities of the student are counter to, or are in opposition to, the biblical lifestyle the school teaches. This includes, but is not limited to contumacious behavior, divisive conduct, and participating in, supporting, or condoning sexual immorality, homosexual activity or bi-sexual activity, promoting such practices, or being unable to support the moral principles of the school. (Lev. 20:13 and Romans 1:27.) I acknowledge the importance of a family culture based on biblical principles and embrace biblical family values such as a healthy marriage between one man and one woman. My role as spiritual mentor to my children will be taken seriously.
What did an LGBT rights group have to say?
Not surprisingly, an official with an LGBT advocacy group ripped Karen Pence's decision.
"Why not teach at a school that welcomes everyone, instead of choosing one that won't serve LGBTQ kids, kids of LGBTQ parents?" JoDee Winterhof, senior vice president for policy and political affairs at the Human Rights Campaign, told the Huffington Post in a statement. "The Pences never seem to miss an opportunity to show their public service only extends to some."
What did Karen Pence have to say?
Kara Brooks, spokeswoman for the second lady, told the outlet "it's absurd that her decision to teach art to children at a Christian school, and the school's religious beliefs, are under attack."
"I am excited to be back in the classroom and doing what I love to do," Pence told USA Today in a statement. "I have missed teaching art."
What did a law professor have to say?
Robert W. Tuttle, a professor at George Washington Law School, told the Washington Post that Immanuel Christian's language on sexuality is typical of conservative Christian institutions and that the second lady is well within her rights to teach there.
Indeed, the Huffington Post noted that Virginia and dozens of other states say it's legal for private employers to discriminate on the basis of sexual and gender identity.

What else does the school stand for?
The school's employment application includes a section in which applicants initial and sign, agreeing to abide by certain standards of morality "consistent with the Holy Scriptures."
Language on page 11 reads as follows:
I will strive to live a personal life of moral purity that is separated from the world according to Scriptures, as defined by the Statement of Faith of Immanuel Bible Church and agreed upon by the Elders and Pastors of Immanuel Bible Church. I understand that the term "marriage" has only one meaning; the uniting of one man and one woman in a single, exclusive covenant union as delineated in Scripture and that God intends sexual intimacy to occur only between a man and a woman who are married to each other and that God has commanded that no intimate sexual activity is engaged in outside of marriage between a man and a woman. Further, I will maintain a lifestyle based on biblical standards of moral conduct. Moral misconduct which violates the bona fide occupational qualifications for employees includes, but is not limited to, such behaviors as the following: heterosexual activity outside of marriage (e.g., premarital sex, cohabitation, extramarital sex), homosexual or lesbian sexual activity, polygamy, transgender identity, any other violation of the unique roles of male and female, sexual harassment, use or viewing of pornographic material or websites, and sexual abuse or improprieties toward minors as defined by Scripture and federal or state law. Further, I am not, nor have been in the past, engaged in inappropriate conduct toward minors, nor do I have inclinations toward such conduct. Persons so involved or who condone such behaviors cannot be employees of Immanuel Christian School. (I Cor. 3:16, 17; I Cor. 6:19, 20; I Cor. 11:3; Romans 1:24-32; Gen. 1:27-28; 2:21-24)
Anything else?
Pence's spokeswoman also told the Huffington Post that the second lady previously taught at Immanuel Christian for 12 years while her husband was in Congress. The couple's daughter, Charlotte, attended the school, the Huffington Post added, noting the school's website.
Immanuel Christian School didn't immediately respond to requests for comment, the outlet said, adding that Pence will reportedly teach at the school twice a week until May.