© 2023 Blaze Media LLC. All rights reserved.
Leftist punks target Derek Chauvin defense witness; splatter blood on home, toss severed pig's head on porch. Problem is witness doesn't live there anymore.
A mind is a terrible thing to waste
Leave it to leftist punks to screw up their own criminal activities.
What happened?
Seems a group of suspects all dressed in black — we've seen this movie before, haven't we? — turned up around 3 a.m. Saturday at a home in Santa Rosa, California, KPIX-TV reported.
It appears they wanted to send a message to Barry Brodd — a former Santa Rosa cop who happens to be a witness for the defense in the Derek Chauvin trial, the station said.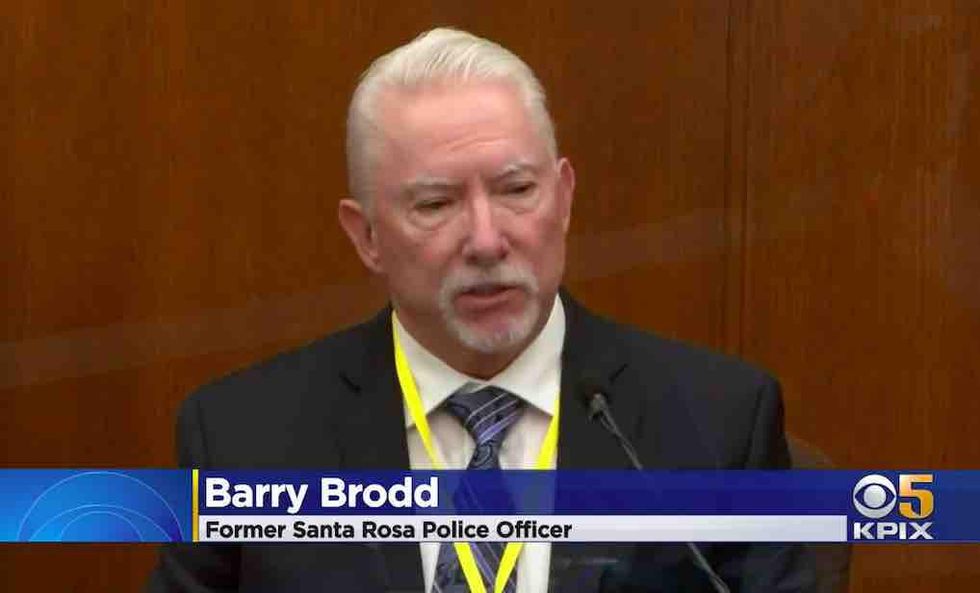 Image source: KPIX-TV video screenshot
Chauvin, a former Minneapolis police officer, is facing murder charges in the death of George Floyd in late May.
So our heroes took it upon themselves to smear the front of the house with animal blood and toss a severed pig's head on the porch, KPIX said.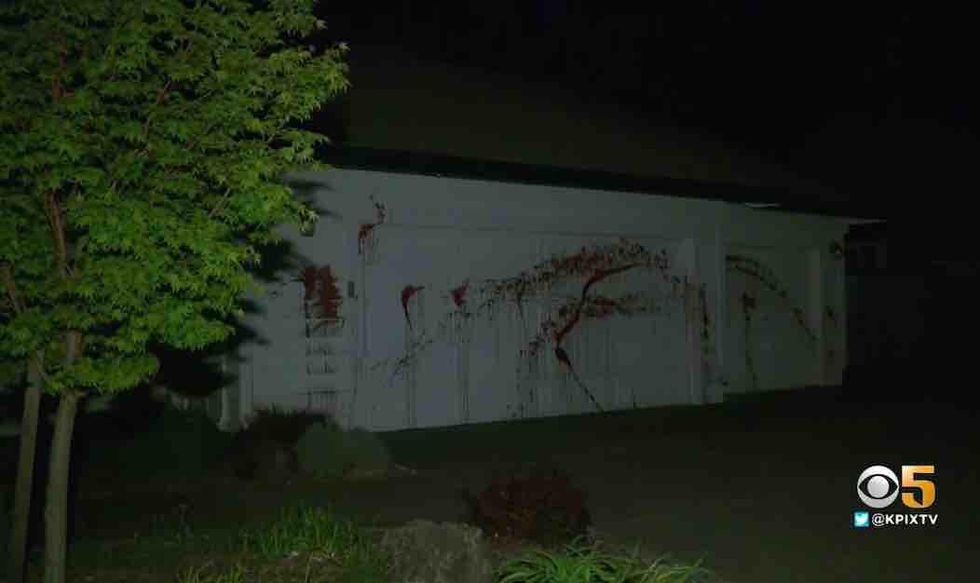 Image source: KPIX-TV video screenshot
The victim called police after being awakened by the black-clad vandals who soon took off after completing their deed, the station said.

The vandalism damage exceeded $400, which makes the crime a felony vandalism, KPIX said.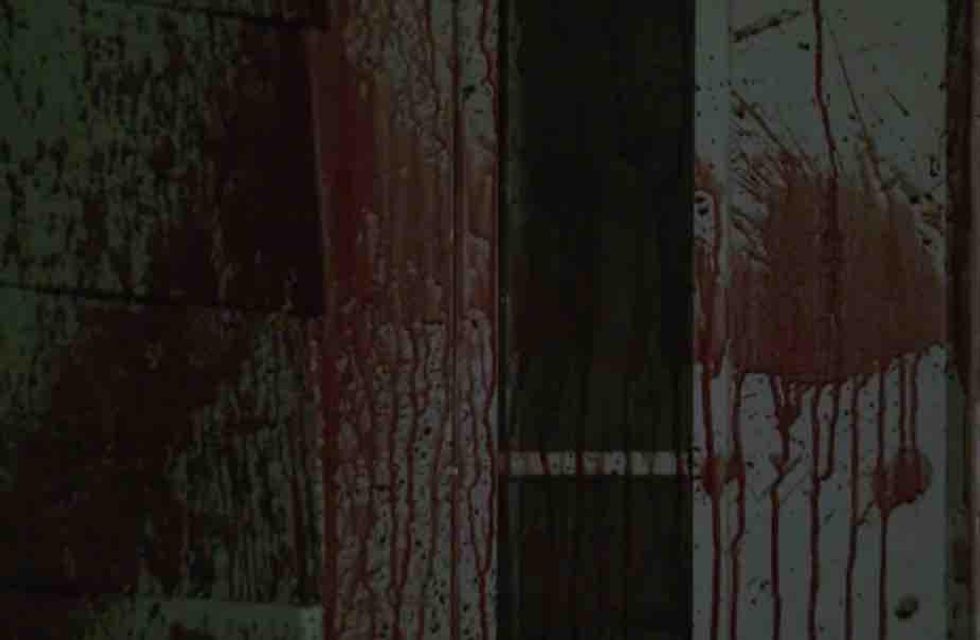 Image source: KPIX-TV video screenshot
Santa Rosa, we have a problem

The inconvenient truth here is that Brodd no longer lives at the targeted residence, the station said. In fact, KPIX said he hasn't lived in town for a number of years.
"Because Mr. Brodd no longer lives in the city of Santa Rosa, it appears the victim was falsely targeted," police said in a news release, the station said.
Nice work, guys.
Anything else?
KPIX said about 45 minutes later a large hand statue in front of the Santa Rosa Plaza mall was vandalized with a similar substance — suspected animal blood.

The suspects also left a sign in front of the statue that included an image of a pig and the words "Oink Oink."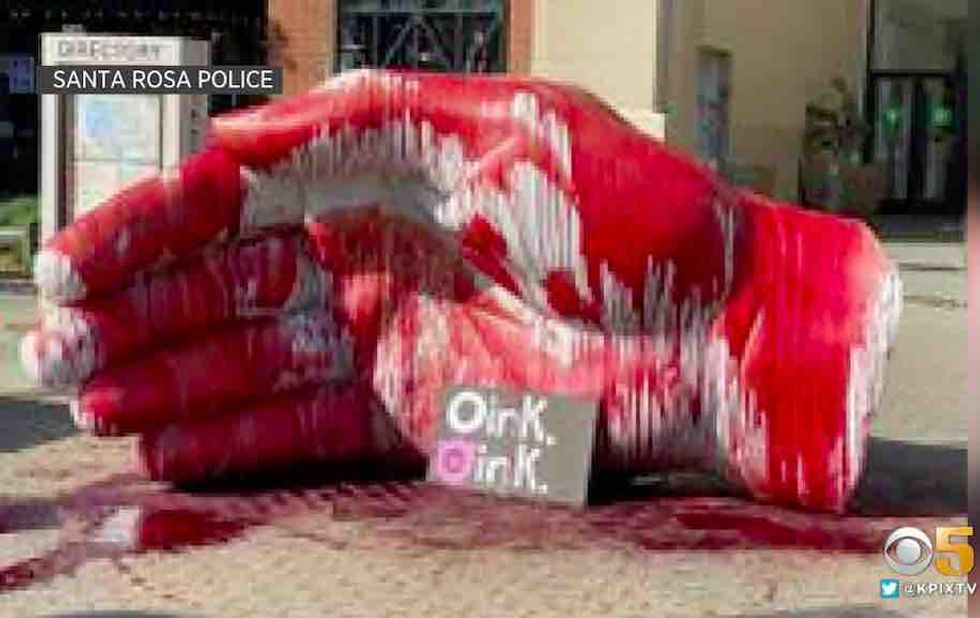 Image source: KPIX-TV video screenshot
The suspects in the hand statue vandalism were seen fleeing the area and matched the descriptions of the suspects who vandalized the house, KPIX said.

Brodd — who hasn't been with the Santa Rosa police since 2004 and no longer lives in California — testified that Chauvin was justified in the actions he took with Floyd, the station said, and that Chauvin soon had to deal with a gathering crowd that posed a threat while restraining Floyd.
KPIX added that Santa Rosa's police chief said that Brodd's comments "do not reflect the values and beliefs of the Santa Rosa police department."
Want to leave a tip?
We answer to you. Help keep our content free of advertisers and big tech censorship by leaving a tip today.
Sr. Editor, News
Dave Urbanski is a senior editor for Blaze News.
DaveVUrbanski
more stories
Sign up for the Blaze newsletter
By signing up, you agree to our
Privacy Policy
and
Terms of Use
, and agree to receive content that may sometimes include advertisements. You may opt out at any time.