The Fourth of July wedding of Audra and Jeff Johnson featured a lot of patriotic red, white, and blue — but even more it was a celebration of President Donald Trump and his 2016 election maxim, "Make America Great Again," WXMI-TV reported.
"It looked like America threw up all over my wedding," Audra Johnson told the station with a laugh. "And I'm not sorry."
She added to WXMI that she wasn't a particularly political person until Trump's presidential campaign and was drawn to his declarations that "it's OK to love your country," and "it's OK to put the people in your country first ... and maybe not to be politically correct."
Johnson also noted to the station the mix in her marriage: "He's African-American, I'm Filipino. I thought it was really important to show people that the stereotype ... that the whole 'Trump supporters are racist' ... that's wrong."
So when the couple tight the knot last week in Kalamazoo, Michigan, they made sure every detail was taken care of.
For example, everyone in the wedding party wore red MAGA hats.
WXMI said groomsmen donned "Don't Tread on Me" cufflinks, each reception table had a petition guests could sign for an anti-abortion heartbeat bill — and the bride's nails were painted to look like American flags.
And as for the bride's dress — that was the showstopper.
"The dress is actually an Andre Soriano original," Johnson told the station. "It's actually made out of a MAGA flag."
WXMI noted that Soriano is known for his custom "Trump gowns" which have been seen on the 2017 Grammys red carpet.
There was a near hiccup with Johnson's lifelong friend and maid of honor — who's a Democrat, the station said.
"We were gonna do our photos with the Trump hats, and she said, 'You know I love you, but I can't wear the Trump hat,'" Johnson told WXMI. "I said, 'It's OK. It's OK. Just wear a red hat. We still love you. We can have completely different opinions about everything and still love each other."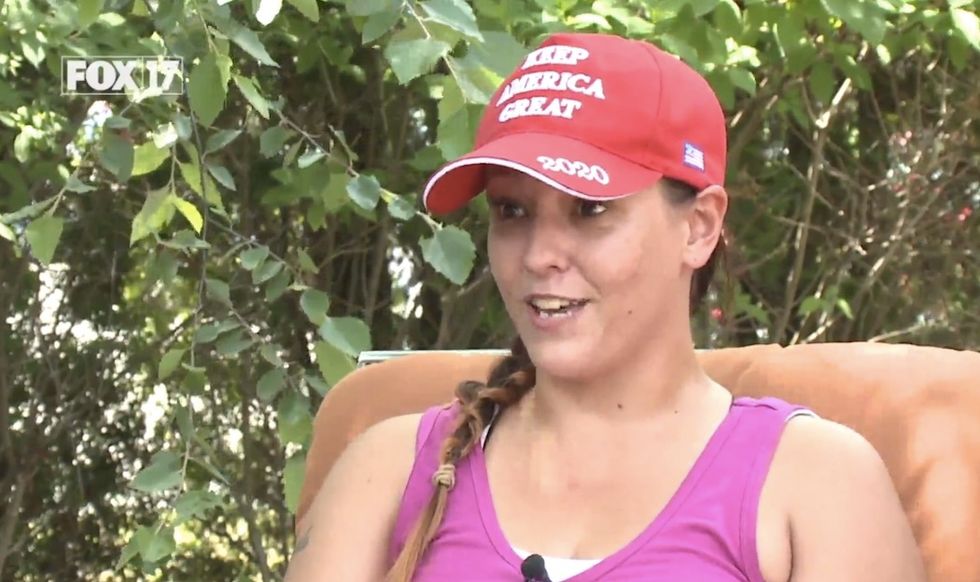 Image source: WXMI-TV video screenshot
But things didn't go so well with a couple of family members. Johnson's brother disowned her due to her beliefs, the station said — and then there was the groom's father.
"He sent us a text message: 'As long as you support that racist in the White House, I won't be attending your wedding,'" Johnson told WXMI. "Which is sad, but we did have a lot of people that loved us and showed up."
Johnson added to the station that if she were invited to a Barack Obama-themed wedding, she would attend.