Twitter guidelines on COVID-19 misinformation state: "You may not use Twitter's services to share false or misleading information about COVID-19 which may lead to harm."
"Content that is demonstrably false or misleading and may lead to significant risk of harm (such as increased exposure to the virus, or adverse effects on public health systems) may not be shared on Twitter," the social platform states. "This includes sharing content that may mislead people about the nature of the COVID-19 virus; the efficacy and/or safety of preventative measures, treatments, or other precautions to mitigate or treat the disease; official regulations, restrictions, or exemptions pertaining to health advisories; or the prevalence of the virus or risk of infection or death associated with COVID-19."
Twitter's strike system penalizes users who repeatedly violate the COVID-19 misleading information policy:
1 strike: No account-level action
2 strikes: 12-hour account lock
3 strikes: 12-hour account lock
4 strikes: 7-day account lock
5 or more strikes: Permanent suspension
In August, Greene's personal Twitter account was suspended for a week after she wrote that vaccines are "failing."
The FDA should not approve the covid vaccines," Green tweeted on Aug. 9. "There are too many reports of infection & spread of #COVID19 among vaccinated people. These vaccines are failing & do not reduce the spread of the virus & neither do masks. Vaccine mandates & passports violate individual freedoms."
Greene was temporarily suspended in July for saying that COVID-19 "was not dangerous for people under the age of 65 who are not obese."
In March and April, Greene's account was suspended twice in what Twitter admitted was done "in error" by the social network's "automated systems." Her account was reinstated shortly after being suspended.
Green's congressional Twitter account with nearly 400,000 followers is still active.
The GOP representative from Georgia responded to the banning of her personal account in a message shared on the GETTR social media platform.
"When Maxine Waters can go to the streets and threaten violence on Twitter, Kamala and Ilhan can bail out rioters on Twitter, and Chief spokesman for terrorist IRGC can tweet mourning Soleimani but I get suspended for tweeting VAERS statistics, Twitter is an enemy to America and can't handle the truth," Greene said. "That's fine, I'll show America we don't need them and it's time to defeat our enemies."
VAERS is the Vaccine Adverse Event Reporting System run by the United States Department of Health and Human Services.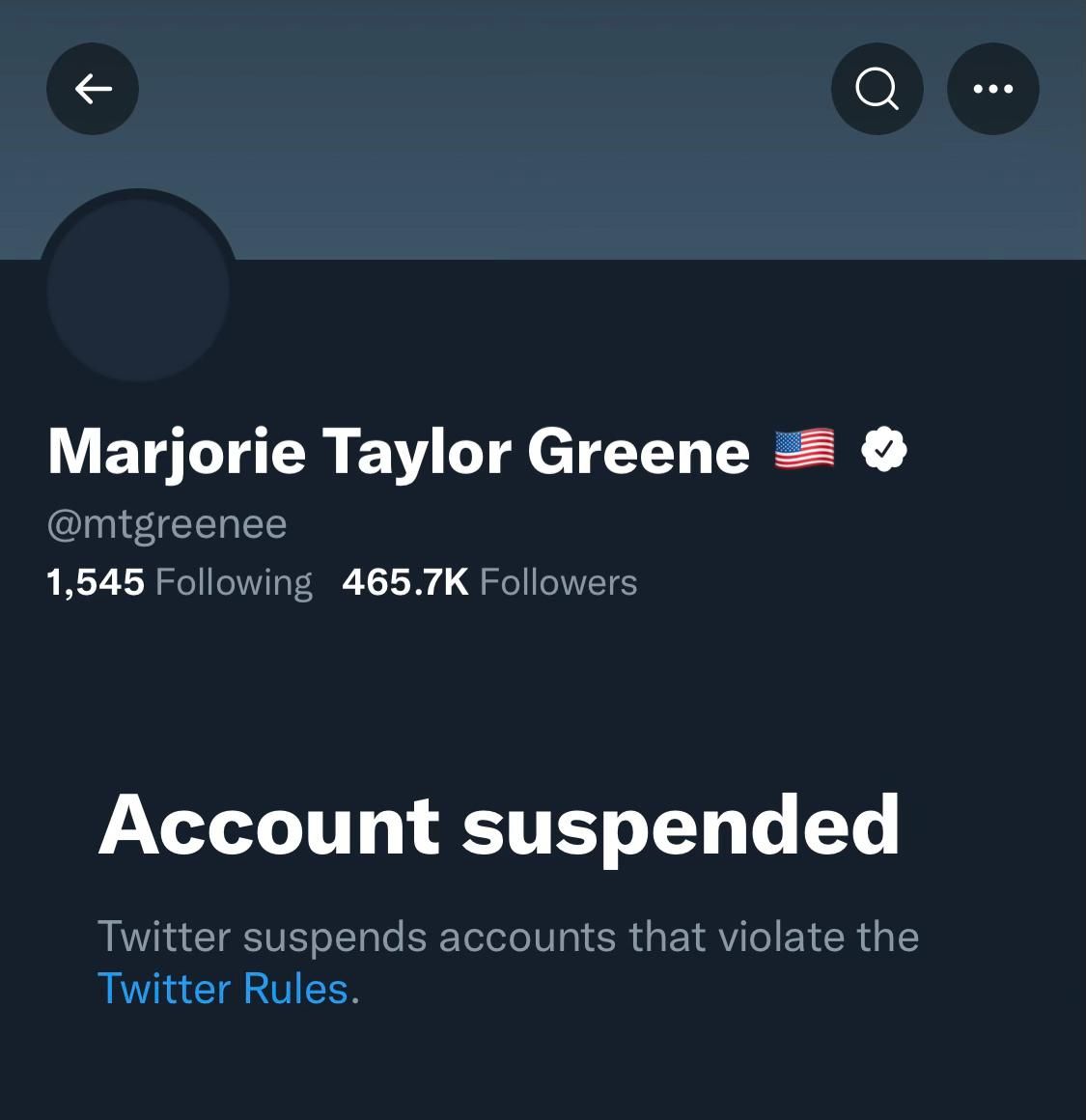 Marjorie Taylor Greene on GETTR: When Maxine Waters can go to the streets and threaten violence on Twitter, Kamala and Ilhan can bail out rioters on Twitter, and Chief spokesman for terrorist IRGC can tweet mourning Soleimani but I get suspended for tweeting VAERS statistics, Twitter is an enemy to America and can't handle the truth. That's fine, I'll show America we don't need them and it's time to defeat our enemies.gettr.com