Retired NFL tight-end Martellus Bennett, who won the Super Bowl with the New England Patriots in 2016, is calling on prominent white quarterbacks in the NFL to continue national anthem protests.
What did Bennett say?
Speaking this week at the Athletes + Activism forum hosted by The Atlantic columnist Jemele Hill, Bennett said Americans would wake up to issues like police brutality and systematic racism if prominent NFL quarterbacks like Tom Brady, Drew Brees, and Peyton Manning protest the national anthem.
"If Peyton Manning joined the conversation, the conversation in the NFL would change. If Drew Brees came in and really joined the conversation, it would change. Tom Brady. All these great white heroes that they have running around, throwing the football — if they jump into the conversation, it would be so much bigger," Bennett said, according to Yahoo News.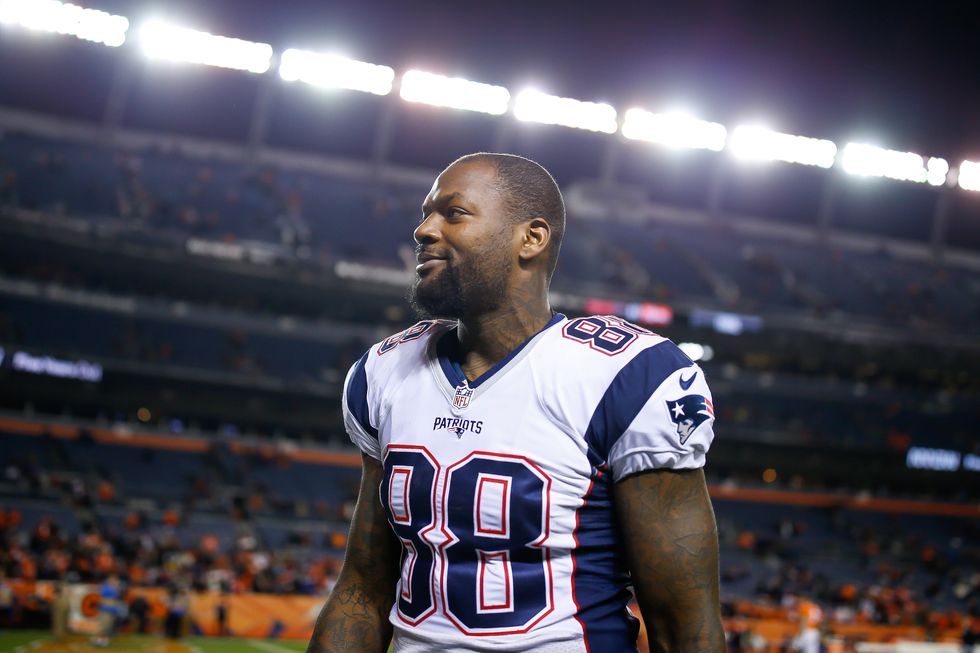 Pictured: Martellus Bennett Justin Edmonds/Getty Images
It's not clear how Manning would impact the conservation. He retired from football following the 2015 season.
Still, Bennett believes American heroes like Brady can awaken segments of America he believes remain ignorant to issues that deeply impact minority communities.

"If they were to take a knee with Colin Kaepernick, that conversation would totally change," Bennett said. "If Tom Brady took a knee, white America would be like, 'Oh my God. What is this that Tom Brady's talking about?'"
"They would start doing research and would join in the conversation. It would pique their interest," he added. "But since it's a black guy taking a knee, it's like, 'Alright, these guys, here he goes again. It's another one of these guys out here doing this.'"
Does it have to be a quarterback?
According to Yahoo News, Bennett said that if any real change is going to be made, it has to be a quarterback who shows solidarity with Colin Kaepernick because quarterbacks possess the real star power in the NFL.
Still, Bennett did not dismiss the work of former Philadelphia Eagle defensive end Chris Long, who protested the anthem in solidarity with his black teammates.
"Chris Long [joined] the conversation, but he's a defensive end. I love Chris Long. Chris Long is my boy. Shoutout to Chris," Bennett said. "But it's not the position."