A pair of Jewish men dining outside a Los Angeles restaurant Tuesday night were allegedly attacked by members of a pro-Palestinian caravan driving through the area, KTLA-TV reported.
What are the details?
The incident took place just before 10 p.m. outside Sushi Fumi on North La Cienega Boulevard in the Beverly Grove neighborhood, the station said — and portions of the attack were captured on cellphone video.
A witness told KTLA she was sitting with a group of friends when the caravan displaying Palestinian flags drove by and began shouting at diners.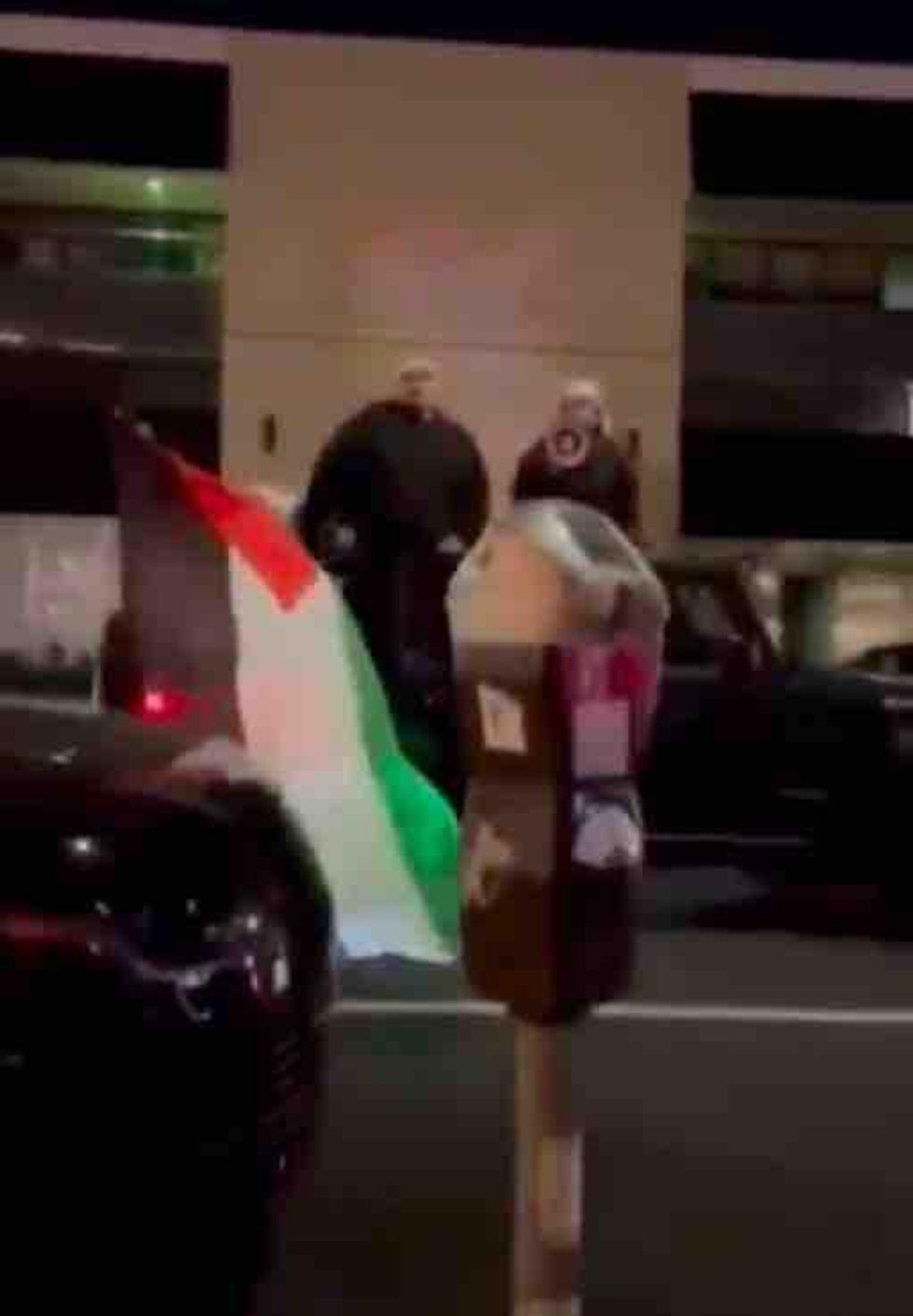 Twitter video screenshot via @SussexFriendsofIsrael
In one exchange caught on video, one of the apparent pro-Palestinians yelled at diners, "Israel kills children and women every day!" After which one of the diners yelled back, "F*** you!" Soon what sounds like breaking glass is heard, and the clip ends.
Content warning: Language:
The witness added to the station that several men from the caravan jumped out of their vehicles and asked male diners if any of them were "Jews" — and when two said they were, fighting broke out.

The mob of apparent pro-Palestinians easily outnumbered the diners, and at least two attackers were very large. One of the victims appeared to pick up a metal stand and tried to swing it at the mob, but several attackers converged on him and began punching him.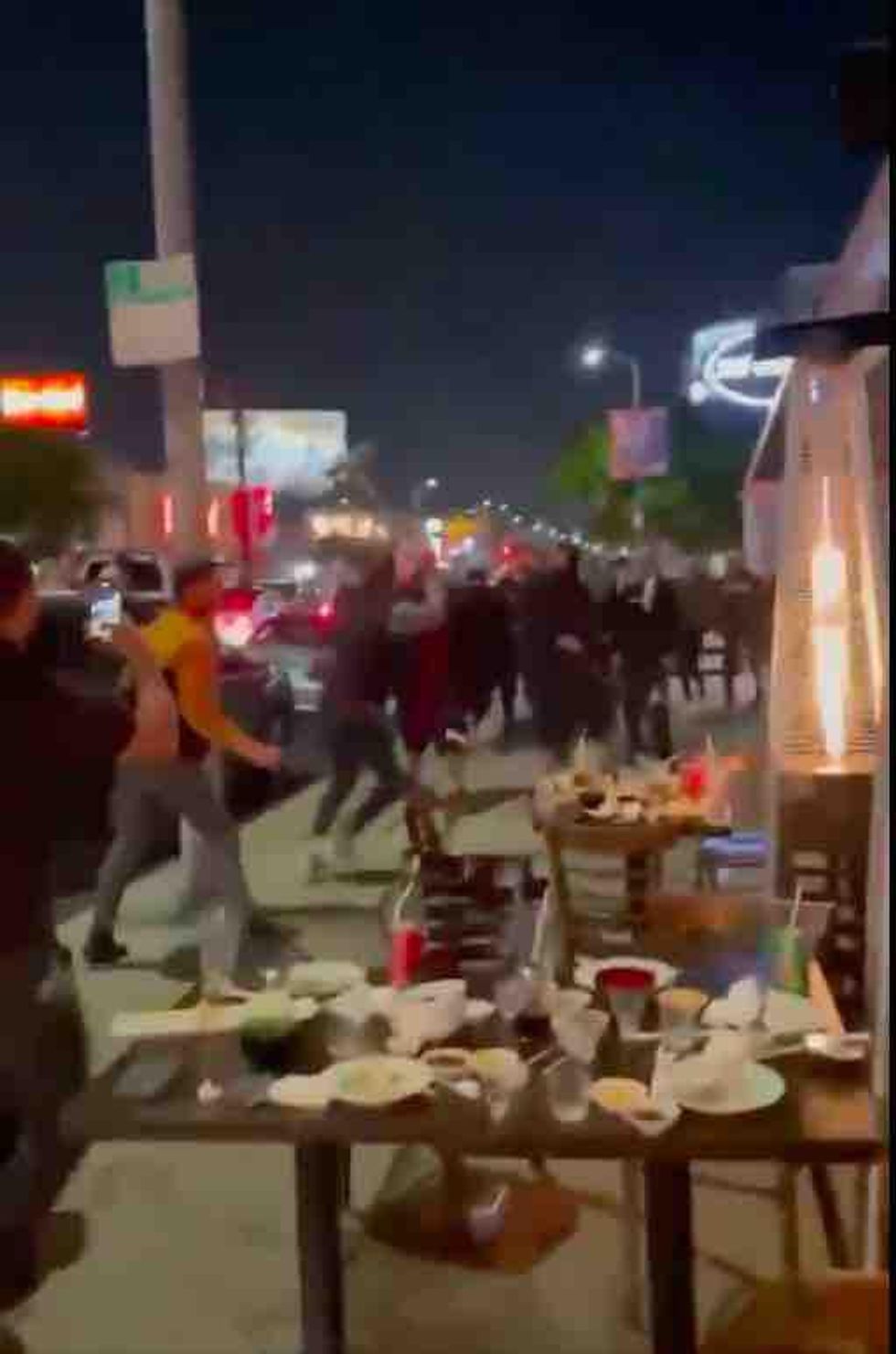 Twitter video screenshot via @Eve_Barlow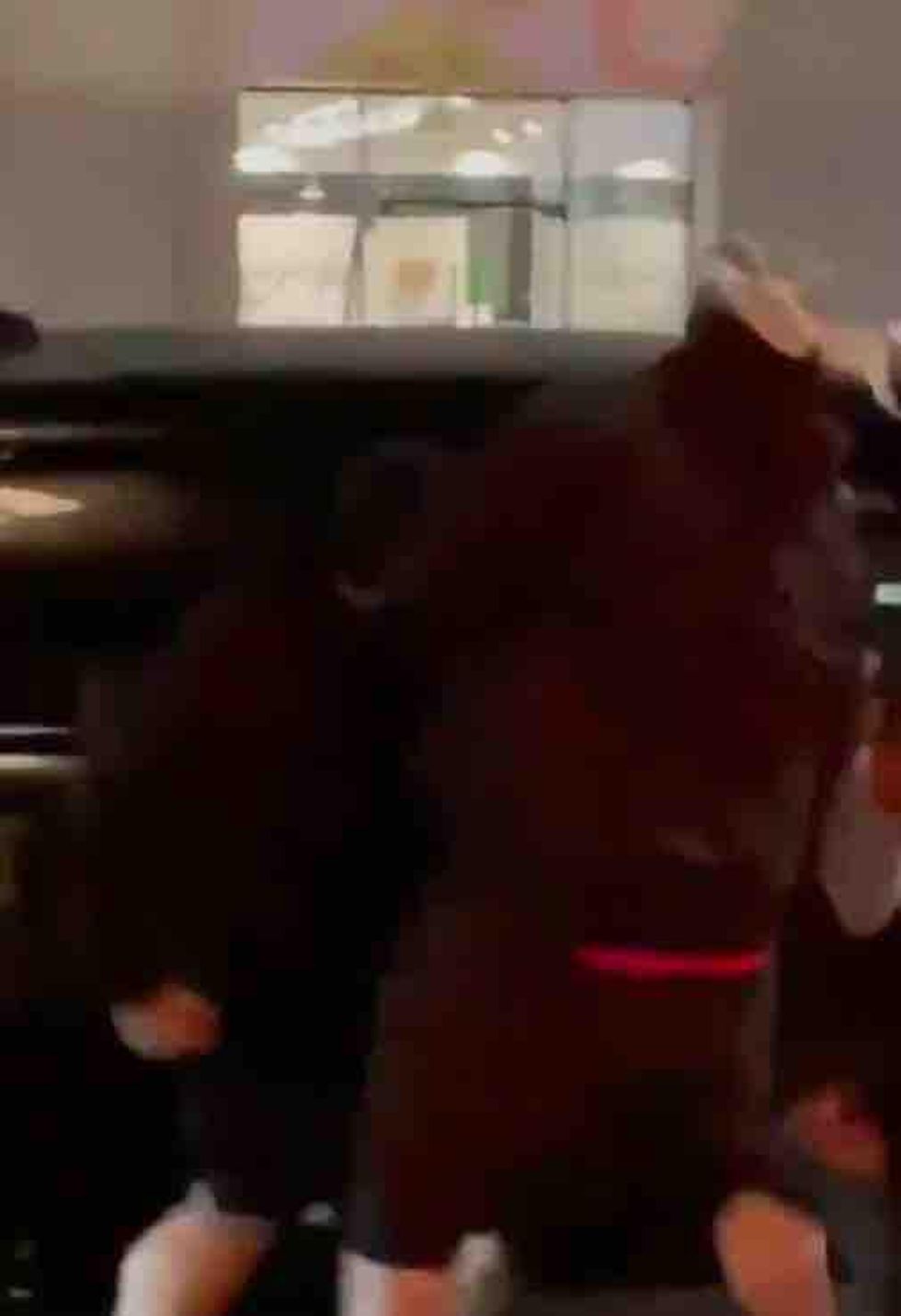 Twitter video screenshot via @Eve_Barlow
One of the diners — a photographer who is not Jewish — told KCBS-TV bottles were thrown at him and the group he was meeting with to plan a wedding.
The man said he was physically attacked when he tried to defend the group, the station said, adding that the attackers used anti-Semitic slurs and that he went to a hospital after being pepper sprayed.
KTLA said restaurant staff rushed patrons inside, locked the doors, and called police.

The suspects — who fled south on La Cienega in a vehicle described as possibly a black Jeep — were described as white men wearing all black, KCBS said.
The witness told KTLA the incident lasted about 15 minutes, and no one was taken into custody.
Authorities are investigating whether the incident was a hate crime, KCBS reported.
'Absolutely outrageous'
Video of the incident was sent to L.A. City Councilman Paul Koretz, who is Jewish, KCBS noted.
"It's absolutely outrageous," Koretz told the station. "We're not going to allow this in the city of Los Angeles."
The councilman came to the scene and said he would push for an investigation of the attack, KCBS reported.
"We're not going to bring the conflict from the Middle East here and allow people to be attacked on our streets because of what they look like and [how] they appear ethnically," Koretz noted to the station.
Pro-Palestinian activists have taken to the streets in West Los Angeles amid fighting between Israel and Hamas in Gaza, KCBS said.
This story has been updated.