Nicole Lambert's daughter was complaining about headaches and a pain in her arm, WMAR-TV reported, so Lambert had her 16-year-old checked out by a pediatrician.
Uh oh
Well, the doctor told Lambert that her daughter received Nexplanon — a three-year contraceptive — that had been improperly implanted in her daughter's arm and that it needed to be removed to avoid possible complications, including blood clots, the station said.
And it turns out, WMAR said, her daughter got the implant at Digital Harbor High School in Baltimore.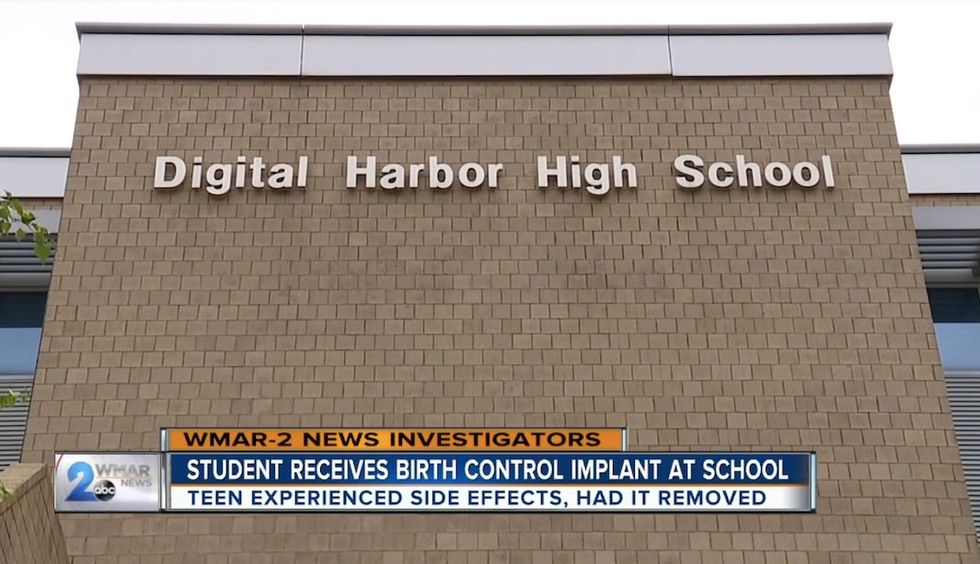 Image source: WMAR-TV video screenshot
"I instantly started crying," Lambert told the station, adding that "anything could happen to your child, and you didn't even know what's going on, it's a scary feeling."
She added to WMAR that she was "furious" and paid a visit to the school.
"And the nurse told me, 'I don't have to talk to you about absolutely nothing.' I'm like, 'That is my child, I take care of this child, you can talk to me about my child,' and they put me out of the school," Lambert added to the station.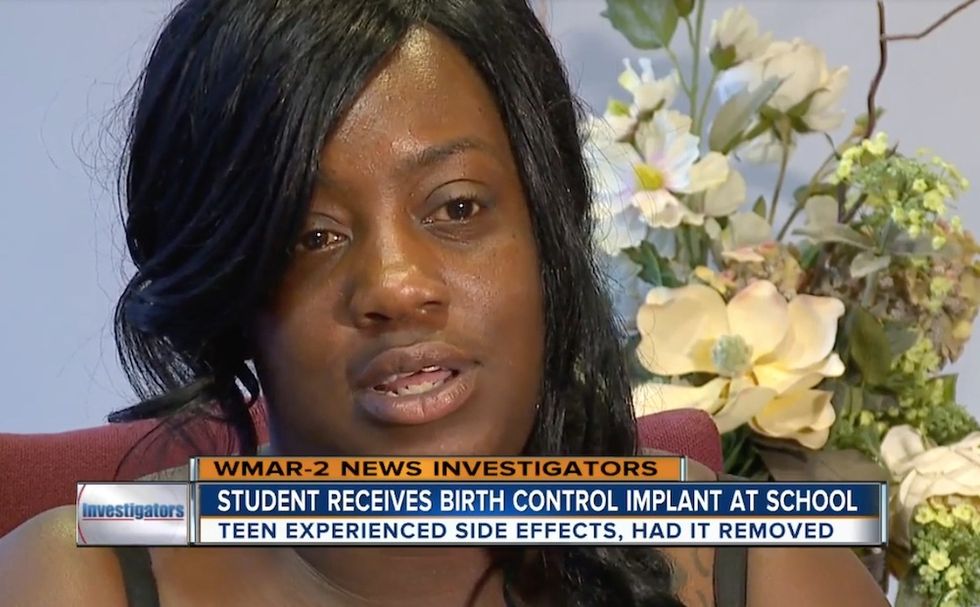 Nicole LambertImage source: WMAR-TV video screenshot
Implant removed
WMAR said the Nexplanon tube — which was placed near the back of her daughter's arm instead of the inside of the upper arm, as paperwork directs — was removed a few days later.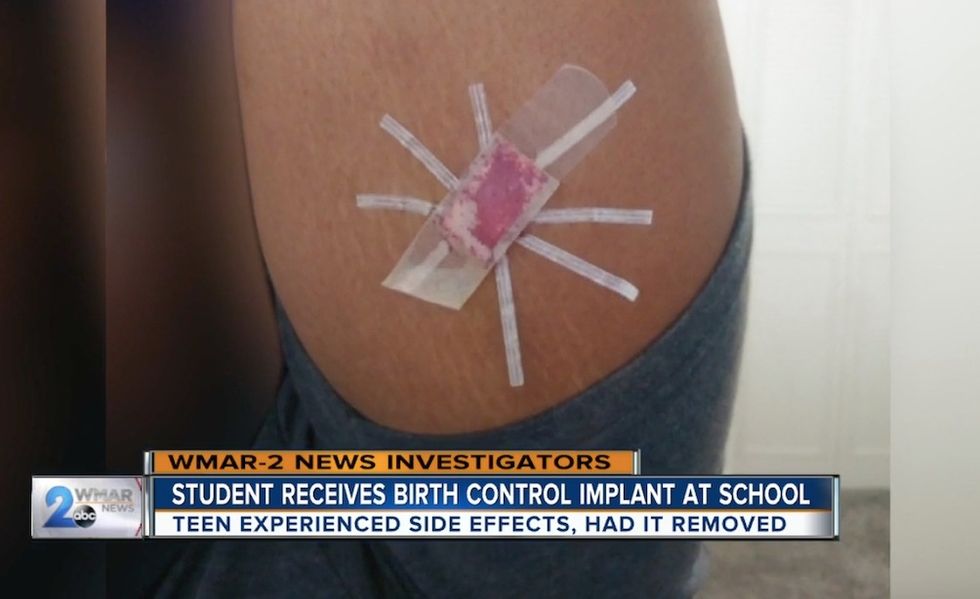 Image source: WMAR-TV video screenshot
The station said state law has let minors confidentially receive contraceptives for about the last 50 years, and several of the city's 17 School-Based Health Centers offer reproductive health care services.

'They call me for Tylenol, but they don't call me about birth control'
Lambert also noted with amazement that the school needs her permission for other things — but not for her daughter to receive birth control.
"They call me for Tylenol, but they don't call me about birth control," she told the station. "You gave my daughter this insertion so she might be suffering from that, but do they even look at that?"
Mum seems to be the word
WMAR said it asked the school system for information on the nurse's training and qualifications, as well as its birth control policies, and to comment on the incident — but the station said it was told to speak to the Baltimore City Health Department, which oversees the school-based health centers.
And the health department? Well, WMAR said the city's law department advised the health department to not respond to questions due to a pending case against the city.
An official with the union representing registered nurses and nurse practitioners with the health department told the station it has "chosen not to comment on this case directly due to pending litigation, but we do stand behind our members, and I hope the student receives the care she needs."
The union's statement added that "there is a critical shortage of registered nurses and nurse practitioners within Baltimore City Public Schools. We're asking that the public support our efforts in demanding that all schools have safe staffing, and this must include a licensed individual in every school building immediately."
WMAR asked the health department to respond to the union's statement, and a spokesperson said, "Given the sensitive nature of this matter, we have no comment at this time."
Mom hires a lawyer
Lambert told the station she's uncomfortable with school nurses doing invasive procedures they're unfamiliar with and hired a lawyer to look into the matter.
"Ms. Lambert wasn't given the choice to pick the medical provider where her daughter would feel comfortable going and receiving these services, who she knew did a comprehensive medical exam, who she knew knew her medical history," David Ledyard, the attorney representing Lambert, told WMAR.
(H/T: PJ Media)