A Missouri man who served nearly 30 years in prison for a murder he always insisted he didn't commit has now been set free.
In July 1995, Lamar Johnson was convicted of murdering 25-year-old Marcus Boyd the previous October. According to the evidence presented at trial, Johnson and another masked man found Boyd on his front porch and shot him over a $40 drug dispute.
James Gregory Elking was on the porch that day to purchase crack cocaine when two masked men arrived and shot and killed Boyd. Elking then identified Johnson in a police lineup and later testified for the prosecution at Johnson's trial.
The second masked man, Phil Campbell, who has since passed away, pled guilty in connection to Boyd's murder and received a reduced sentence of just seven years in exchange for cooperating in the case against Johnson. William Mock, a jailhouse informant, testified at trial that he overheard Johnson and Campbell say in conversation that they "should have shot" Elking.
The culmination of that evidence led to a guilty verdict, and Johnson was hauled away to the Jefferson City Correctional Center, where he spent 28 years trying to prove his innocence. St. Louis Circuit Attorney Kim Gardner filed several court motions to have the court revisit Johnson's conviction, but was thwarted at every turn.
Then in 2021, the Missouri legislature passed a bill which made it easier for prosecutors to reexamine old convictions when new evidence has been brought to light. Emboldened by the new law, Gardner applied to revoke Johnson's conviction in August, and a new hearing was scheduled for December.
During the five-day hearing, Johnson testified that on the night of Boyd's death, he had been with his then-girlfriend, Erika Barrow, the entire night, except for a few minutes when he went to a corner to sell drugs. He stated that the corner where he went is "several blocks" from the porch where Boyd was killed, so he was nowhere near the crime scene.
Barrow corroborated Johnson's story in her testimony, claiming that Johnson left her for only "five minutes," which she said would not have been enough time for Johnson to murder Boyd and then return.
Elking also testified at the hearing, stating that he felt "bullied" and "pressured" to identify someone from the police lineup, even though he could not see much of either assailant, due to the masks they were wearing. He said his identification of Johnson all those years ago has "been haunting" him ever since. Gardner alleged that Elking was paid at least $4,000 for his testimony at the original trial.
Since Johnson's conviction in 1995, Campbell and another man, James Howard, 46, both signed affidavits stating that they had murdered Boyd and that Johnson was not involved in Boyd's death. Howard is currently serving life in prison for several crimes, including murder, which occurred three years after Boyd died. Howard testified at Johnson's hearing as well, stating that he had shot Boyd twice and that Campbell had shot Boyd once. He reiterated that Johnson was not there at the shooting and was not involved in it.
According to Johnson's attorneys, the state "presented nothing [at the hearing] to challenge the overwhelming body of evidence that the circuit attorney and Lamar Johnson had amassed."
Judge David Mason must have agreed. On Tuesday, Mason determined that Johnson's lawyers — including members of the Midwest Innocence Project, who had joined his cause pro bono — had presented "reliable evidence of actual innocence — evidence so reliable that it actually passes the standard of clear and convincing," which is required by state law to overturn a conviction.
Not only did Mason vacate Johnson's conviction, but he even declared: "This combined testimony amounts to clear and convincing evidence that Lamar Johnson is innocent and did not commit the murder of Marcus Boyd either individually or acting with another."
After fulfilling a few, brief processing protocols, Johnson, now 49, walked out of the court a free man.
"This is unbelievable," Johnson said. He later added that he now has to start over from scratch: reconnect with his daughters, find a job, and learn to reestablish himself in society. "It's just like going inside a prison for the first time," he said. "You have fear of the unknown. Now I have to try to make a life.
"I can survive," Johnson said.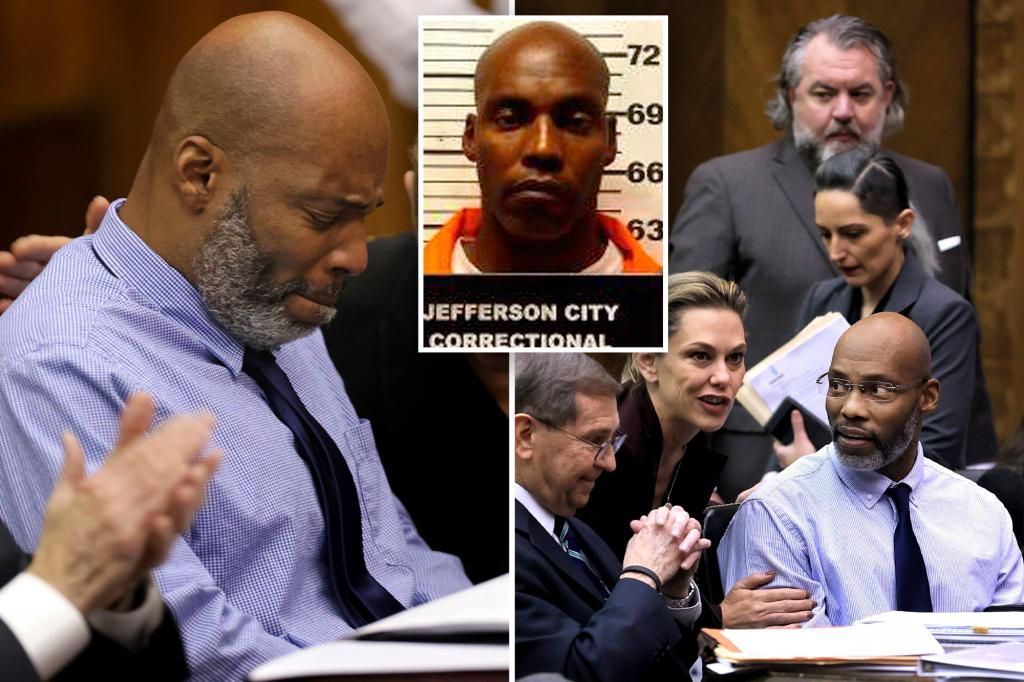 Man who served 28 years in prison freed after murder conviction overturnednypost.com
The Missouri Attorney General's Office released a statement, following the vacated conviction. "As he stated when he was sworn in, Attorney General (Andrew) Bailey is committed to enforcing the laws as written," said spokesperson Madeline Sieren. "Our office defended the rule of law and worked to uphold the original verdict that a jury of Johnson's peers deemed to be appropriate based on the facts presented at trial."

The office said that it will not pursue further action in the case, the New York Post reported.
Like Blaze News? Bypass the censors, sign up for our newsletters, and get stories like this direct to your inbox. Sign up here!