Having completed her field training just before Christmas, 22-year-old rookie officer Natalie Corona — called a "rising star" for the Davis, California, police force — was gunned down in the line of duty Thursday.
Amid the outpouring of grief, a photo of Corona wearing a blue dress and waving the pro-police "Thin Blue Line" flag — which she posted to her Facebook page in 2016 — went viral.
"I would like this photograph to serve as my gratitude for all those law enforcement men and women who have served, who are currently serving, and those who have died in the line of duty protecting our liberties in this great country," Corona wrote.
Controversy ensues
But once news of Corona's death and her photo got around, a student government group from the University of California, Davis, criticized the image in a now-deleted Facebook post, calling the Thin Blue Line flag "triggering" and "blatantly anti-Black," the Sacramento Bee reported.
The university's Ethnic and Cultural Affairs Commission added in its post: "Flashing lights, sirens, and increased police presence can be triggering to many Black and Brown people. In addition, there has been the circulation of an image of the police officer with the Blue Lives Matter flag. We would like to directly address that this flag represents an attempt by law enforcement to undermine the Black Lives Matter movement. 'Blue Lives Matter' was... an effort to evade accountability and critical awareness of police treatment of communities of color," according to the Bee.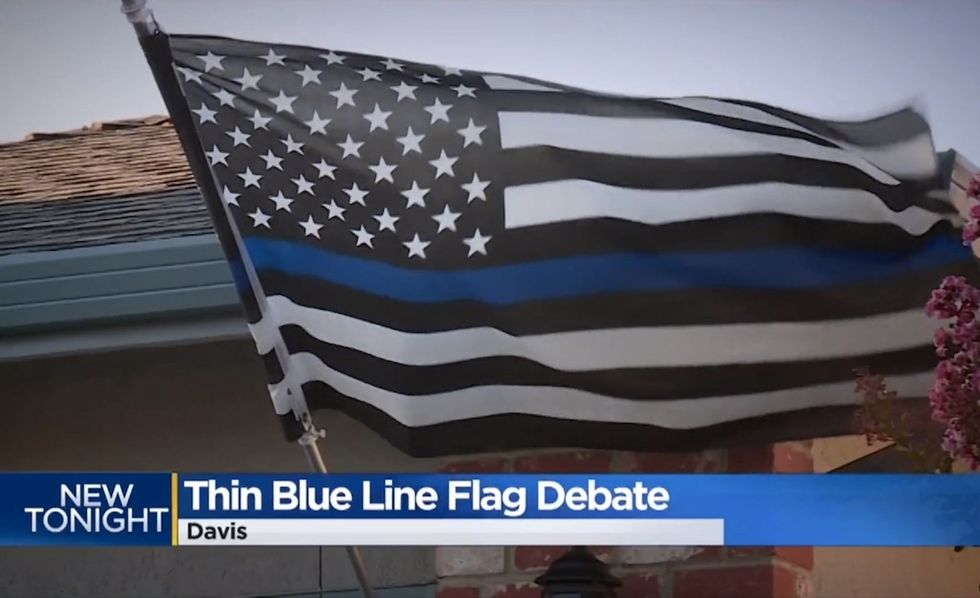 Image source: KOVR-TV video screenshot
In the aftermath, Black Lives Matter Sacramento posted on Facebook Monday that it was "taking all donations" of Blue Lives Matter flags "acquired on the street (not bought)," KOVR-TV reported. The chapter's founder told the station the flags were wanted for a future art piece.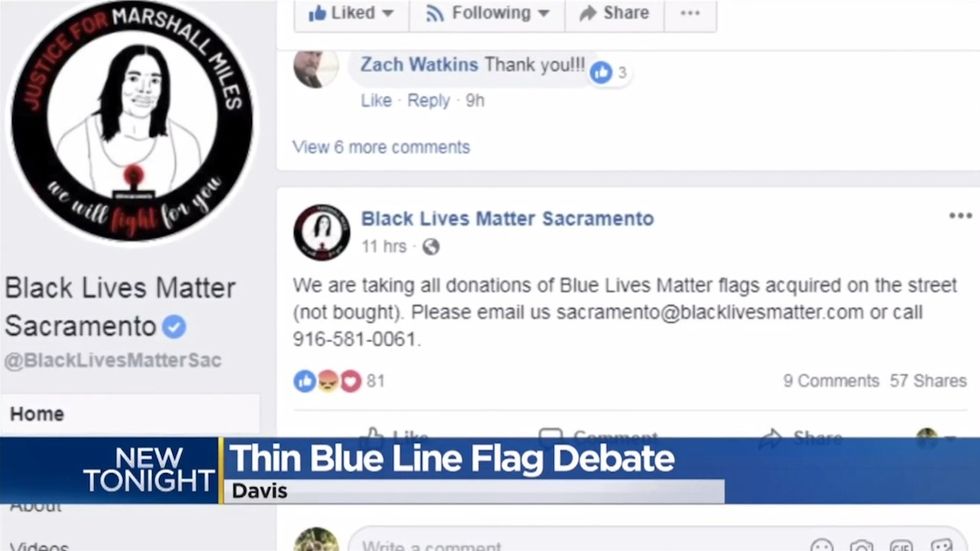 Image source: KOVR-TV
But retired Las Vegas Metro Lt. Randy Sutton called the reactions "reprehensible," adding to the station that "while police officers and families are mourning the death of this woman, they put a bounty put on Thin Blue Line Flags."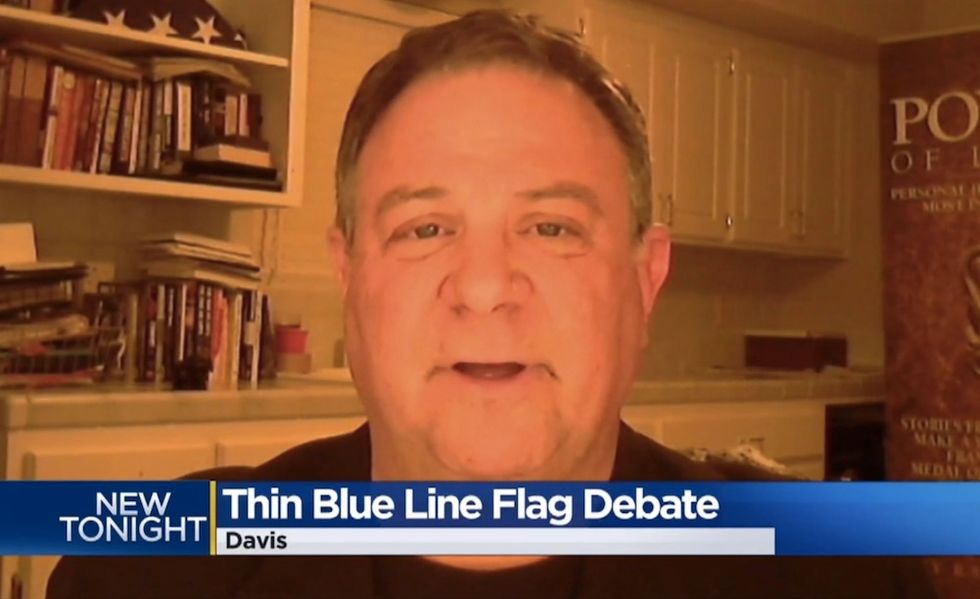 Randy SuttonImage source: KOVR-TV video screenshot
'There are definitely a lot of racial undertones'
Tanya Faison, founder of Black Lives Matter Sacramento, told KOVR that "there are definitely a lot of racial undertones" with regard to the Thin Blue Line flag.
She told the station that the flag — and the Blue Lives Matter movement — are direct responses and attacks upon Black Lives Matter.
"I mean, people yell this at us and then in the same sentence call us thieves, call us criminals, call us leeches off the system, tell us to get jobs," Faison told KOVR. "So basically it's a new version of the Confederate flag."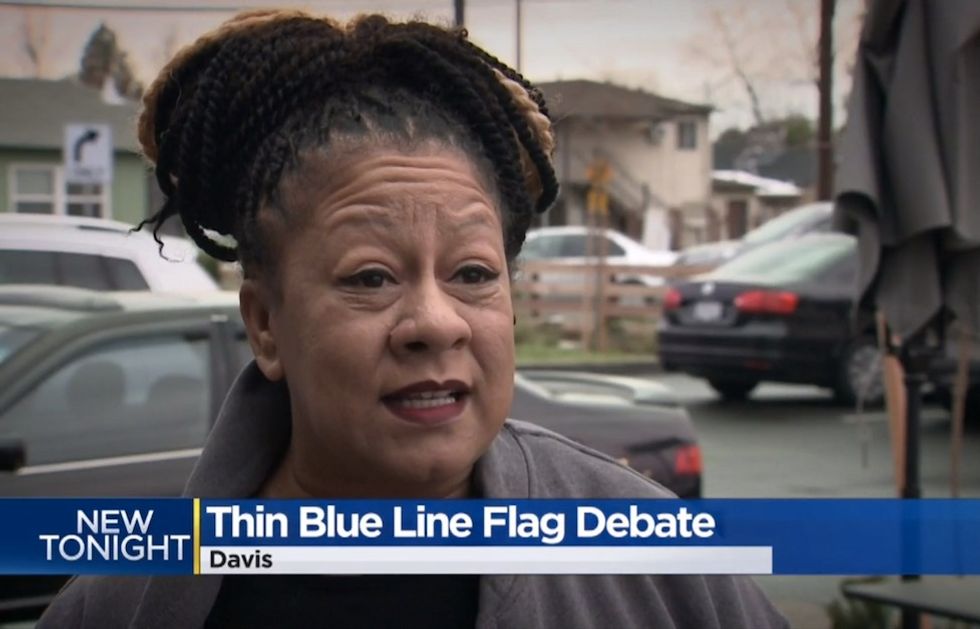 Tanya FaisonImage source: KOVR-TV video screenshot
Sutton disagreed, telling the station the flag "represents all of America. It represents white people, black people, Hispanic people, females, males, gays, transsexuals" and called the claim that it's racist "absurd. What it shows is their lack of compassion, it shows their lack of dignity. It shows that they don't even have a grasp of the reality of what the Thin Blue Line flag is."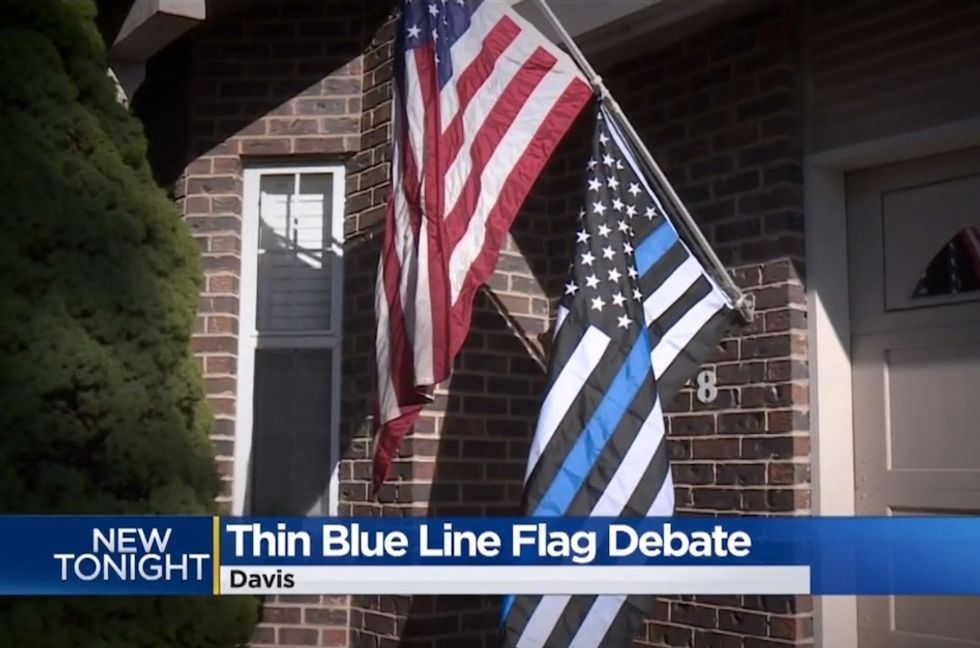 Image source: KOVR-TV video screenshot
Faison concluded to KOVR that "people have chosen a side, and that's what's going on."
The Bee also reported that Black Lives Matter Sacramento's blog post Sunday questioned why Corona was being called a hero and noted recent police-involved shootings.
More from the paper:
Blog post author Trina Allen called Blue Lives Matter "repackaged Nazi propaganda" in her writing and said the organization had hijacked Black Lives Matter's name out of reactionary fright. She called on people to focus their thoughts on 19-year-old Darell Richards, who was fatally shot by Sacramento police in September while brandishing a pellet gun during a mental health crisis.

"Blue is the color of a uniform, not a person. Blue is a choice, not forcible oppression," Allen's post begins. "Blue is a job, and the phrase 'blue lives matter' is simply a racist, reactionary clapback to the very real human rights struggle of the Black Lives Matter movement."

The Davis City Council has intentionally avoided using the flag in social posts following Corona's death, according to Mayor Pro Tem Gloria Partida. While there wasn't an official decision or a vote, council members are trying to be careful when dealing with vulnerable groups in general, Partida said.