© 2023 Blaze Media LLC. All rights reserved.
News station's wild story: 911 caller sees 10-foot-tall 'aliens' with 'big eyes' in backyard, says 'they're not human'; cop on way to scene confesses, 'I have butterflies, bro'
Las Vegas news station KLAS-TV published a wild investigative story Wednesday — all about a falling flash of light in the night sky captured on video and a 911 call minutes later from a man who told a dispatcher he was looking right at 10-foot-tall "aliens" with "big eyes" in his backyard and that "they are not human."
"I swear to God this is not a joke, this is actually — we're terrified," the man added to the dispatcher, according to a recording of the call the station obtained.
'It has big eyes, and it's looking at us'
Around 11:50 p.m. April 30, a Las Vegas Metro police officer's bodycam recorded something streaking low across the sky, KLAS said, adding that the American Meteor Society said people across eastern California, Nevada, and Utah reported seeing the flash.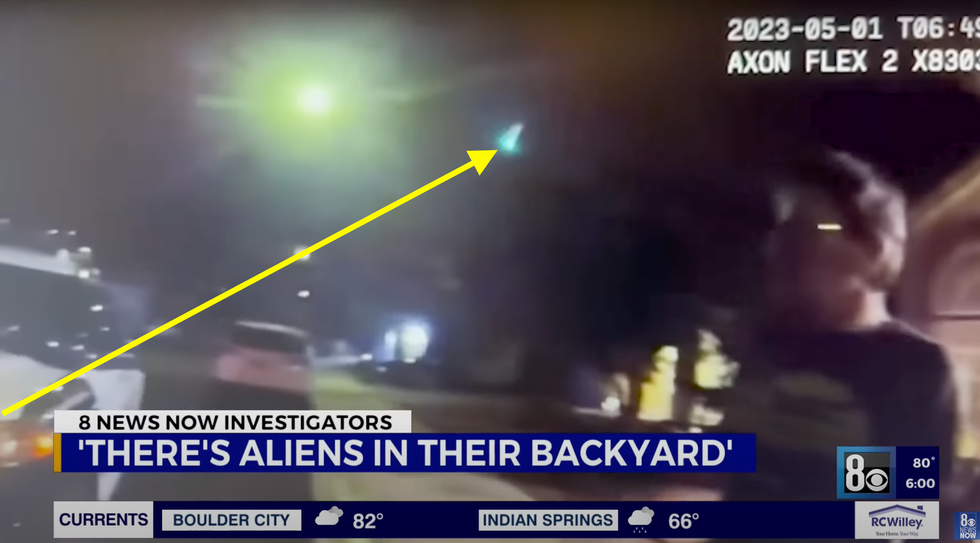 Image source: YouTube screenshot
The station said a man called 911 about 40 minutes later, saying he and his family saw something fall from the sky — and that two moving things were in his backyard.
"There's like an 8-foot person ... and another one ... and it has big eyes, and it's looking at us — and it's still there," the caller told a dispatcher, according to KLAS.
The dispatcher asked, "So, there's two people ... two subjects in your backyard?" the station said.
"Correct. And they're very large. They're like 8 foot, 9 feet, 10 foot," the caller replied, according to KLAS. "I don't know ... they look like aliens to us. Big eyes. They have big eyes. Like, I can't explain it, and big mouth[s]. They're shiny eyes, and they're not human. They're 100% ... not human."
The station said it obtained a police call log that shows several other family members confirmed the sighting to officers.
'I have butterflies, bro'
With that, two officers went to the home to investigate, KLAS said, adding that the station obtained the officers' bodycam videos.
One bodycam video from inside a squad car records an officer saying, "I'm so nervous right now. I have butterflies, bro. Saw a shooting star, and then these people say there's aliens in their backyard," the station said.
KLAS said the officers arrived at the home about a 30 minutes after the 911 call, and an officer's bodycam video shows him talking to the family.
"What'd you see?" the officer asked, according to the station.
"It was like a big creature," one witness replied, KLAS said.
"A big creature?" the officer wondered, according to the station.
"Yeah, like around 10-feet tall," the witness answered, KLAS said.
Image source: YouTube screenshot
"I'm not gonna BS you guys," the officer told the family, according to the station. "One of my partners said they saw something fall out of the sky, too. So that's why I'm kinda curious. Did you see anything land in your backyard?"
KLAS said police bodycam video shows one officer walking into the backyard with a witness to investigate, and the witness told him, "What I saw right now, I do believe in it."
"You guys seem like legit scared, so I don't blame you," an officer replied, according the station.
But police blacked out the portion of the bodycam video showing the family's backyard over privacy laws, KLAS said.
The station added that around the same time, another witness told police an SUV was circling in the area, and a second officer's bodycam video shows him talking to neighbors driving by.
"This might sound like a really dumb question, but did you guys see anything fall out of the sky?" the officer asked the vehicle's passengers, KLAS reported. "I would normally discount it as nothing, however seeing as one of my partners said they saw it, too — [it's] the only reason I'm investigating it further."
Metro police's investigation turned up no concrete answers as of Wednesday, the station said, and the case has been closed. The family told KLAS officials returned to the home over several days to investigate.
"Hey, if those 9-foot beings come back, don't call us alright?" one officer told the family as he walks from the home and back to his cruiser, the station said. "Deal with it yourself; I'm not dealing with that."
Anything else?
Representatives from nearby Creech and Nellis Air Force bases told KLAS they weren't involved in the incident, and a Pentagon spokesperson did not immediately respond to questions regarding the event.
KLAS investigative reporter David Charns ended the video report by revealing, "Sources say that there's really no dispute: something was in their yard — exactly what we do not know."
Las Vegas family claims to see aliens after several report something falling from sky youtu.be
The elephant in the room
The million-dollar questions on everyone's minds about now are, "Did the guy who called police record video of what he said he saw? Did anyone else with him record video? Are there photos?"
Well, apparently in this day and age of just about everyone having smartphones at the ready, the KLAS report doesn't mention if the family members recorded video or took images of their alleged encounter. You'd figure if they had either, they would've shared them with the news station.
That seemed to be the main question on minds of Twitter users responding to Charns' tweet about his story:
"My issue with this is they called the police, there's 4 people home, and not a single person thinks to snap a picture or take a video?" one user asked . "Seriously?
"No cellphone video? Photos?" another commenter wondered .
"I mean, if there were 2 8-foot aliens in my backyard, I'm pretty sure I'm pulling out a camera and getting video and pics," another user stated .
Oh, and then there's this gem:
\u201c@davidcharns @8NewsNow Literally everyone has a phone with the ability to shoot hi-res photos and video. \n\nI took a picture of an opossum walking on my fence. \n\n8ft Alien \ud83d\udc7d ... Nah\u201d

— David Charns (@David Charns) 1686175484
Like Blaze News? Bypass the censors, sign up for our newsletters, and get stories like this direct to your inbox. Sign up here !
Want to leave a tip?
We answer to you. Help keep our content free of advertisers and big tech censorship by leaving a tip today.
Sr. Editor, News
Dave Urbanski is a senior editor for Blaze News.
DaveVUrbanski
more stories
Sign up for the Blaze newsletter
By signing up, you agree to our
Privacy Policy
and
Terms of Use
, and agree to receive content that may sometimes include advertisements. You may opt out at any time.