Amid the hoopla surrounding former Democratic U.S. Sen. Al Franken now saying he "absolutely" regrets resigning from his post following sexual harassment allegations from eight women, Hollywood leftist Bette Midler went to bat for Franken by attacking one his accusers: Leeann Tweeden.
What's the background?

You might recall Tweeden accused Franken of kissing and groping her when they practiced a skit as part of a 2006 USO tour.
Tweeden said she felt "disgusted and violated," told Franken to back off, and warned that he'd better not try it again.
"I walked away," Tweeden wrote. "All I could think about was getting to a bathroom as fast as possible to rinse the taste of him out of my mouth."
She added that Franken got back at her with "petty insults" — and then the coup de grace: A photo of Franken appearing to grope Tweeden's breasts while she slept.
Image source: Twitter
What did Midler post about Tweeden?

Midler on Monday tweeted an uncensored photo of a woman's torso accompanied by the following text: "(Leeann Tweeden, Al Franken's) accuser, in all her right-wing glory. Al was forced to resign, without anything resembling due process, amid HER allegations that something 'untoward' happened between them. Read about it in (the New Yorker)."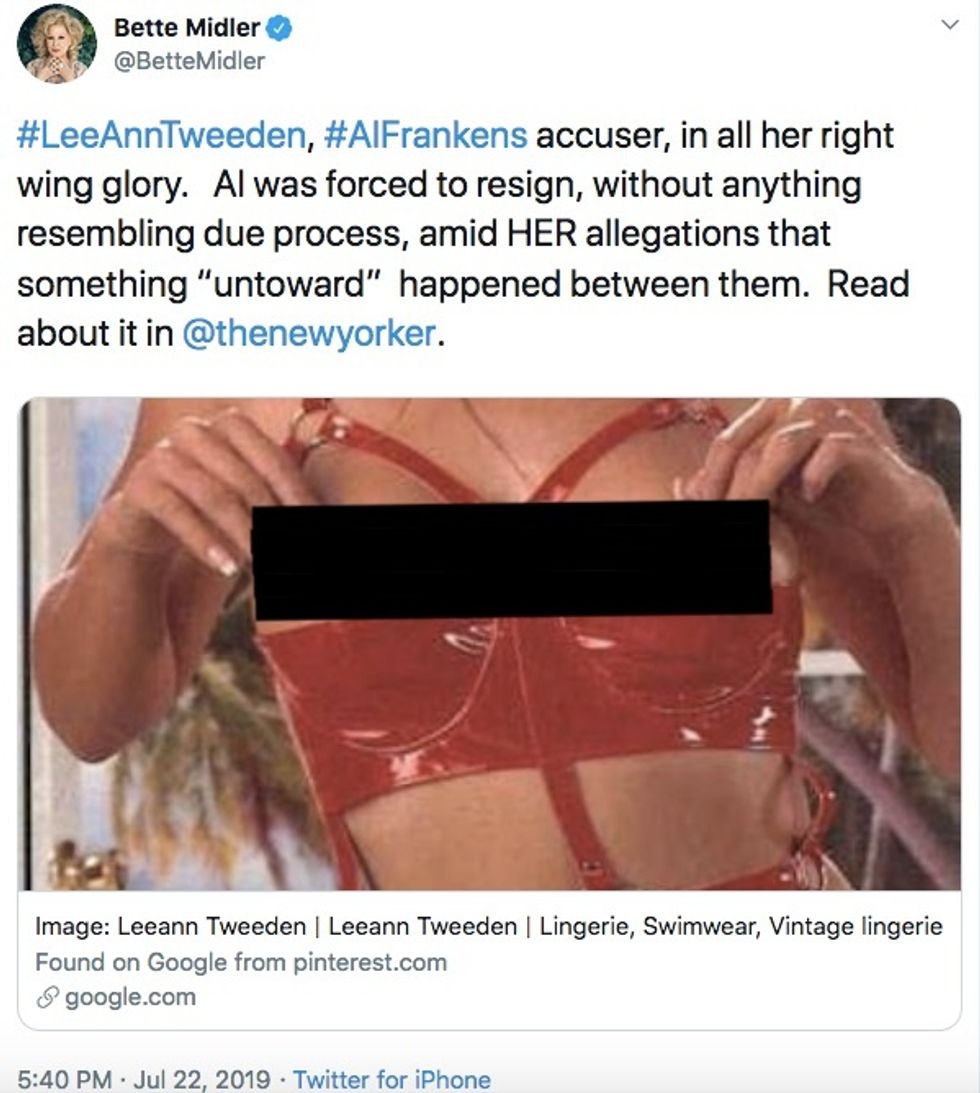 Image source: Twitter, redacted
How did Macdonald respond to Midler?
Well, comedian Norm Macdonald wasn't about to let Midler get away with that — and on Wednesday he fired off a tweet back to her: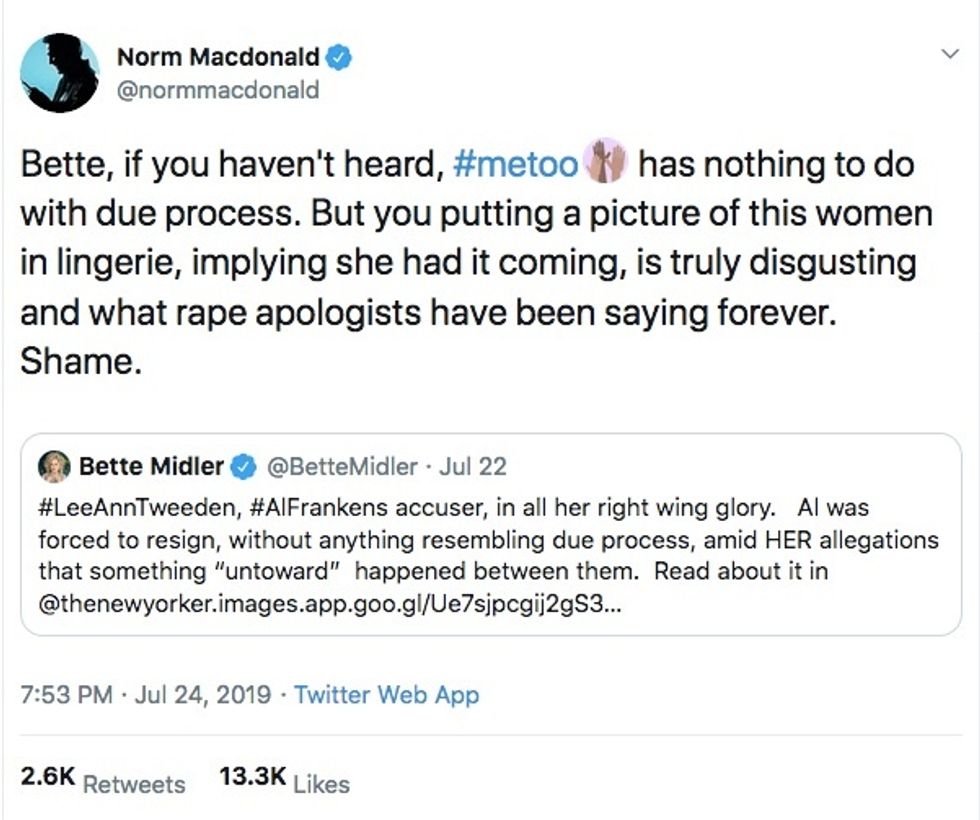 Image source: Twitter
"Bette, if you haven't heard, (#metoo) has nothing to do with due process," he wrote. "But you putting a picture of this women in lingerie, implying she had it coming, is truly disgusting and what rape apologists have been saying forever. Shame."
Ouch.
Macdonald also called Midler a "racist" after she posted a tweet claiming President Donald Trump paid black men to appear in the "blackground" of a rally audience: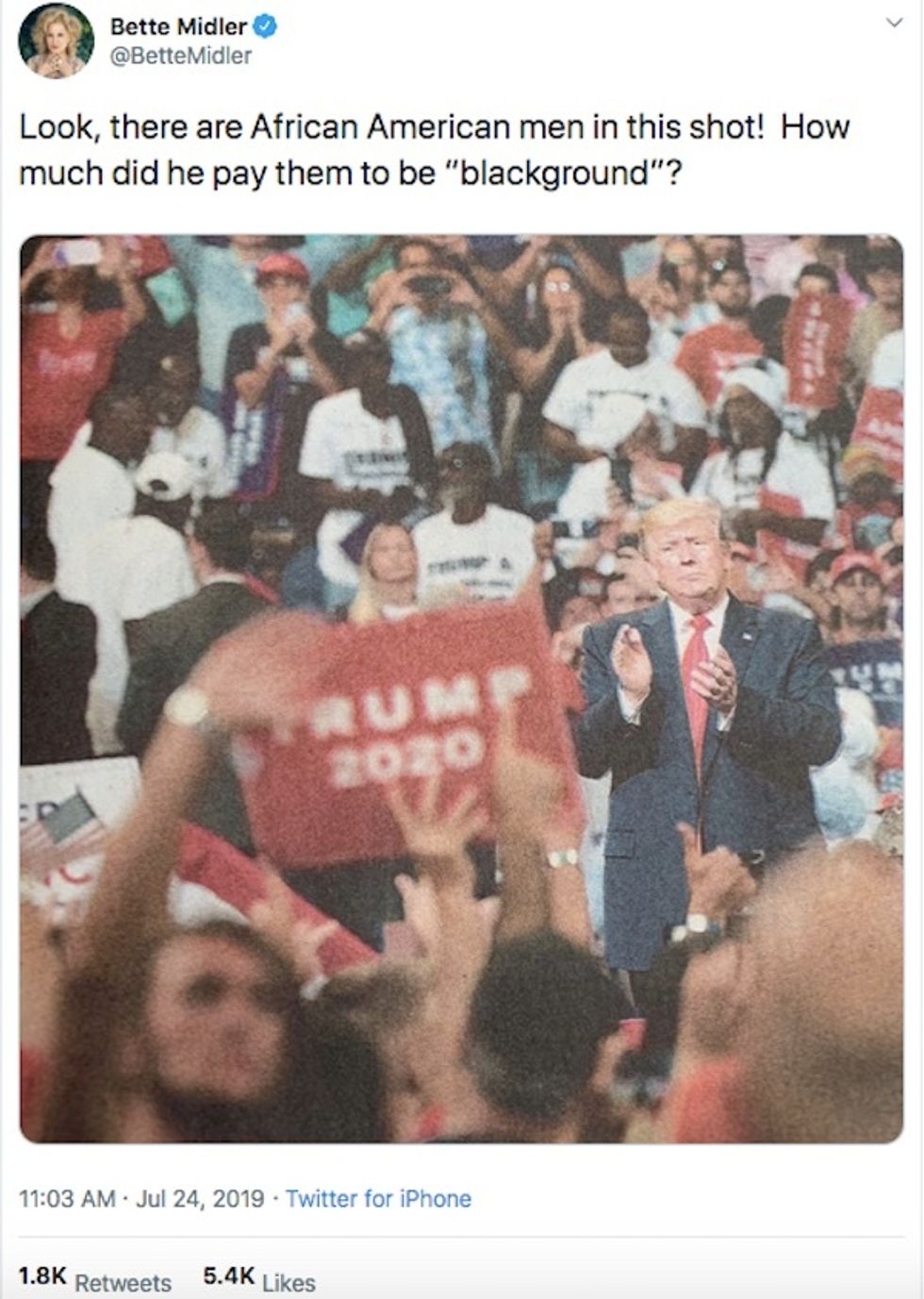 Image source: Twitter
Anything else?
While Slate notes that the New Yorker article defending Franken pokes holes in Tweeden's accusations, it took to task the article writer — Jane Mayer — for putting forth a "set of explanations" for Franken's behavior "that come off more like familiar attempts to discredit a victim of sexual harassment."
Mayer, Slate notes, chronicles things like Tweeden appearing in a photo with Franken a few years after the alleged sexual harassment incident — an apparent Harvey Weinstein ploy — and Tweeden appearing in other "ribald" USO skits as reasons to cast doubt on her claims.
Slate then asks, "Is the conclusion that we're expected to draw here that a woman relinquishes the right to complain about offstage sexual harassment if she's subjected herself to sexual objectification for onstage laughs?"
This writer's perspective
Seems Midler and Mayer just plum forgot about the left's "believe all women" maxim — which admittedly could be tough for them to live up to when the women in question aren't playing for their sociopolitical team.
(H/T: Louder With Crowder)