For the last year, Americans have been inundated with calls from anti-cop protesters and lawmakers to "defund the police." Efforts to cull law enforcement resources have been met with resistance from police departments across the U.S. as well as increases in crime.
Metropolitan areas like Los Angeles, Minneapolis, and Portland have been forced not only to admit that the "defund" efforts backfired, leading to higher crime rates, but also to request funding increases for their PDs.
The Big Apple's left-wing mayor, Democrat Bill de Blasio, has found himself in the middle of an ongoing battle between his fellow anti-cop forces and the NYPD as city budget negotiations heat up. Last year, de Blasio famously shifted $1 billion from the police's $6 billion budget.
Now the mayor is facing calls to reduce the NYPD's nearly $5 billion budget by at least $1 billion, Gothamist reported Monday night, as de Blasio outlined his nearly $100 billion executive budget.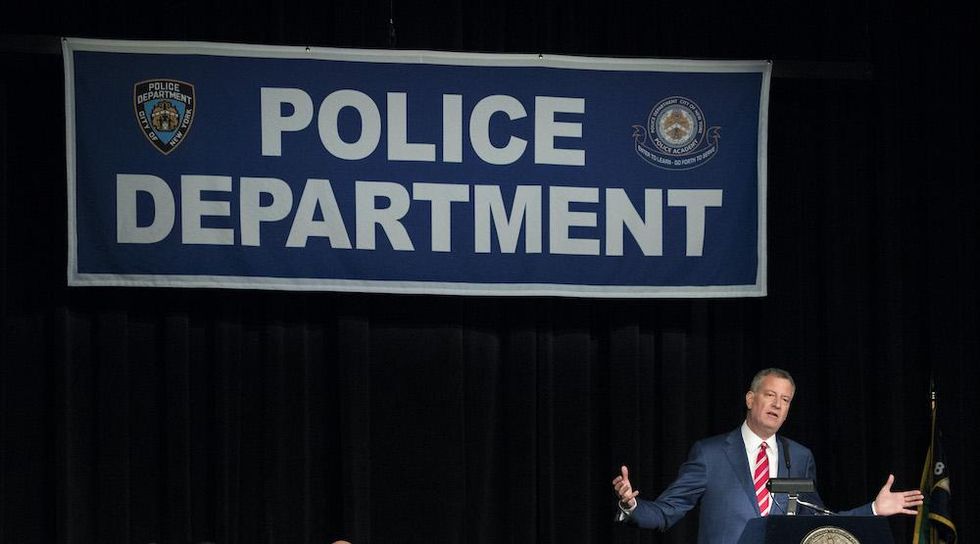 Photo by Drew Angerer/Getty Images
But the NYPD noted that Hizzoner's priorities seem a little out of whack.

De Blasio intends to spend $30 million on an ad campaign promoting New York City tourism, which the NYPD's Sergeants Benevolent Association pointed out seemed unwise considering the level of crime that's plaguing Gotham these days.
The SBA tweeted a potential slogan for de Blasio's tourism push: "Welcome to the city of violence."
The tweet added, "Shootings and Homicides plaque [sic] NYC and the numbers aren't final," and listed 21 shootings, 23 victims, and 2 homicides that occurred last weekend alone between 9 p.m. Friday and 4:35 a.m. Sunday.
Mayor DeBlasio has allocated 30 Million Dollars to bring tourism to NYC. Welcome to the city of violence. Shootings… https://t.co/de2ikUXUlB

— SBA (@SBA) 1619438753.0
According to the New York Post, data from the NYPD shows that at least 50 people were shot in nearly four dozen incidents over the week ending last Sunday, which is about a 300% surge from the 14 victims in 12 shootings at the same time last year (as the city was under COVID lockdown). But the same week back in 2019 saw nearly the same number, the Post said.

So far in 2021, 376 shootings have been reported with 416 victims, according to NYPD data cited by the Post.
Cops fleeing NYC
The SBA's criticism comes on the heels of a report that more than 5,300 NYPD cops left the force or retired last year amid anti-police hostility.
That's a 75% spike over the previous year.
The trend is expected to continue in 2021. As of April 21, 831 NYPD cops had already retired or filed to leave.