A popular OnlyFans and Instagram model was charged on Wednesday for allegedly murdering her boyfriend in a swanky Florida apartment building earlier this year.
Courtney Clenney, 26, was arrested on the Big Island of Hawaii on Wednesday. CBS News reported that the social media influencer was arrested in the small town of Laupahoehoe by Hawaii County police – who received assistance from the U.S. Marshals Service.
Clenney was at a rehabilitation center for substance abuse and post-traumatic stress disorder, according to her Miami defense attorney, Frank Prieto.
Clenney is awaiting extradition to Miami-Dade County, where she will face a charge of second-degree murder with a deadly weapon for allegedly stabbing Christian "Toby" Obumseli to death on April 3, the Miami Herald reported.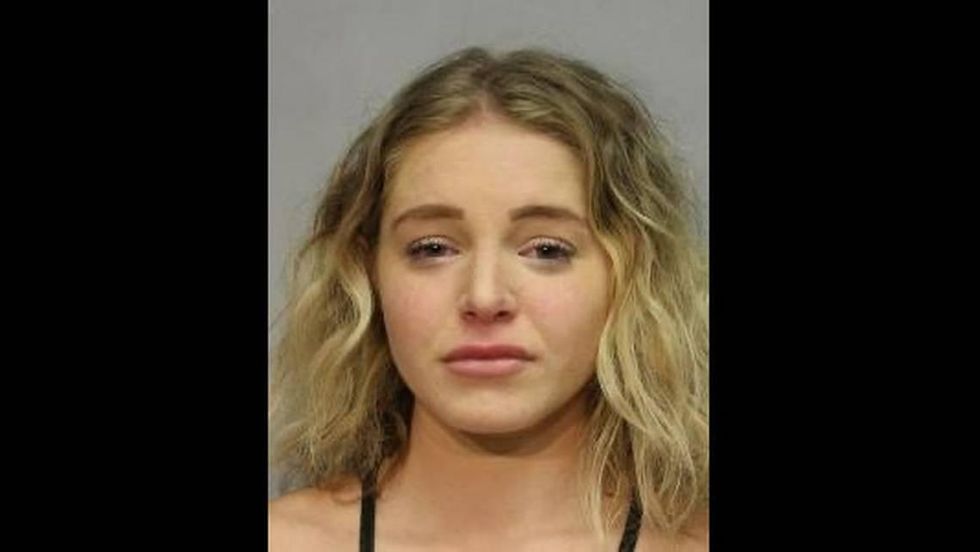 Hawaii Police Department
The OnlyFans model is accused of stabbing Obumseli inside their luxury high-rise condo building located in Miami's upscale Edgewater neighborhood. Clenney – who has more than 2 million followers on Instagram – allegedly stabbed Obumseli in the chest following an argument. Clenney called 911 to report that her boyfriend had been stabbed.
Around 5 p.m., police responded to the aggravated battery call. Miami police found Obumseli stabbed in the torso. He died while being transported to a local hospital.
TMZ published video of Clenney covered in blood and handcuffed in her apartment following the stabbing.

At the time of the deadly stabbing, no charges were filed. The Miami Police Department initially labeled Obumseli's death as a domestic violence-related incident that involved a physical altercation and ended with a stabbing, according to NBC News.
Miami-Dade state attorney Kathy Rundle has since reopened the case for review.
Clenney's attorney argued that his client acted in self-defense. Prieto claims that Clenney stabbed Obumseli after he grabbed her throat. Prieto said that Obumseli had been stalking the Instagram model for several weeks.
Prieto told WSVN, "We are completely shocked at Courtney's arrest based upon the clear evidence of self-defense in this matter. Obumseli attacked her and choked her that evening; Courtney had no choice but to meet force with force."
"Further, we are disappointed that the State Attorney sought an arrest warrant in this matter; we have cooperated with the investigation from the beginning with both the State and the City of Miami Police Department," Prieto continued. "We have always offered to self-surrender if charges were filed in an effort to begin the legal process of clearing her of the charges."
"Courtney was clearly defending herself," he stated. "We will vigorously defend Courtney and clear her of this unfounded and baseless charge."
Prieto claimed that Clenney was a "victim of domestic violence and human trafficking." Prieto added that the couple had a "toxic relationship" and separated after dating for less than two years.
The couple had only lived in Miami for a "few months," according to the Miami Herald. The outlet reported that staff members at the condo building "had documented numerous domestic disturbance complaints about the couple and had even moved to evict them."
Two days before the fatal stabbing, Miami police responded to a domestic disturbance call at Clenney's apartment.
Lawyer Larry Handfield – who represents Obumseli's family – told the New York Post that police visited the couple on at least four occasions for domestic violence calls. He noted that Obumseli was never taken into custody or charged with any crime.
Clenney has since deleted her OnlyFans page.
Social media model Courtney Clenney to face murder charge in Miamiwww.youtube.com