Ryan Bray told WTVT-TV he was in his vehicle recently at an intersection in Bradenton, Florida, when a panhandler approached him for cash.
"He reached his arms inside my vehicle, resting them and said, 'Hey, do you have any money?' I said, 'No, but I have one better for you...'" Bray told the station.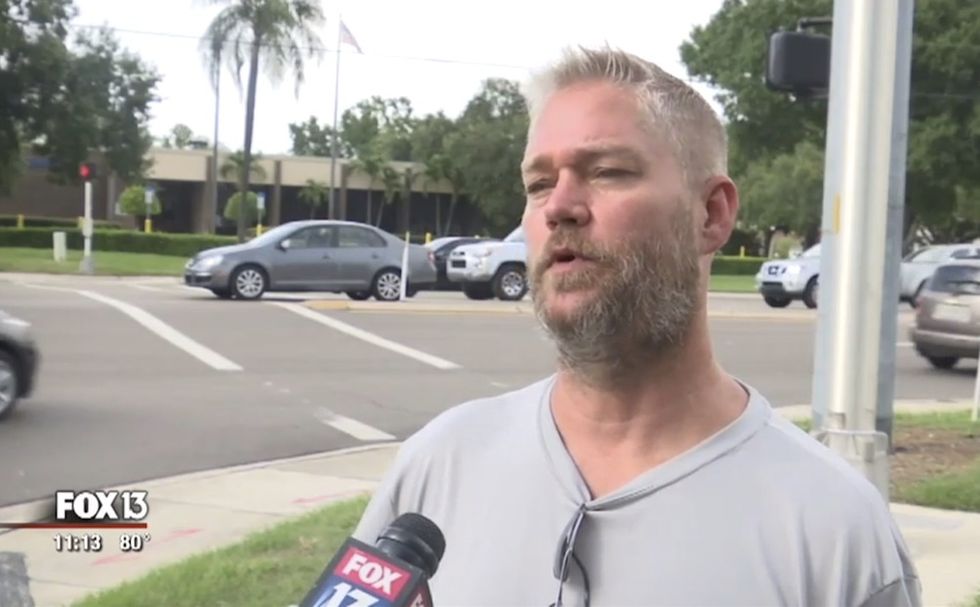 Ryan BrayImage source: WTVT-TV video screenshot
Meaning Bray — who works for Bray Remodeling, his family's business — offered the panhandler work for money as opposed to a handout: $15 an hour to do yard work, WTVT said.
How did the panhandler react?
Bray told the station the panhandler didn't take too kindly to his offer.
"He said, 'Absolutely not,'" Bray recalled to WTVT. "Started getting belligerent and cursing."
He added to the station that the panhandler kicked his Jeep and told him to leave.
What did the man who made the offer do next?
So last week Bray returned to scene of the exchange — the intersection of 75th Street W and Manatee Avenue W — with a WTVT reporter in tow.
Bray held aloft his own sign to boot: "I offered him $15 an hour to do yard work for me and he refused. If we as a community stop paying them, they will leave our neighborhood."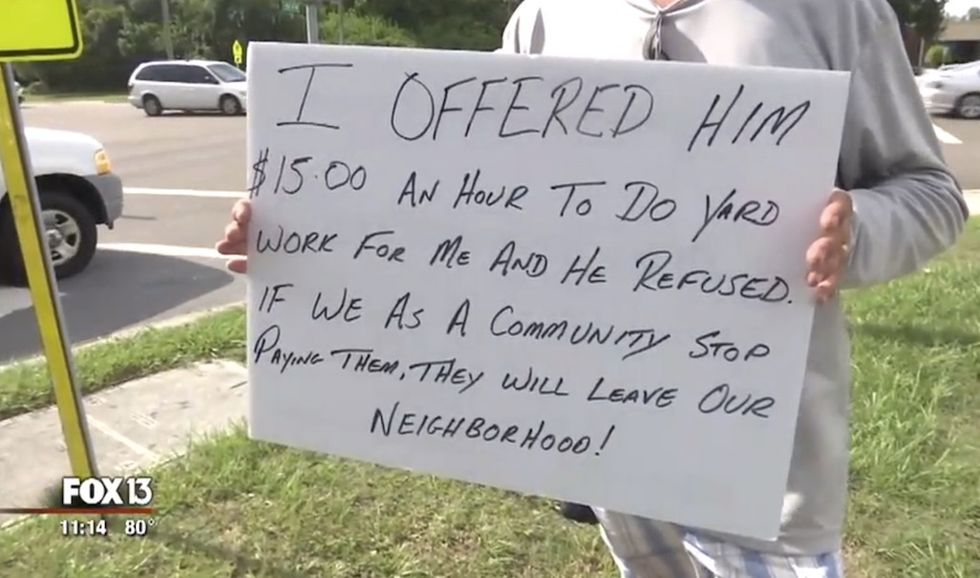 Image source: WTVT-TV video screenshot
What's more, Bray identified the very panhandler who got angry at his offer to do work in exchange for money — and as before, the panhandler wasn't too happy.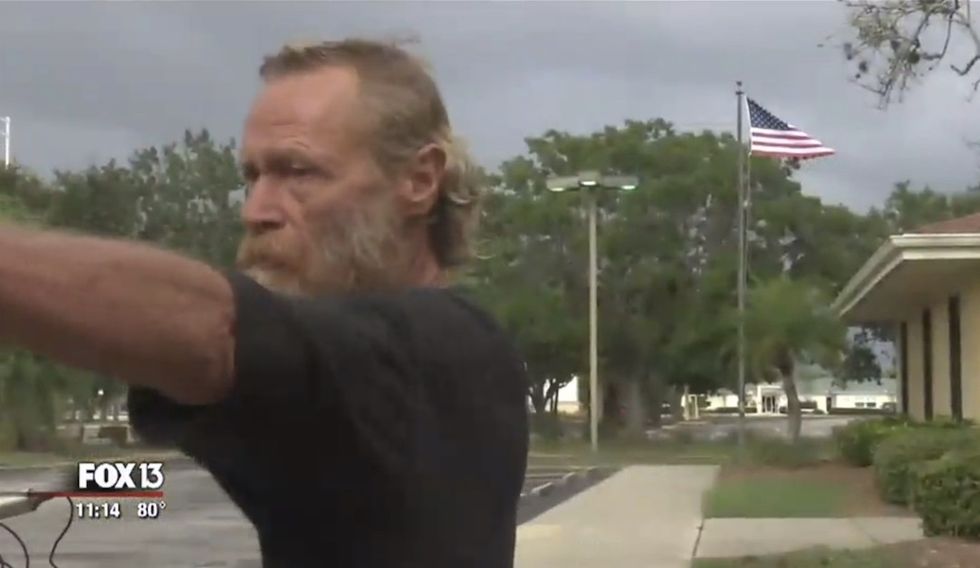 Image source: WTVT-TV video screenshot
WTVT said the transient confronted Bray, claiming he did nothing wrong.
As we were shooting our story the homeless man showed up. He wouldn't give us his name, but he claims he's not doin… https://t.co/0Zdoih745s

— Kim Kuizon FOX 13 (@Kim Kuizon FOX 13) 1563230095.0
The station said the panhandler used foul language as Bray stood near — but still managed to get money from at least one driver.
"You can't shut me down, brother," the panhandler was heard saying after his panhandling victory.
Bray's resolve
Bray told WTVT if drivers stop handing cash through their cracked windows, panhandlers will leave.
"I can't have my 13-year-old daughter and my wife driving with their windows up and being berated the entire time if [panhandlers] don't get money," he noted to the station, adding that he hopes panhandlers will want a hand up more than a handout.
The Bradenton City Council is expected to bring up the topic of panhandling on Wednesday, WTVT said.