© 2023 Blaze Media LLC. All rights reserved.
Pastors and ministers speak out against pro-life 'heartbeat' bill: 'We will never give up ... our God-given right to choose'
A group of pastors, ministers, and other faith leaders gathered at the Texas state Capitol in Austin this week and formed a prayer circle, KTBC-TV reported.
Often such actions coincide with causes that many people of faith believe in — such as protecting the unborn.
But this group of religious leaders were all about about protecting abortion rights, the station said.
What are the details?
"We will never give up our individual consciences and religious freedom or our God-given right to choose," Rev. Erika Forbes, an interfaith minister from Dallas, declared at a microphone, KTBC said.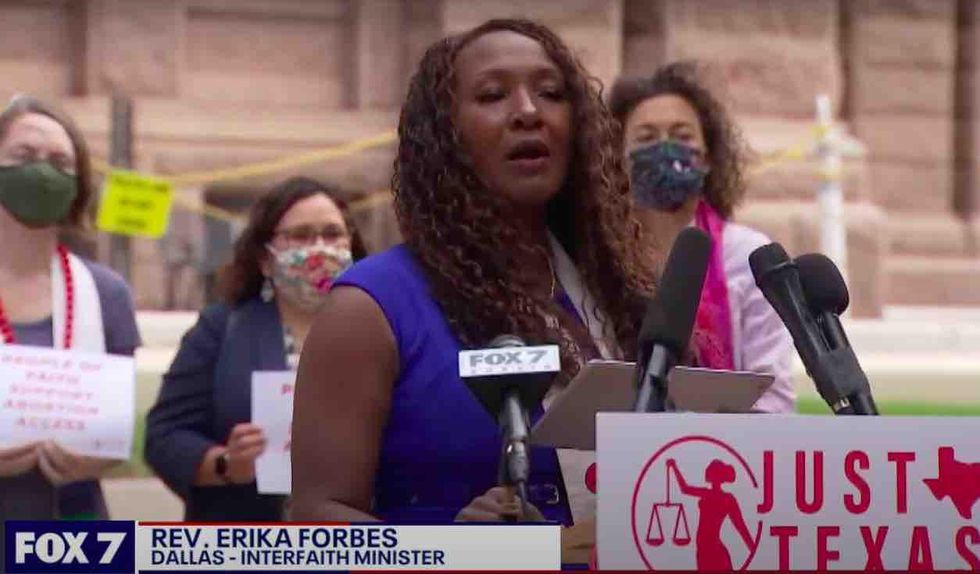 Image source: YouTube screenshot
The station said the group opposes a state measure that would ban abortions when babies' heartbeats are detected — commonly known as a "heartbeat" bill — and such an event can occur as early as four to six weeks after conception.

KTBC said the Texas Senate has OK'd seven House bills aimed at restricting, and possibly even banning, abortions in the state.
"The same people who are doing this are blocking contraception, they are blocking a lot of the neonatal care being given as part of public service, it's like you can't slam doors in people's faces without opening other doors," Rev. Jim Rigby with St. Andrew's Presbyterian Church said, according to the station.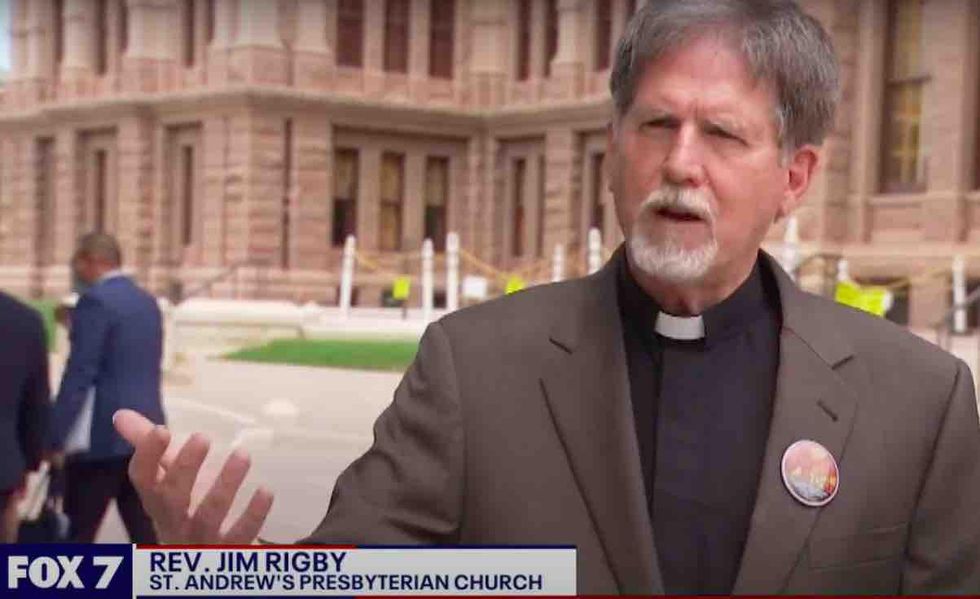 Image source: YouTube screenshot
Pastor Andries Coetzee, who leads San Antonio-University Presbyterian Church, said at the microphone that "the relationship between a parishioner and a pastor is one of sacred trust and cannot be legislated. It cannot be legislated. As God alone is Lord of the conscience and not Cesar."
Image source: YouTube screenshot
Anything else?

Mary Elizabeth Castle with Texas Values — which supports the heartbeat bill — told the station that "we believe this bill goes to the basic premises of protecting life. What this bill is about is protecting those babies, who a lot of times are just the innocent bystander; they haven't even lived life yet, so we want to give them that chance of life."
The Texas House on Wednesday voted 81 to 63 in favor of the heartbeat bill, KTBC reported in a separate story, adding that Republican Gov. Greg Abbott indicated he would sign the bill into law.
Faith leaders oppose 'heartbeat bill' measures at Texas Capitol I FOX 7 Austinyoutu.be
(H/T: LifeNews)
Want to leave a tip?
We answer to you. Help keep our content free of advertisers and big tech censorship by leaving a tip today.
Sr. Editor, News
Dave Urbanski is a senior editor for Blaze News.
DaveVUrbanski
more stories
Sign up for the Blaze newsletter
By signing up, you agree to our
Privacy Policy
and
Terms of Use
, and agree to receive content that may sometimes include advertisements. You may opt out at any time.