A small city in eastern Pennsylvania recently removed the word "Easter" from its egg hunt promotions over fears that mentioning the holiday would offend nonreligious residents. But in doing so, the city sparked intense backlash and ridicule from others in the community.
What happened?
During an Easton City Council meeting Wednesday night, city administrator Luis Campos informed colleagues that he had edited the city's social media accounts to remove any mention of Easter from advertisements for its upcoming egg hunt events, WFMZ-TV reported.
The move reportedly came at the request of Easton Mayor Sal Panto Jr. after the mayor had been informed that the mere mention of the holiday in relation to city-sponsored events might be seen as a violation of the separation of church and state.
According to Lehigh Valley Live, Campos explained to colleagues that he edited the social media posts in order to remain "neutral" on the subject pending further review from the council.
What's more, the outlets reported, is that the changes were made upon receiving a single complaint about the city's mention of Easter.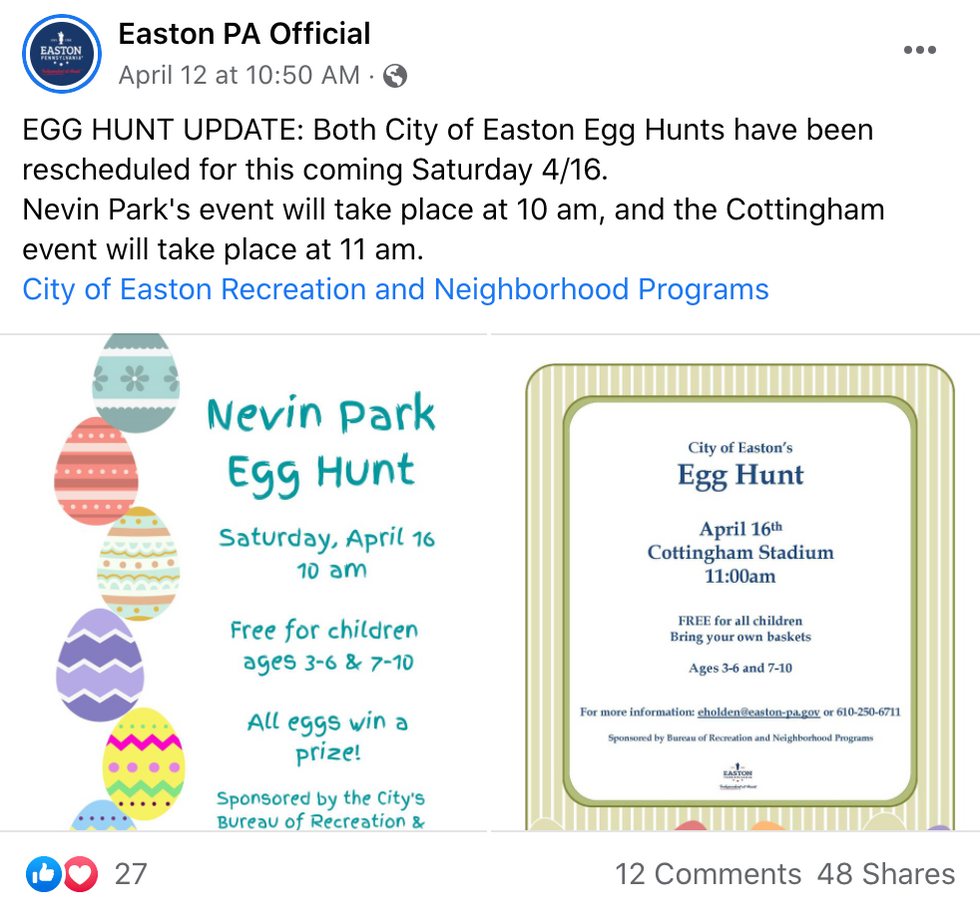 Image Source: Facebook screenshot
Campos' announcement reportedly set off a seven-minute discussion amongst city administrators over the definition of "separation of church and state."
"I think the guy's got too much time on his hands," city Councilman David O'Connell chided, clearly referencing the individual who complained.
City Solicitor Joel Scheer reportedly chimed in to say, "As long we don't contribute money to the advancement of a particular religion or endorse one over the other, that's what we have to watch out for."
No decision to re-up the mention of Easter was made at the meeting. The egg hunts, which are sponsored by the city's Bureau of Recreation and Neighborhood Programs, have been promoted as "Easter egg hunts" in the past.
What has been the reaction?
Residents and other commenters quickly descended on social media posts about the decision, offering critique.
"Why bother having it then! Are they going to use white plastic eggs to hunt? Might as well! If people don't believe or care about Easter they should not take their children to hunt EASTER eggs! It's ridiculous!" wrote one commenter under WFMZ's Facebook post on the move.
Another added: "How sad! What's next ... remove CHRIST from Christmas? People need to VOTE BETTER, put stronger, smarter folks in office that will stand up for religious freedom and stop catering to the woke left."
Still another commenter asked, "What about people offended by the removing of 'Easter'? What about people that don't use eggs? What about people that feel 'hunt' is aggressive and violent? OMG!!! Stop already. It's ridiculous. If they don't like the inclusion of EASTER, don't go!"
Others, many who are not Christians, piled on, calling the move "ridiculous" and "dumb."
"I'm Jewish, but this is ridiculous. They aren't Passover eggs, and a fun activity for kids isn't a religious event. Why must we always bow down to the easily offended?" wrote one person.
"Maybe it shouldn't be held around Easter time. Maybe just have an annual egg hunt in the middle of January. Or August maybe. Dumb," said another.
(H/T: FaithWire)