The Philadelphia resident who fatally shot a man he saw trying to steal his car Tuesday morning was arrested for carrying a gun without a license, police told the Philadelphia Inquirer.
What's more, the suspect's widow wants a murder charge brought against him, the paper said.
What's the background?
Witnesses said three men hooked a car with straps near South 58th Street and Cobbs Creek Parkway just before 8:30 a.m., KYW-TV reported. According to WPVI-TV, there was an attempt to tow away the car.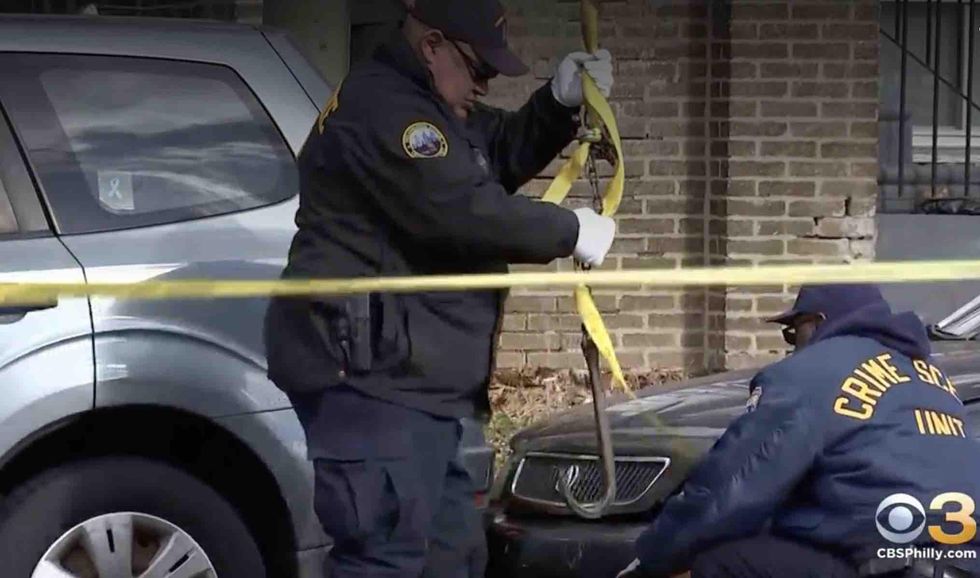 Image source: KYW-TV video screenshot
The car's owner, however, got a glimpse of what was going on and opened fire; KYW said in its video report that shots were fired from inside the car-owner's residence.
The straps broke away from the targeted car, WPVI said. And the getaway car — a Honda — crashed into a school bus that was headed in the opposite direction, KYW reported.
One of the suspects was taken to Penn Presbyterian Medical Center and later pronounced dead, KYW said.
Police said the owner of the car targeted in the attempted theft was not injured, WPVI reported.
New developments
But the Inquirer reported that the man who fired his gun actually did not have a license to carry it. Steven Thompson, 54, was charged with two counts of firearms violations, the paper said.
Sherell Natividad — the widow of fatally shot Satario Natividad, who was 51 — told the Inquirer that Thompson's arrest was "a little bit of justice" for her.
"You just can't go shooting people and not expect there's going to be consequences behind that," she added the paper, insisting that Thompson should be charged with murder.
"He took my children's father away from them. He took my husband away from me," Natividad noted to the Inquirer. "I want more. He murdered my husband. Even though he was doing wrong, he still murdered him. I can't sleep, I can't eat, I can't do nothing."
Anything else?
Chief Inspector Frank Vanore added to the paper that police found catalytic converters, tools, and a handgun inside the Accord that crashed into the school bus.
Natividad's two accomplices fled on foot and are still at large, police noted to the Inquirer.
Here's the original report from KYW-TV: