For health reasons, of course.
What's going on?
The 2020 ride was canceled due to the pandemic, but it's back on this year, WCAU-TV reported.
Thousands of participants are expected to return to the no-cost, no-registration, no-clothes, no-skivvies event of the summer.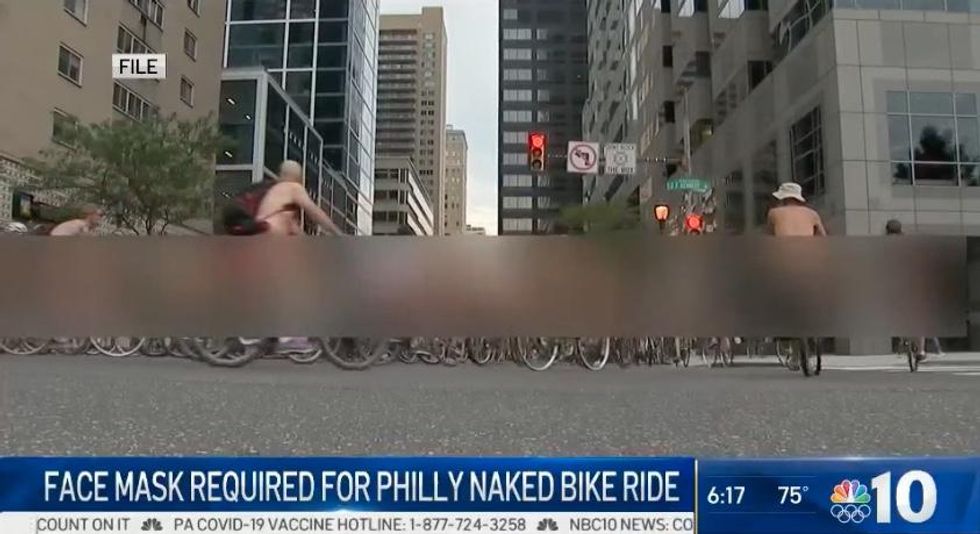 Image source: WCAU-TV video screenshot
They will be traversing the streets of the City of Brotherly Love for three hours — passing by sites such as the Liberty Bell and Independence Hall that are popular with tourists and families — with their bits and pieces festooned with body paint and other decorations to advocate for biking and for cyclist safety, protest fossil fuels (while riding on rubber tires made from fossil fuels), and promote positive body image.
But despite the fact that the city has lifted most of its COVID-19 rules in the wake of plummeting case numbers and an increasing rate of vaccinations among citizens, only one set of cheeks will be allowed to be bare for anyone hoping to join the mobile-streaking event — and it's not the set on their faces.
Currently, Philadelphia does not require masks for folks who are fully vaccinated and outside, following guidance from the Centers for Disease Control and Prevention, USA Today reported. Restaurants and cafes may operate at only 50% capacity, but the distance between chairs will be reduced from six feet to three feet. Indoor catered events are even more restricted, with only 25% capacity allowed, while outdoor events can be at 50% capacity.

Ride organizers said they are "going to stick with our initial mask guidance" for now, according to WCAU. However, things could change, lead organizer Wesley Noonan-Sassa said. The group will continue to keep tabs on what the city says about COVID restrictions over the next several weeks.
The organizers also "recommend wrapping something soft around your seat, such as a T-shirt or a bandana, especially if you rent a bike," USA Today said.
The event is part of a larger organization known as World Naked Bike Ride, according to the paper, with events happening in New Zealand, Canada, Argentina, Japan, and more than a dozen other nations.