Two preschool teachers were arrested and charged with cruelty to children after a mother of a student in the Roswell, Georgia, preschool classroom caught the teachers on live video allegedly abusing other students.
What are the details?
Gloria Barghi told WXIA-TV she picked up her phone last Thursday to check on her son using the live video feed inside the Parker-Chase preschool classroom.
"I just told my husband, I said, 'I've got a weird feeling; I've got to check on our son,'" Barghi recalled to the station. "Call it mother's intuition. I said, 'I just want to see if he's okay.' So I picked up the phone, I pulled up the app. I picked it up right when the lead teacher was assaulting the first victim."
WXIA said video shows students, ages two and three, sitting on a rug when one teacher approaches a student, kneels, and gets right in the student's face.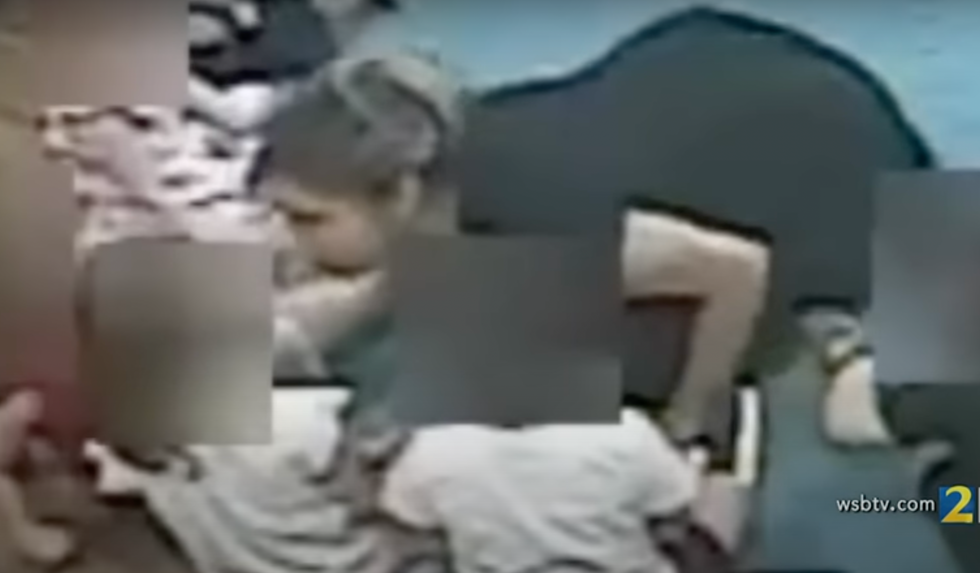 Image source: YouTube screenshot
A second teacher then walks up from behind, steps on another child's hand, then uses her knee to shove the back of the student who's face to face with the first teacher.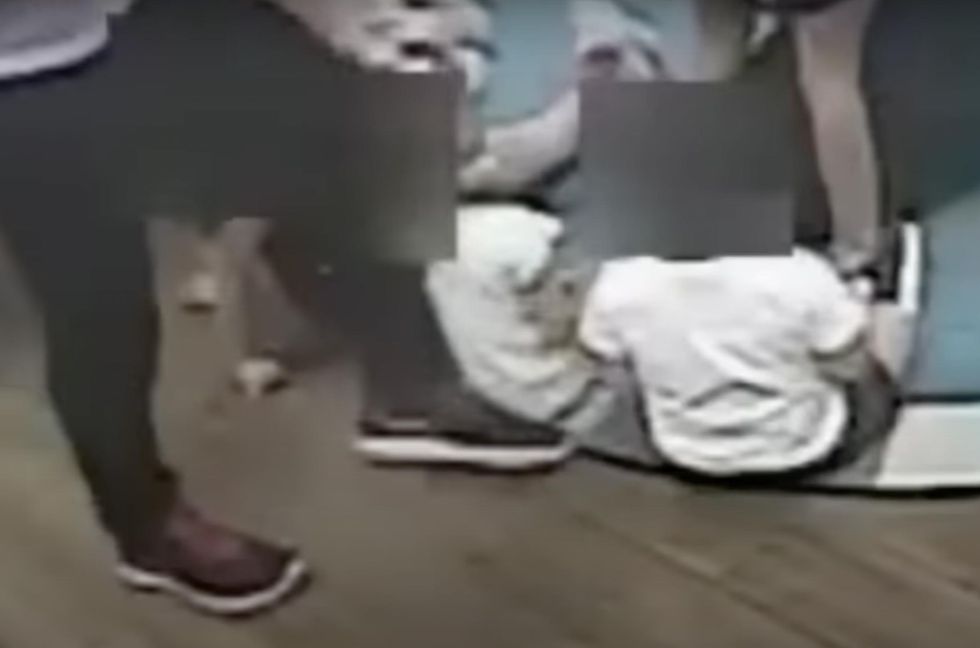 Image source: YouTube screenshot
The first teacher then uses her index finger to tap the forehead of the first child.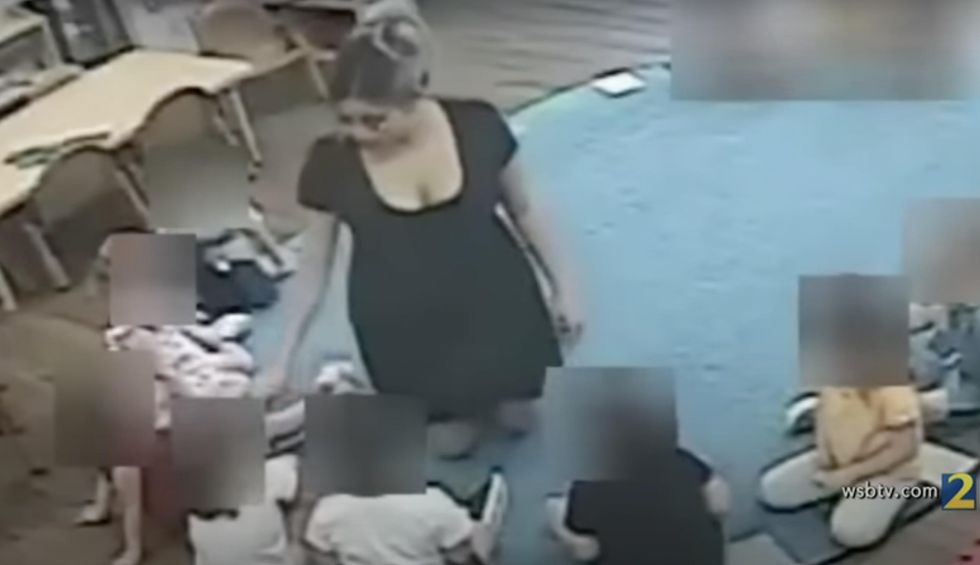 Image source: YouTube screenshot
What happened next?
WXIA said Barghi and her husband, Brant Duncan, raced to the preschool, checked on their son, demanded to see the entire video of what they'd just seen live, and then viewed it.

"It was intentional. It was thought out. It was malicious," Barghi told the station. "These are defenseless little kids."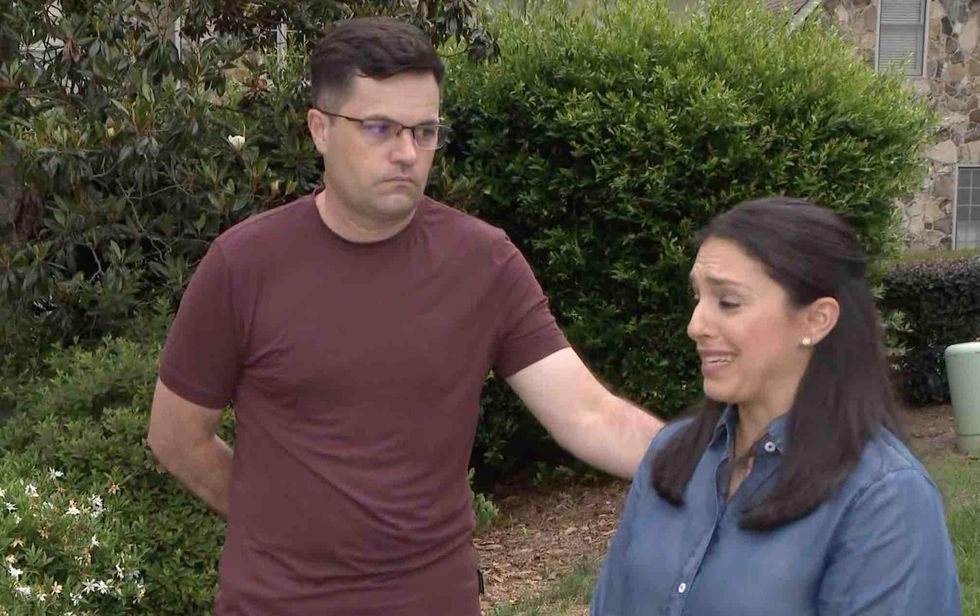 Image source: YouTube screenshot
The parents told WXIA school administrators didn't seem to believe it.
"It almost came across as defensive, not believing that it really happened. They had no policies in place; there was no if-this-happens-these-are-the-procedures-we-go-by, to the point that I had to demand that the teachers be removed from the classroom," Duncan told the station. "And we would not leave until they were removed. The director looked at me and even questioned, 'So you want me to remove them?' And I said, 'You better believe it. Remove them now.'"

Duncan and Barghi also called police, and detectives watched the video and later arrested Zeina Alostwani, 40, and Soriana Briceno, 19, for cruelty to children in the first degree, WSB-TV reported.
Roswell pre-school teachers accused of cruelty to children youtu.be
Fulton County Jail records accessed Thursday show Alostwani was released Wednesday, presumably after posting a $75,000 bond, and that Briceno remained behind bars. WSB said Briceno was not given bond due to her asylum and immigration status.
'My stomach was just in my throat'
WSB spoke to the mother of one of the young victims; she didn't want to be identified.

"It was a matter of seconds, and [I] knew what we had seen was deliberate, and my stomach was just in my throat at that point," the mother told WSB.
Several other victims at the school have come forward since the arrests, WSB added, and now police are looking at a possible larger investigation.
"So we have several weeks of video to go back and review to make sure there are no other instances of this kind of behavior," a Roswell police representative told WSB.
Anything else?
The preschool's parent company told WSB the teachers in question were fired and that the teachers carried out "inappropriate disciplinary actions."
"While we are extremely grateful that the children are well, we take this matter seriously, and our investigation is ongoing," officials said, according to WSB. "We expect our staff to adhere to the highest standards of care, and any failure to do so will not be tolerated."
In addition, WXIA said an official with the Georgia Department of Early Care and Learning confirmed the agency is investigating "allegations of inappropriate discipline."
2 Roswell preschool teachers arrested for abusing children on camera | WSB-TV youtu.be