Joy Villa, a Trump-supporting musician and entertainer, showed up at Sunday night's annual Grammy Awards with a big message to America: "Build the Wall."
What did she wear?
Villa appeared on the event's red carpet wearing a headpiece reminiscent of the Statue of Liberty's headpiece and decorative "barbed wire" atop her shoulders. She wore low-cut white dress with a wall pattern painted across the thick fabric, and the back of the dress was emblazoned with the words "Build the Wall" in large red print.
If you think the dress looks familiar, you're right — it would appear that the custom dress makes a nod to the cover of Pink Floyd's 1979 hit album, "The Wall."
Here's the front of Villa's dress: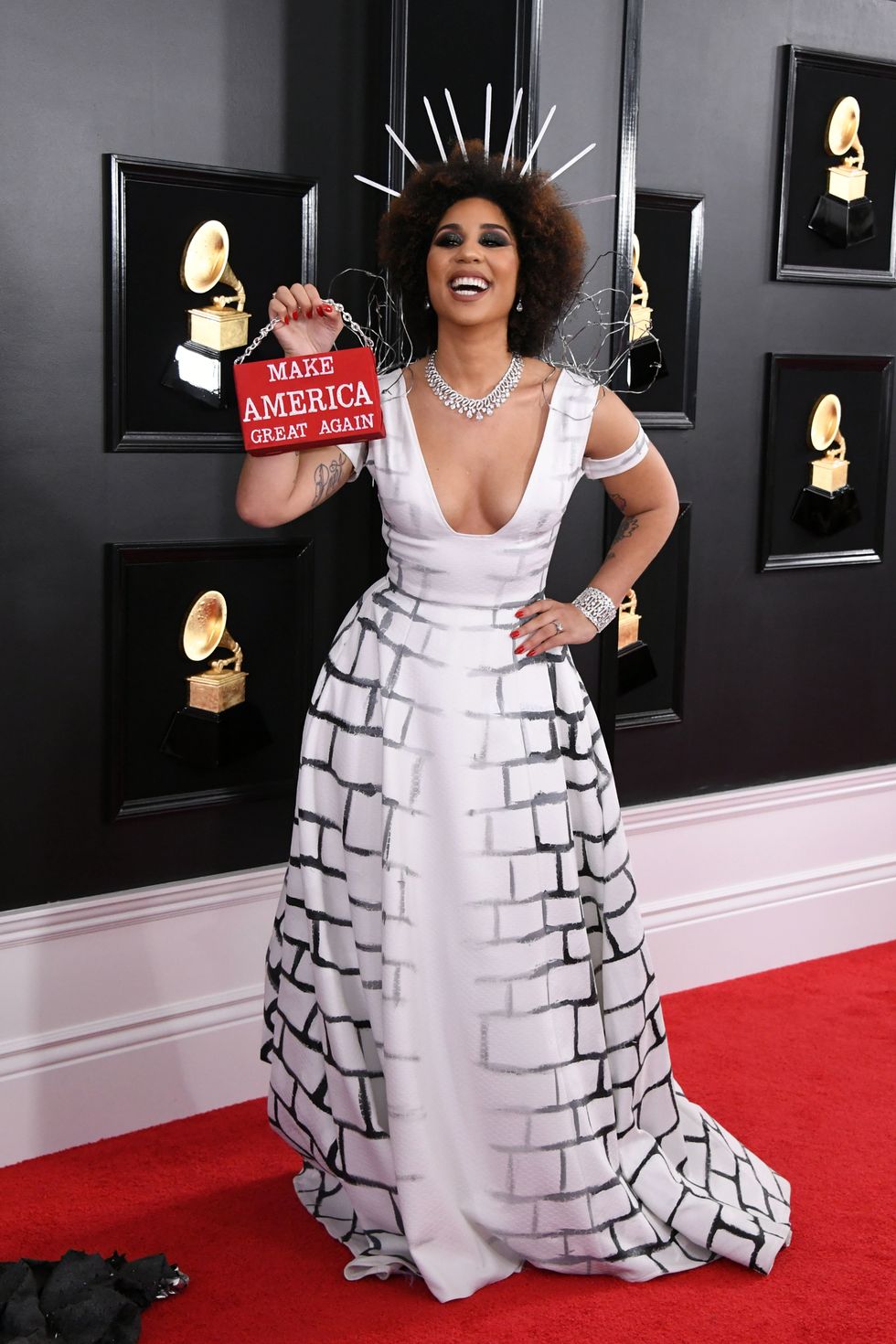 Joy Villa arrives at the 61st Annual Grammy Awards. (Jon Kopaloff/Getty Images)
And here's the back: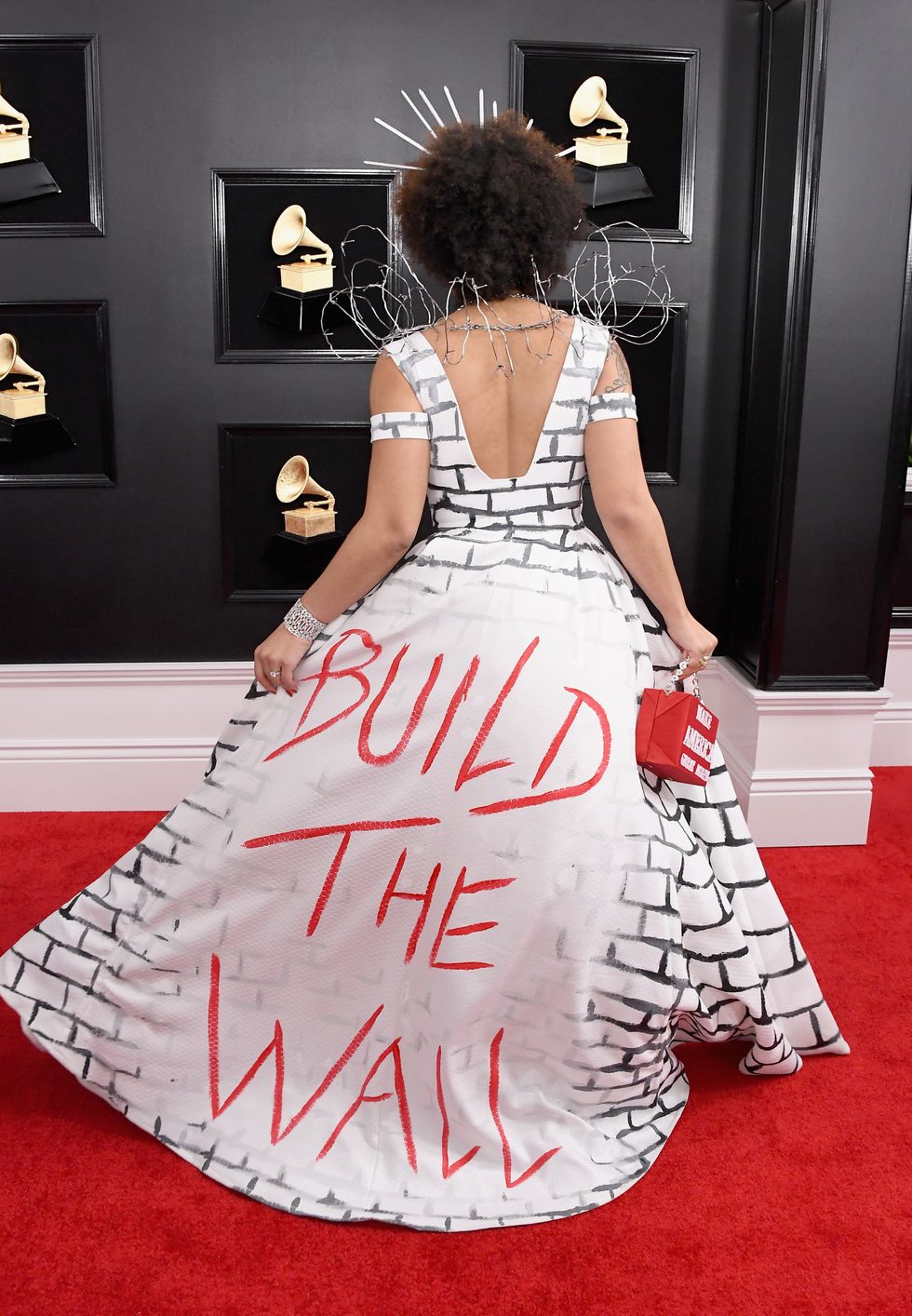 Joy Villa wears a message at the annual Grammy Awards. (Steve Granitz/WireImage)
What did she say about her dress?
About her dress, Villa told Fox News that she isn't fazed by any of the hate she receives for her viewpoints, and believes that facts speak for themselves.

"Well to no surprise, I'm still a Trump supporter and supporting the president and what he's doing," she said. "This is my 'Make America Great Again' purse and dress is by Desi Designs Couture, and it represents the wall."
She explained that there's no racism involved in her politics — building a wall simply makes sense to her.
"One in three women who are trying to come to this country illegally are sexually assaulted," Villa explained. "Thousands of children are sexually exploited by coyotes bringing them across the border. Seventy percent of the heroin in our nation is brought in through Mexico.
"This is not personal against this country or the people. It's not about race," she added. "It's about protecting the people who are in this country. I'm Latina, I'm black. I support what the president says about building the wall, so that's what this dress represents."
Villa went on to explain that she has no problem handling the backlash she might receive for her Trump support.
"Ignore it, keep preaching what I believe in and say, 'Hey listen, there's a place for all beliefs,'" she told the news outlet. "There should be space. Our First Amendment right is free speech, so we should all be able to weigh in and think about what the president does. It shouldn't just be one sided, 'Oh #resist!' what about #MAGA?
"What about all the other people?" she asked. "Brown, black, Latina, Mexican, Indonesian. There's tons Trump supporters out there all of different colors. I know, I am one [and] I hang out with them."
Anything else?
This isn't the first time Villa has been politically or culturally outspoken with her fashion choices.
In 2018, Villa wore a pro-life dress to the event and held an accompanying purse that read "Choose life."
"I'm all about life," she told Fox News at the time. "I'm a pro-life woman. This year, I chose to make a statement on the red carpet like I always do."
In 2017, Villa wore a bright blue "Make America Great Again"-themed dress to the awards show red carpet.