A handful of students at an Arizona public high school on Friday decided to wear outfits supporting President Donald Trump to celebrate "Party in the USA" day as part of Perry High School's Spirit Week — and a Trump "Make America Great Again" banner made the trip as well.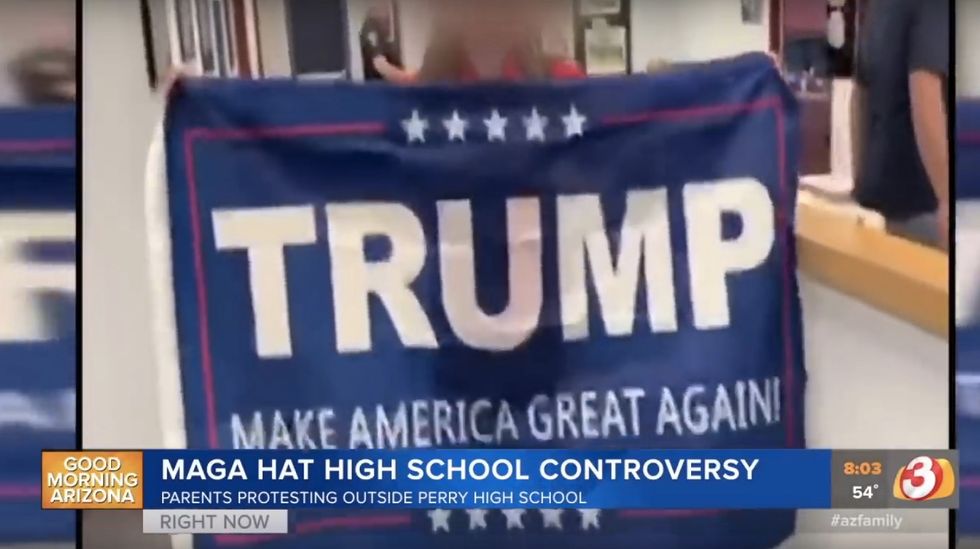 Image source: YouTube screenshot
And that all soon spelled trouble at the Gilbert school.
What happened?
Parents told the Arizona Republic that school administrators demanded their children remove their pro-Trump clothing and accessories — but a Chandler Unified School District spokesman on Monday said students weren't asked to put away any Trump gear other than the banner.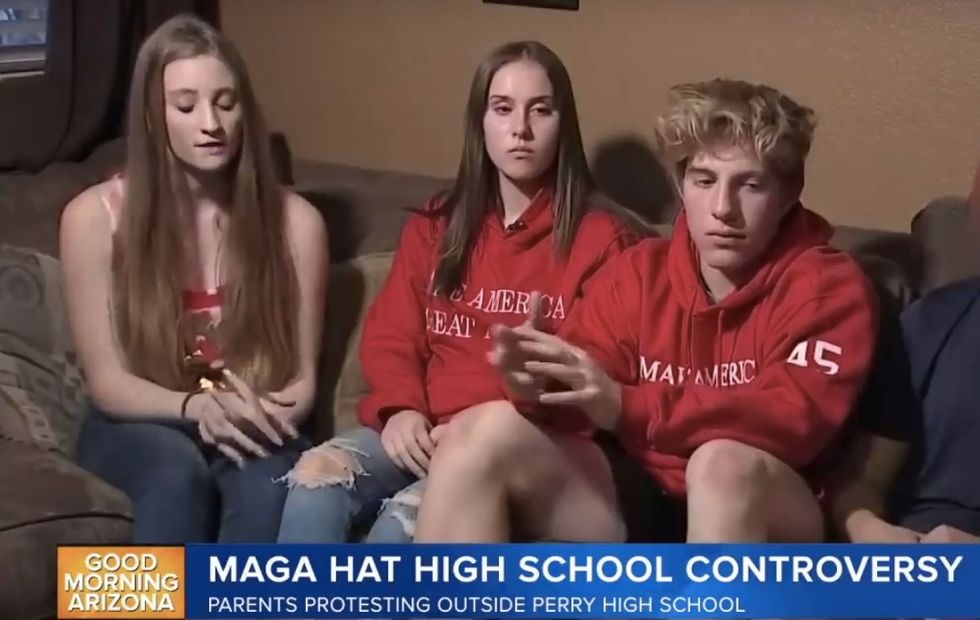 Image source: YouTube screenshot
Principal Dan Serrano said in a statement to KSAZ-TV that during lunch "students carrying political signage caused a disruption and created safety concern. The students were asked to put away the signage and they complied. However, after school ended for the day, the students unveiled the signage again in a manner that again caused concern for student safety. When the school's Resource Officer asked the students to leave campus, they declined. They also refused to respond to my request to provide their names and school identification when I sought to interview them."
Principal tells mother that students carrying Trump banner is 'disrespectful'
One mother, Jennifer Farris, told the Republic she drove to the school after hearing her kids were being asked to remove the pro-Trump clothing — and that within four minutes of walking into the office, school officials ordered her to leave and that she wouldn't be allowed on campus again.
"As soon as they realized I was protecting my daughter, they were immediately rude, dismissive, and told me to get off the property," Farris told the paper.
Farris added to the Republic that she was told officials deemed the Trump gear "offensive" and that students could face sanctions for non-compliance.
Check out the video of Farris arguing with Serrano, the school principal. At one point he said students carrying the pro-Trump banner was "disrespectful" and that — seemingly to back up his assertion — he "has a kid in the Army":
A school district spokesman told the Republic in separate story that the issue with the banner "was related to the interactions it was causing, not that carrying a flag in itself was disrespectful."
"I'm infuriated," Farris told KSAZ. "I feel like they don't support our president, and they are inflicting those thoughts on our kids."
Alleged office interrogation

Heidi Jones, a mother of one of the students in question, told the Republic that students gathered outside after school to take photos wearing their pro-Trump gear and holding the banner — and then noticed the resource officer taking photos of them without their permission. When the officer asked her freshman daughter Logan for her name, Jones told the Republic her daughter refused and asked why he needed her name.
Jones told the paper that the officer told her daughter she'd been a part of a disruption all day, no one was allowed to have a Trump banner, and to go the school office. Jones added to the Republic that administrators in the office asked for her daughter's name but that her daughter refused to answer questions until her mother arrived.
Once at the office 10 minutes later, Jones told the paper she learned her daughter got suspended for 10 days.
"She came here today to support America, which is what your Spirit Day is all about," Jones told the Republic. "And now that she has refused to give her name, you're suspending her after she's complied with everything else?"
Part of the principal's statement to KSAZ noted that "information circulating about student discipline is incorrect, but the District is unable to correct the record due to federal privacy laws relating to disclosure of student information" and that it's "false" that students were being "disciplined for expressing their political viewpoints or wearing political attire."
The station said the district confirmed that Logan Jones was suspended but "for a different reason." Logan told KSAZ she plans to apologize to school staff for being defiant.
Arizona GOP lawmakers want action
Amid a pro-Trump protest outside Perry High School on Monday morning over how officials handed the controversy, KPHO-TV reported that Arizona Republican lawmakers sent a letter to state Attorney General Mark Brnovich asking him to look into possible free speech violations at the school.
The letter was signed by 26 GOP members of the Arizona House of Representatives, the Republic said.
Brnovich spokesman Ryan Anderson told the paper the situation is being evaluated in regard to what jurisdiction the state might have and that students' free speech is taken seriously.
"We received the letter," Anderson told the Republic. "We'll look at all of the facts. We just don't know enough about the situation right now."
(H/T: EAGNews)