A professor from Wayne State University in Detroit wrote on social media that it's "far more admirable to kill a racist, homophobic, or transphobic speaker than it is to shout them down," WJBK-TV reported.
According to the school, the professor has been suspended — but with pay.
What are the details?
WJBK said the English professor — Steven Shaviro — penned a message this month on his personal Facebook page that addressed "right-wing" speakers being allowed on university campuses. The station said the message began with, "So here is what I think about free speech on campus."

WJBK added that Shaviro also said, "Although I do not advocate violating federal and state criminal codes, I think it is far more admirable to kill a racist, homophobic, or transphobic speaker than it is to shout them down."
Here's a screenshot from WJBK's video report showing a portion of the post: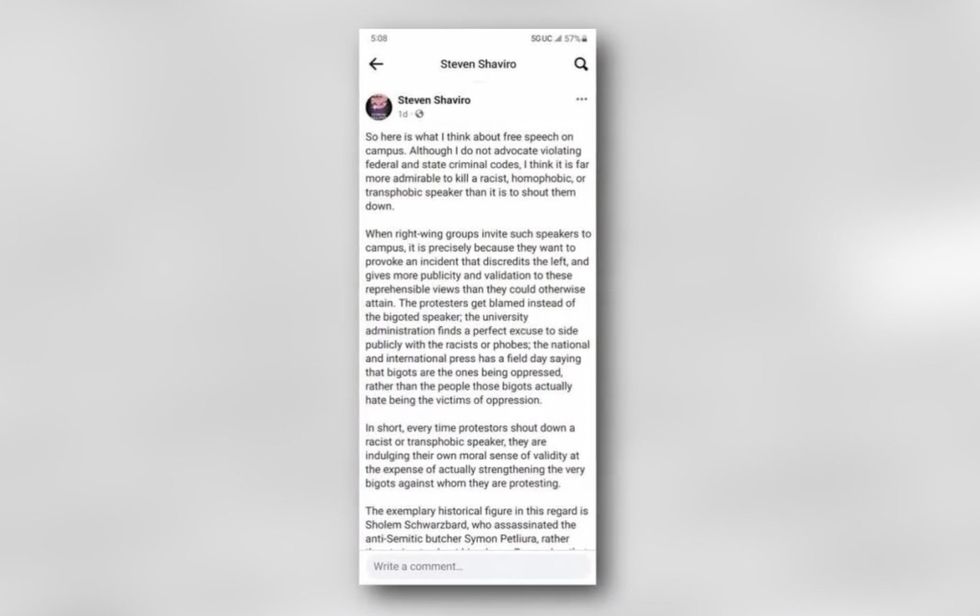 Image source: WJBK-TV video screenshot
The post goes on to say that "when right-wing groups invite such speakers to campus, it is precisely because they want to provoke an incident that discredits the left, and gives more publicity and validation to these reprehensible view than they could otherwise attain," the station's screenshot shows.
"The protesters get blamed instead of the bigoted speaker; the university administration finds a perfect excuse to side publicly with the racists or phobes; the national and international press has a field day saying that bigots are the ones being oppressed, rather than the people those bigots actually hate being the victims of oppression," WJBK's screenshot adds.
The post, according to the station's screenshot, also reads, "In short, every time protestors shout down a racist or transphobic speaker, they are indulging their own moral sense of validity at the expense of actually strengthening the very bigots against whom they are protesting."
The Detroit Free Press, citing anonymous sources, reported the following in regard the post:
The post then cites Sholem Schwarzbard, a Jewish, Russian-born French poet, who in 1926 assassinated Symon Petliura, the former head of the Ukrainian People's Republic. Schwarzbard, who had lost his family in the 1919 pogroms, held Petliura responsible for the deaths and killed Petliura on a Paris street.

"Remember that Schwarzbard was acquitted by a jury, which found his actions justified," the post concludes.
WJBK said it spoke on the phone to the professor, who — once informed that a reporter was on the line — "immediately said he was not commenting and hung up." The station also used a photo presumably of Shaviro in its video report.
Shaviro's vita indicates he's the DeRoy Professor of English at Wayne State, where he's worked for almost 20 years. Shaviro earned his bachelor's, master's, and doctorate from Yale and has been published extensively, his vita also shows.
How did the college react?
Wayne State's President M. Roy Wilson said in a Monday letter to the campus community that he learned Monday morning about the English professor's post but did not name the professor.

"The post stated that rather than 'shouting down' those with whom we disagree, one would be justified to commit murder to silence them," Wilson's letter continued. "We have on many occasions defended the right of free speech guaranteed by the First Amendment to the U.S. Constitution, but we feel this post far exceeds the bounds of reasonable or protected speech. It is, at best, morally reprehensible and, at worst, criminal."
Wilson added, "We have referred this to law enforcement agencies for further review and investigation. Pending their review, we have suspended the professor with pay, effective immediately."
How are students reacting?

Wayne State students offered their reactions to WDIV-TV about the professor's words.
"Why would someone post something like that?" Iyana Coates asked the station.
"I think it's very shocking," Kaylee McSwain added to WDIV. "And I think it is really crazy. Like, I was really surprised when I heard that a professor would feel comfortable saying something like that."
Elyse Miller noted to the station that "it's definitely a course and a professor that I don't think I would ever take."
McSwain also told WDIV that while free speech is crucial on college campuses, so is respecting others: "You need to always remember to be respectful with your thoughts. And if you know your thoughts are kind of a little crazy and out there, then you shouldn't feel comfortable saying them."
Wayne State University professor suspended over controversial social media postyoutu.be
Like Blaze News? Bypass the censors, sign up for our newsletters, and get stories like this direct to your inbox. Sign up here!