For the last two decades, a large lighted cross arguably has been the biggest part of the Finley River Park holiday display in the city of Ozark, Missouri.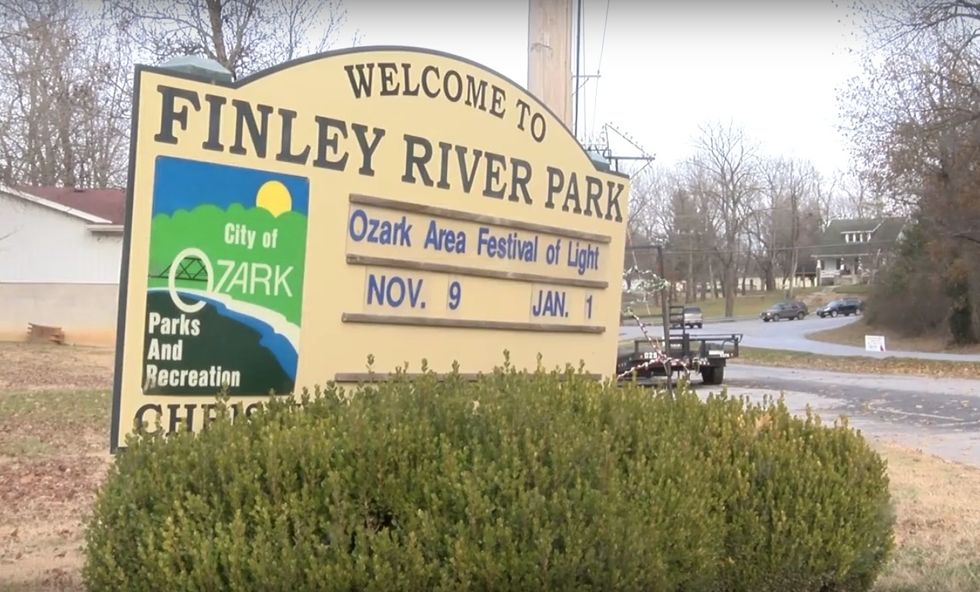 Image source: YouTube screenshot
Well, yet another "concerned city resident" didn't like that very much and got in touch with the Freedom From Religion Foundation — a national atheist activist group that fights and threatens lawsuits over such displays — and the FFRF sent Ozark a letter demanding the cross' removal, the Springfield News-Leader reported.

How did Ozark respond?
Ozark city officials sent out a news release early Tuesday afternoon announcing the cross would come down, the paper said.
"It is the position of the City of Ozark that leaving a religious symbol on public property, in this case a cross, will result in a lawsuit that we will not win as the other communities throughout the U.S. and our own region have tried this and lost," the release said.
Not so fast
But it seems the Ozark community wasn't on board at all with the city caving to the Freedom From Religion Foundation.
Ozark Mayor Rick Gardner noted on his Facebook campaign page that he had received possibly "hundreds" of phone calls, texts, and other messages from local folks, the News-Leader reported.
"Everybody wants it up. One lady is crying. This is part of Ozark. This is Christian County, for Pete's sake," Gardner said.
Gardner added that "the cross is NOT down and will be lighted tonight. We have heard your thoughts and agree with them. We are now assessing all our options for addressing this situation. Stay tuned," the paper said.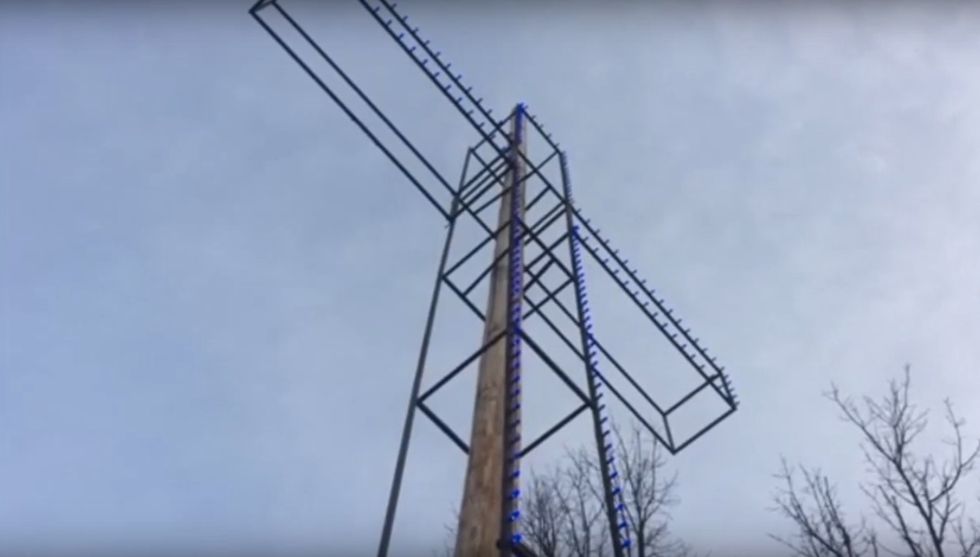 Image source: YouTube screenshot
Still, the mayor added to the News-Leader that Ozark "can't afford to buy two new police cars the police department wants, so how can we afford to fight an expensive lawsuit?" He also told the paper that "the cross is clearly a Christian symbol. I don't know if you're a Christ-follower or not, but this really hacks me off."

So later Tuesday afternoon, Ozark sent out another press release reversing its position.
"We released a press release earlier with the facts as they have been presented to us thus far," public information officer Samantha Payne said in the second release, the News-Leader reported. "As the day unfolded and citizens commented on this topic, we have determined that in the best interest of all parties we shall continue working through the legalities of the situation. Therefore, the cross in the Finley River Park will remain in place until a further due diligence can be completed regarding this matter."
What did the Freedom From Religion Foundation have to say?
Rebecca Markert, legal director for the Freedom From Religion Foundation, told the paper Tuesday that her group gets involved when they learn about a "constitutional violation" from one of the FFRF's 32,000 members (of which 375 are Missouri-based) or another member of the public.
"That's what happened here," she told the News-Leader.
When asked how a cross on public property could be problematic in a majority-Christian community, Markert told the paper, "I always like to reference Justice Sandra Day O'Connor [who] ... said that we do not count heads before we enforce the First Amendment, and that's really the crux of our Constitution."
Markert also told the News-Leader that "it doesn't matter if 99 out of 100 people think [a cross on city property] is OK. That's not the way our system works ... We live in a country with a lot of religious diversity because our government is largely free from religion."
She added to the paper that the Freedom From Religion Foundation got calls from people upset about its letter to Ozark and that FFRF staff have reported unspecified threats.