Leigh Gardella-Wood and her husband made the novel move of buying a closed elementary school in suburban Chicago in 2011 and making it their home, WMAQ-TV reported.
A year later, Girl Scout Kasha Strathman raised money for a 9/11 plaque that was placed on a memorial rock on the former grounds of Spring Bluff Elementary School that states, "We Shall Never Forget" and "dedicated to those who serve," the station said.
'Obsolete'

But Gardella-Wood told WMAQ she received a letter from the Winthrop Harbor village board last week saying the signage on the memorial was "obsolete" and must be removed.
Indeed, she posted a portion of the letter on Facebook:
"I have never heard of a plaque being an issue," Gardella-Wood told the station. "There are people who have plaques in their yard all over the place — it's not gaudy, it is not hurting anybody."

Gardella-Wood told the station that many in the community — including veterans — like the memorial and want it to stay.
"I think this is needed," she added to WMAQ. "We have a lot of people who are veterans. By the village wanting it gone, it hurts. People come here and reflect or to get away."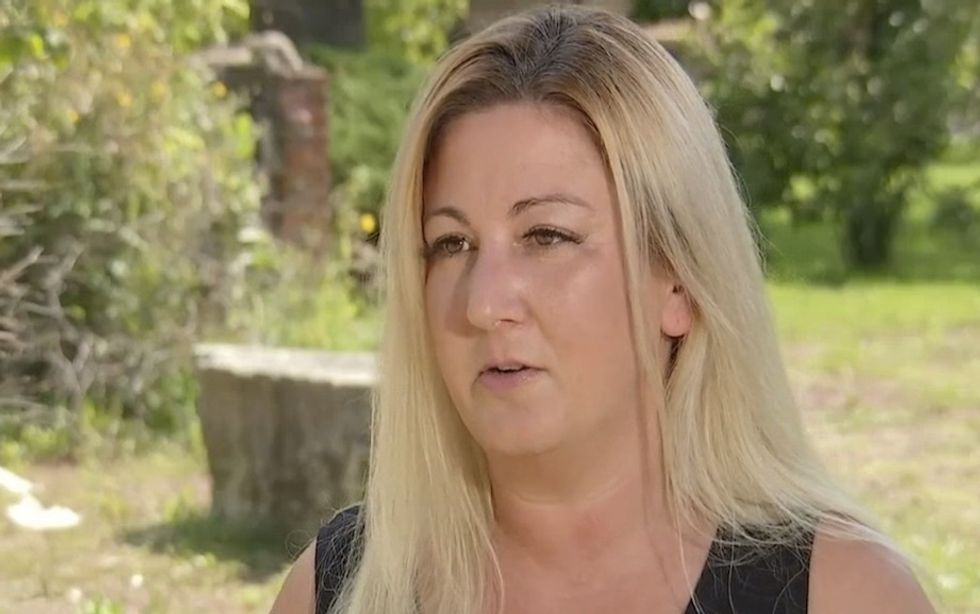 Leigh Gardella-WoodImage source: WMAQ-TV video screenshot
'I say it still needs to stay there'

The plaque notes that donations for it came from American Legion and Veterans of Foreign Wars posts, along with other community organizations.
"We made donations and everything to it, and I say it still needs to stay there," Richard Coombe of the VFW told the station.
"It's a memorial to people," Michael Hoeth added to WMAQ. "Why are you going to move something that's a memorial to people?"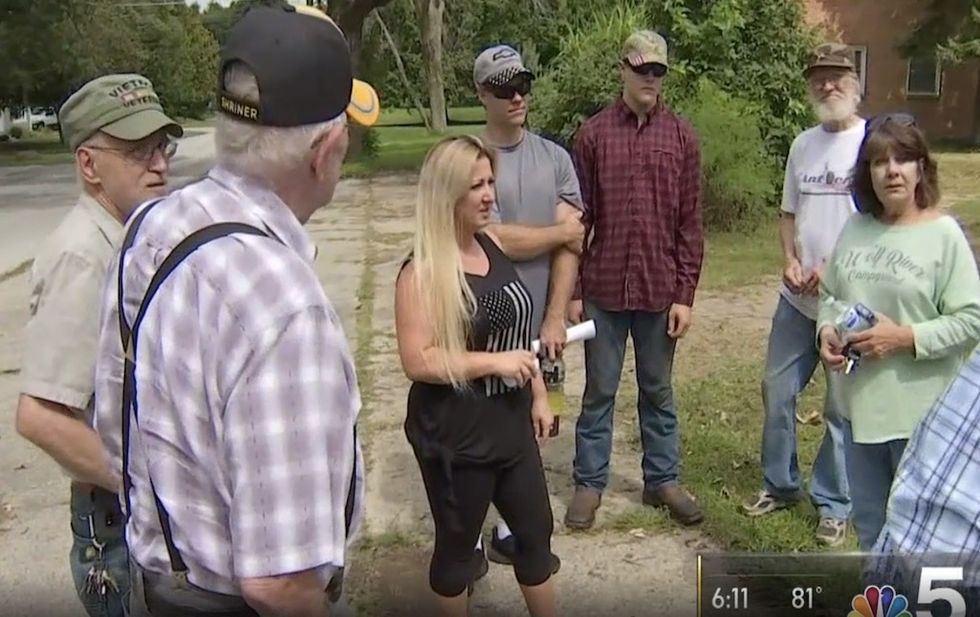 Image source: WMAQ-TV video screenshot
Gardella-Wood told the station she was confused by the village's desire to get rid of the plaque.
"I don't know what to think because I don't understand what they are thinking," she told WMAQ of the village. "I don't understand how a community that is so close, that they would find a plaque or memorial obsolete."
Gardella-Wood added to the station: "People worked really hard to have that put there. People died on 9/11. It's not something we can just forget. It's coming up. How do you forget that?"
WMAQ reported that the Winthrop Harbor village hall was closed for Labor Day on Monday, so the mayor and village board did not respond to the station's request for comment.
Here's the station's video report:

Now for the rest of the story
TheBlaze on Wednesday spoke to Gregory Jackson, Winthrop Harbor's village administrator, and he told a far different story.
Jackson said the property owners were cited for a number of code violations in early August, and the letter stated that one of them involved the integrity of the 9/11 plaque, which was hampered by "noxious weeds" and plant growth around it. Jackson said because of the lack of upkeep, officials viewed the memorial as inactive — which is where the "obsolete" wording in the letter came from.
He added that the property owners received the letter Aug. 21 — and didn't contact the village for any clarification on remedying the situation. Jackson told TheBlaze that the first indication any clean-up was done around the 9/11 plaque was when WMAQ ran its story Monday.
Jackson added that he contacted WMAQ with the village's side of the story Tuesday and was told a reporter would attend the village board meeting Tuesday night — but he said no reporter showed up.
However, he told TheBlaze the property owners showed up, along with veterans and others, to protest what they perceived as a threat to remove the 9/11 plaque — and they were told since the area around the plaque was cleaned up, there were no more issues with the plaque.
Jackson — a former Marine and firefighter — told TheBlaze there were no plans to remove it in the first place: "This is a conservative community. It would be dumb for a politician to even think about doing that."

What did Gardella-Wood have to say in response?

TheBlaze on Wednesday asked Gardella-Wood why she told WMAQ that she didn't know the reason village officials threatened removal of the plaque when Jackson said the letter indicated weed removal was all that was needed to remedy the matter. She replied that it's "definitely an excuse the city is using."
This story has been updated