© 2023 Blaze Media LLC. All rights reserved.
California restaurant owner changes his mind about not serving customers in MAGA hats
Can the ol' eyes roll any harder?
The California restaurant owner and chef who refused to serve customers wearing "Make America Great Again" hats earlier this week has changed his stance entirely.
Not only is he sorry for his remarks, he's oh so graciously going to serve people no matter what kind of pro-Trump gear they might wear on their person.
What did he say?
In a Friday blog post, J. Kenji López-Alt — who runs Wursthall Restaurant and Bierhaus in San Mateo — apologized for a tweet in which he said MAGA hat-wearing people weren't allowed inside his restaurant.
His original tweet — which has since been deleted — read, "It hasn't happened yet, but if you come to my restaurant wearing a MAGA cap, you aren't getting served, same as if you come in wearing a swastika, white hood, or any other symbol of intolerance and hate."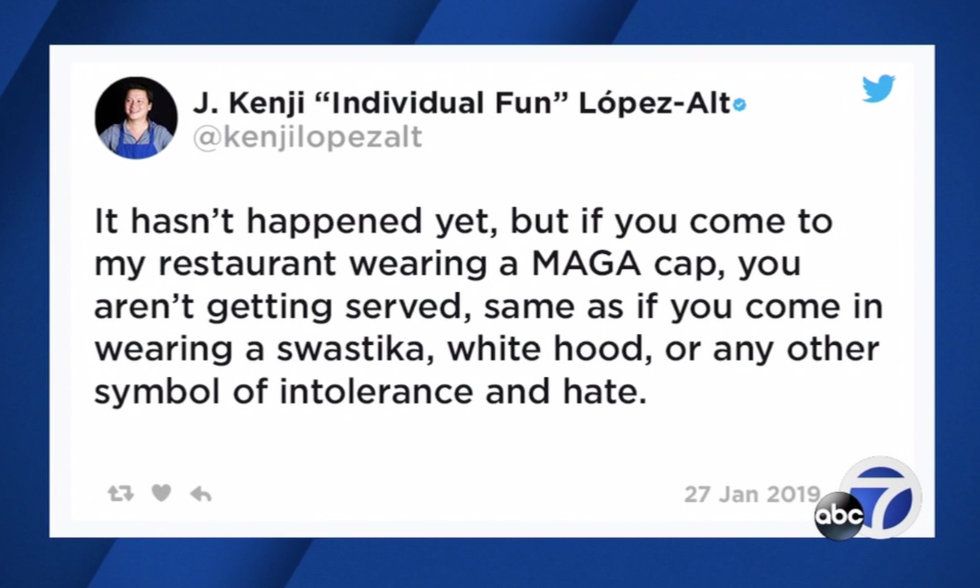 Image source: WTVD-TV video screenshot
In follow-up tweets, the chef added, "MAGA hats are like white hoods except stupider because you can see exactly who is wearing them" and "If you're comfortable sitting next to a MAGA wearer I'm probably not interested in serving you either."
Needless to say, López-Alt's sentiment didn't go over well with a lot of people.
So what did he say in his apology?
In the blog post, López-Alt apologized to his staff and restaurant partners.
"Making a public statement without taking my team's thoughts into consideration was disrespectful and reckless," he wrote. He went on to describe his "diverse family," which he said is a source of pride for him.
"My family spans across the political spectrum," he added, "yet we still manage to have a wonderful time at our biannual family reunion because we have three things in common: family, a love for our country, and most importantly, respect for each other and our communities.
"Like many people," the chef wrote, "I'm scared and confused by the anger, hatred, and violence that I'm seeing in our country right now. Scared for my family and friends, for my community, and for the most vulnerable people among us."
López-Alt — who is a self-described atheist and feminist — added that he was not the most careful in his choice of words to convey said fear. He also went on to sympathize with the "fear" some people have in believing that MAGA hats symbolize "anger, hate, and violence."
"Symbols have power and meaning and can mean different things to different people at different times and in different contexts," López-Alt reasoned. "After having seen the red hat displayed so prominently in so many moments of anger, hate, and violence, to me — and many others — the hat began to symbolize exactly that: anger, hate, and violence."

The chef explained that his message was "intended to reject anger, hate, and violence," but added that he understood how many people "interpreted [his] words in a difference context, and a construed a message of hate directed at them."
"This was not my intent in any way, and I am sorry for my recklessness," he wrote.

The chef went on to note that the restaurant will most assuredly serve people who wear those red "Make America Great Again" hats, complete with a nearly by-the-book discrimination disclaimer.
"Wursthall will continue, as it always has, to serve all customer regardless of race, color, religion, sex, national origin, sexual preference, gender orientation, disability, or political opinion — so long as they leave hate, anger, and violence outside of the doors of our restaurant," he concluded.
Want to leave a tip?
We answer to you. Help keep our content free of advertisers and big tech censorship by leaving a tip today.
more stories
Sign up for the Blaze newsletter
By signing up, you agree to our
Privacy Policy
and
Terms of Use
, and agree to receive content that may sometimes include advertisements. You may opt out at any time.