Employees at the Sarasota Memorial Hospital in Sarasota, Florida, are alleging threatening and abusive behaviors by senior physicians, even claiming that there are safety risks due to staff being overworked.
The Florida Standard spoke to hospital employees who wish to remain anonymous, but provided copies of their complaints to hospital administrators.
A complaint against Dr. Daniel B. Case was provided in which the employee alleges the doctor made disparaging remarks about people who are unvaccinated.
The letter says the employee was whether the employee would get vaccinated, to which the employee replied "no," adding, "because that's my freedom of choice."
In response, Dr. Case allegedly said, "You guys are the reason why people are dying and why COVID is spreading."
Additionally, the complaint claims the doctor also said, "When you guys get fired, then we'll all have a party and Darwinism will do its work" and, perhaps most egregiously, "They should take you guys to the firing line."
Dr. Case allegedly said the latter in response to being asked whether he is a fascist.
The employee insisted there is no relationship between the employee and the doctor in which such comments could be considered a joke.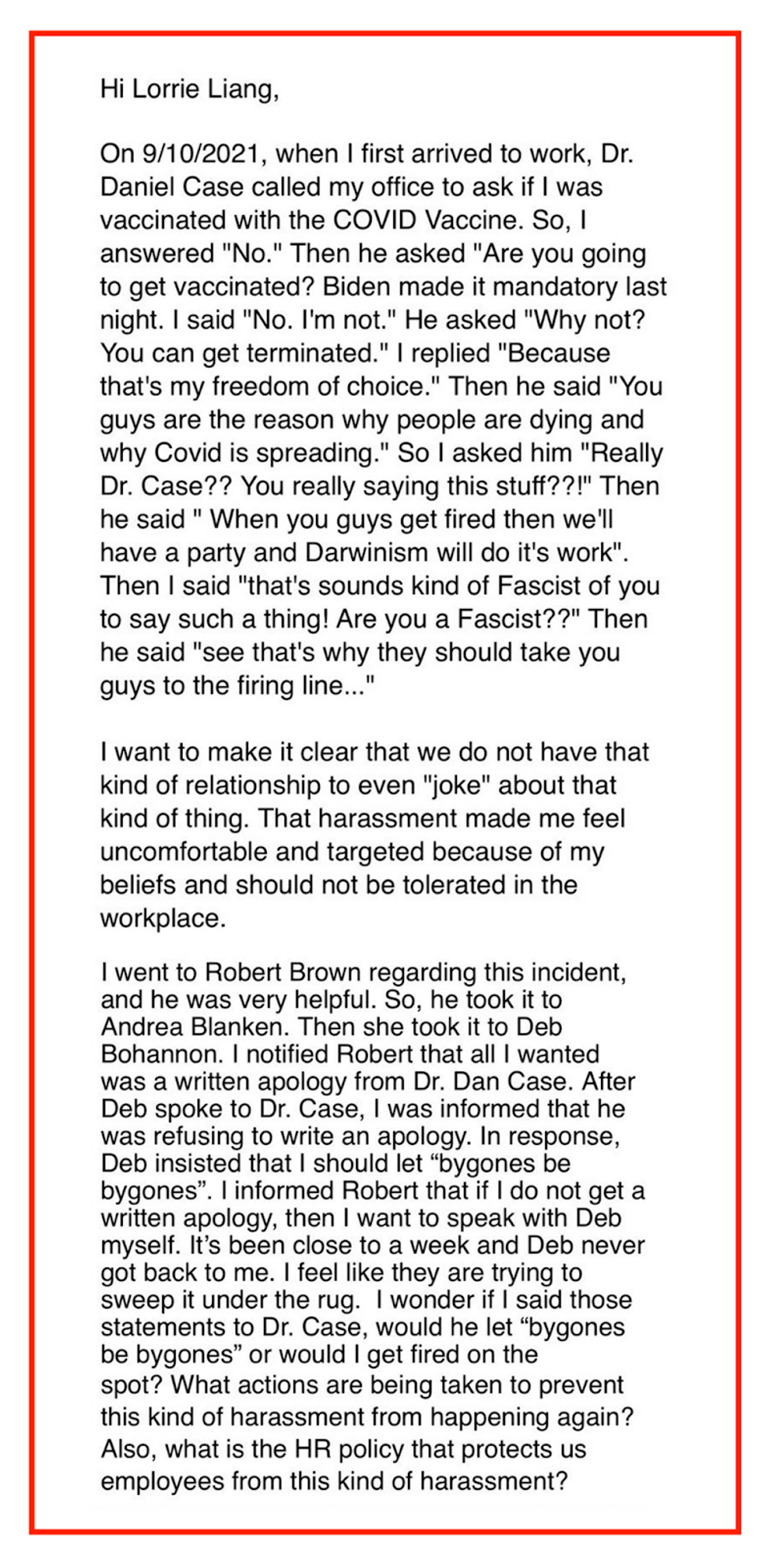 Image courtesy The Florida Standard
A nurse at the hospital alleges that in 2021 the hospital made lists of unvaccinated staff, who were then subject to a "re-education session" led by other staff, which sought to convince them to get vaccinated.

A letter was also sent to staff outlining that unvaccinated workers must "isolate during meal times," and a color-coded sticker system would be implemented on employee badges, but the sticker system was never implemented.
Other staff members claimed that a Dr. Jonathan Hoffberger promotes a hostile work environment, with one physician stating that Hoffman, a cardiac surgeon, "yells at unvaccinated patients" and "refuses to perform open-heart surgery" on patients who haven't received an mRNA injection.
Hoffberger had several social media posts criticizing those who wished to perform their "own research."
"STOP DOING 'YOUR OWN RESEARCH,'" a Facebook post reads, with an attached image promoting vaccination.
"Myth: 'I've had COVID-19, so I don't need to be vaccinated because I have antibodies,'" the photo says.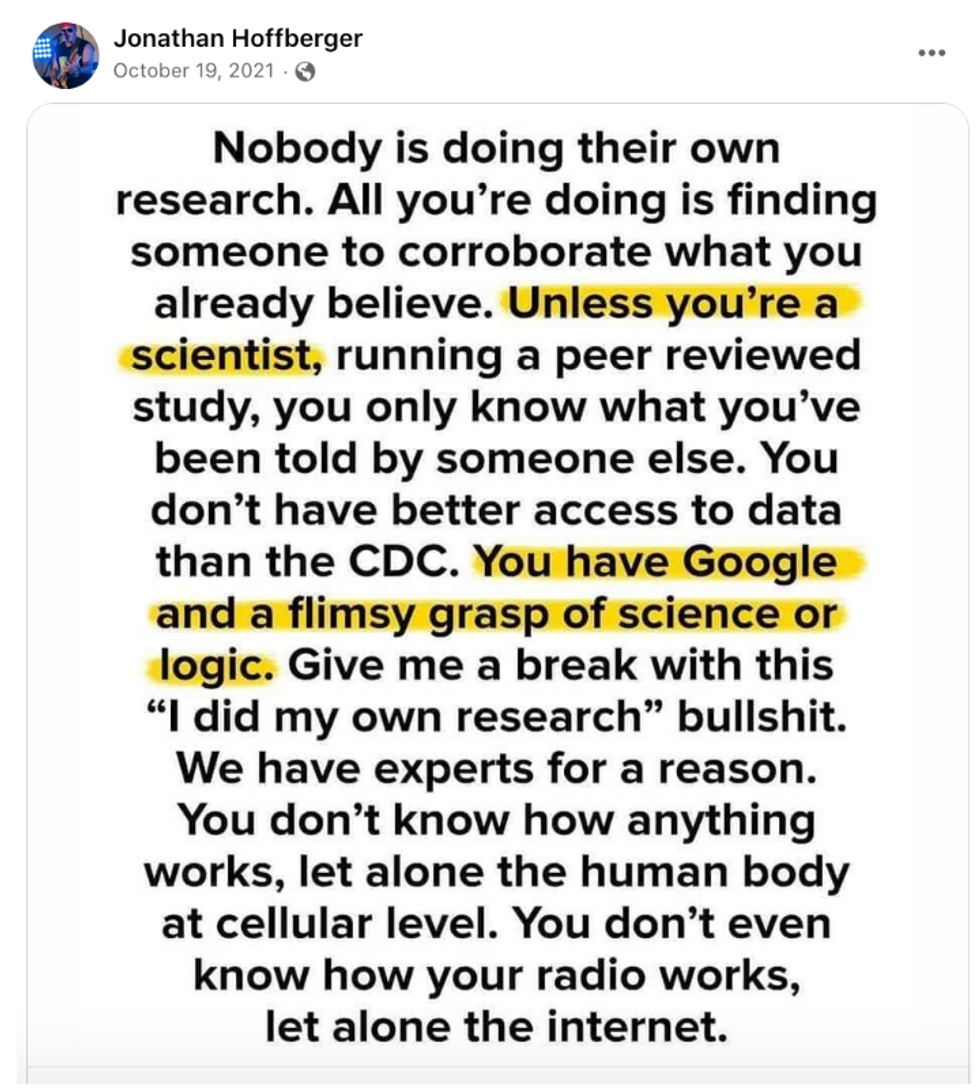 Image courtesy The Florida Standard
The Florida Standard was able to obtain comment from Sarasota Memorial's public relations manager, Kim Savage:
"Much of the misinformation being spread in the community is designed to erode trust in a health system that has taken care of this community for nearly a century. The allegations are unfounded, untrue and undermine the award-winning patient care Sarasota Memorial and its dedicated and diligent physicians and staff are known for delivering. A review of how we responded to the unprecedented challenges of the pandemic demonstrates the successful care that SMH has provided COVID patients since 2020, with clinical outcomes that outperformed national and regional hospital benchmarks and saved thousands of additional lives."
Like Blaze News? Bypass the censors, sign up for our newsletters, and get stories like this direct to your inbox. Sign up here!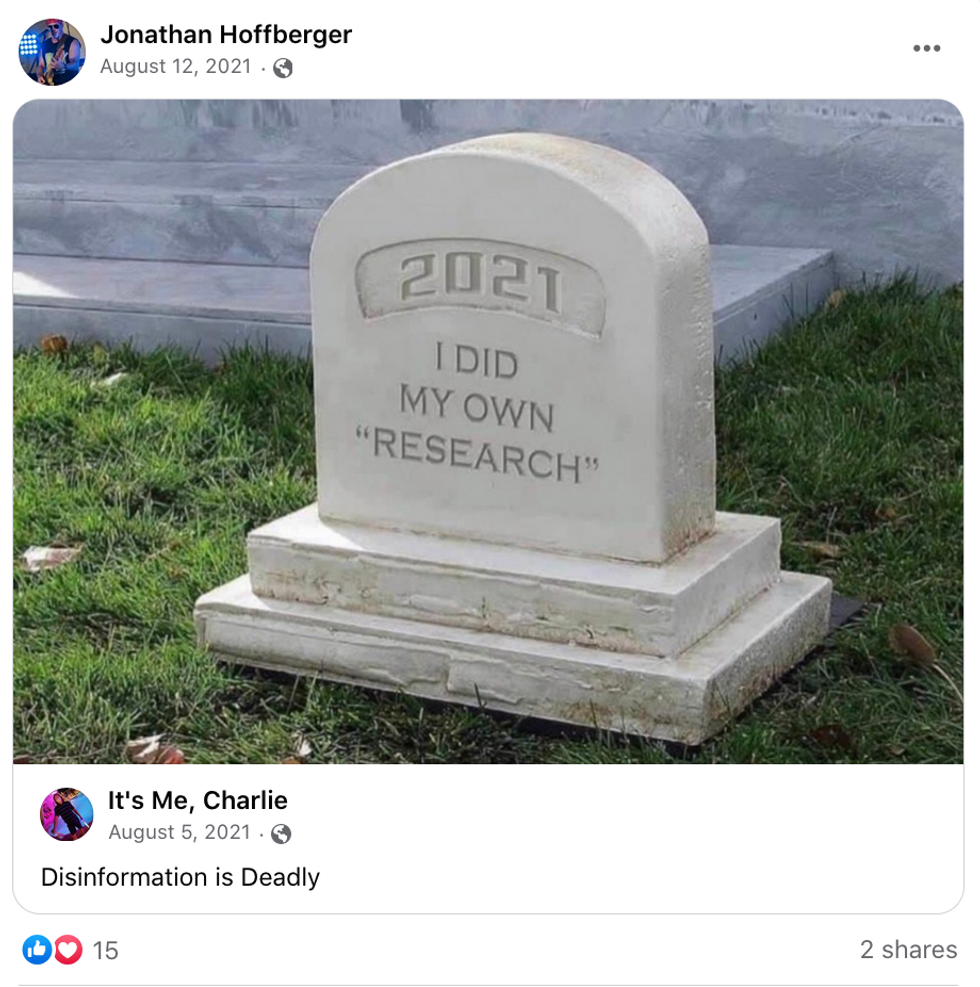 Image courtesy The Florida Standard