In the wake of former U.S. Ambassador to the United Nations Nikki Haley saying former President Donald Trump "let us down" and "we shouldn't have followed" him, far-left actor Sean Penn posted a tweet that's getting a lot of attention — but likely not for all the reasons he relishes.
What did Penn say?
"Evangelical leaders should themselves be impeached by the Vatican if they themselves don't follow Nikki Haley's lead & clearly state they should not have followed Satin into the bowels of hell," Penn tweeted Friday. "But, perhaps they are too busy at sex parties."
Evangelical leaders should themselves be impeached by the Vatican if they themselves don't follow Nikki Haley's lea… https://t.co/0oK24BAiSv

— Sean Penn (@Sean Penn) 1613178817.0
Hey, bud, what's your problem?
It's not exactly clear why Penn chose to pick on evangelical Christian leaders following Haley's headline-grabbing break from Trump, although the media often focused on evangelical support for Trump during his time in office — and not in a particularly flattering way.
But the message of Penn's rather colorful post was hopelessly lost in his execution of it.
Obviously it doesn't take encyclopedic knowledge of world religions to understand that evangelical Christians are not associated with the Catholic church, which means they don't fall under the spiritual authority of the Vatican.
And we can safely assume that by invoking "Satin" in his tweet, Penn wasn't actually referring to fabric but to "Satan." If his lack of basic religious know-how wasn't already apparent, the latter misspelling underscores it quite thoroughly.
And who knows what was going through his head by the "sex parties" reference? Maybe it's all those well-documented sex parties evangelical Christians are hosting all the time.
What was the reaction?
Penn's tweet has been ratioed with gusto: As of Monday morning it's received 12,000 comments compared to only a little over 4,000 likes. And the comments, as you can imagine, were none too kind:
"I don't know if anyone's given you a clear explanation of what you got wrong here, but the pope is Catholic and evangelicals are not, so he has no authority over what they do. That's one," conservative commentator Allie Beth Stuckey commented. "Two, they can't be impeached. Three, it's velvet. Velvet is in hell, not satin."
Former Team Trump legal adviser Jenna Ellis added, "Failed endorsement for Good Pillow satin hell dream sheets."
Even former Democratic presidential candidate Marianne Williamson chimed in: "Uh, Sean?"
Other commenters naturally saw an opportunity to refer to Jeff Spicoli, Penn's iconic stoner character from "Fast Times at Ridgemont High." One played off a line by Mr. Hand — Spicoli's faculty nemesis: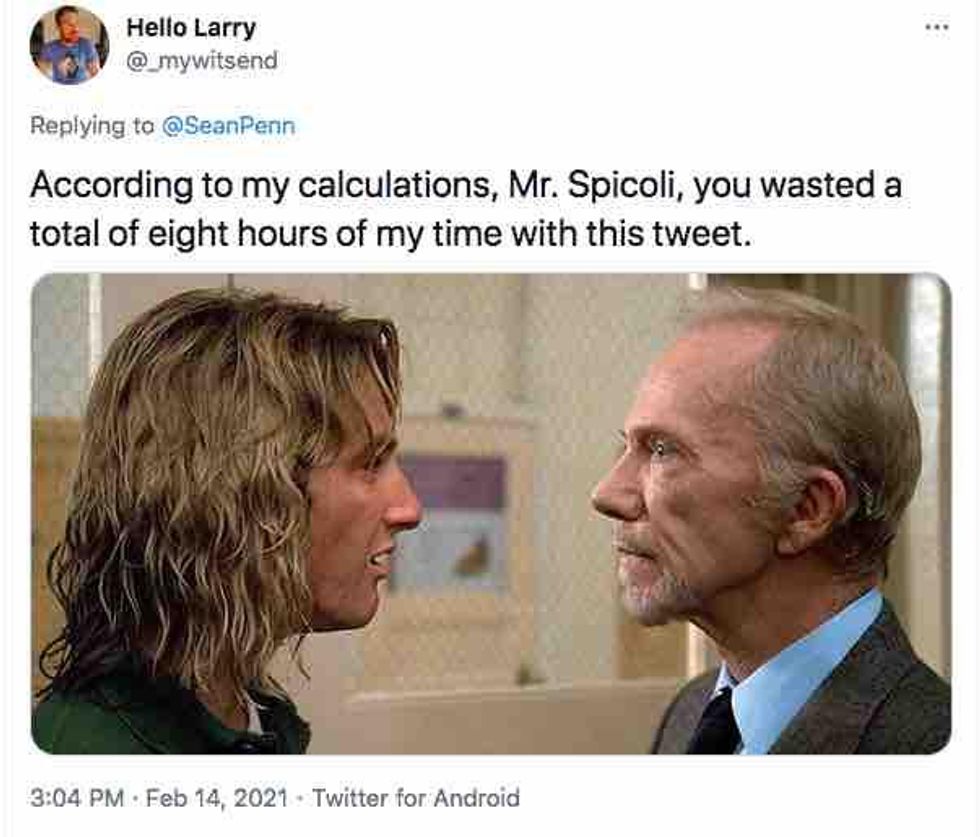 Image source: Twitter
Another user replied, "I thought when you played Spicoli, it was just a part. Guess not. ... When someone asks you a question you don't know the answer to, feel free to use, 'I don't know.' It's accurate and true. Ratios, my man, they'll tell this was a huge swing and a miss. Again."
Here's a fond look back at the dude himself:

Jeff Spicolli Tasty Waves youtu.be
Related articles around the web