Blaze Media host Steven Crowder's lawyer, Bill Richmond, revealed Wednesday that Rep. Rashida Tlaib (D-Mich.) was required to unblock Crowder on Twitter this week.
What are the details?
Crowder discovered that Tlaib blocked him on Twitter and took issue with the idea, since it is apparently contrary to a recent federal court ruling.
In July, a federal court ruled that President Donald Trump could not block his critics on Twitter. The 2nd U.S. Circuit Court of Appeals in Manhattan upheld a lower court judge's ruling that said Trump violates the Constitution when he blocks critics.
Richmond reached out via email to Tlaib's office over the weekend over the apparent blocking of his client.
The message said
Pursuant to recent federal legal precedent, my client requests that you immediately unblock his access via @scrowder to your Twitter account @Rashida Tlaib (the "Account"). The Account is used almost daily for government communications, including those related to your service on the House Committee on Financial Services and House Committee on Oversight and Reform.

Your use of the Account has made it a direct source of government information that my client has repeatedly attempted to access and now is forced to obtain indirectly through other sources. Accordingly, my client is entitled to direct access to the Account, which should be accomplished by immediately unblocking his account access.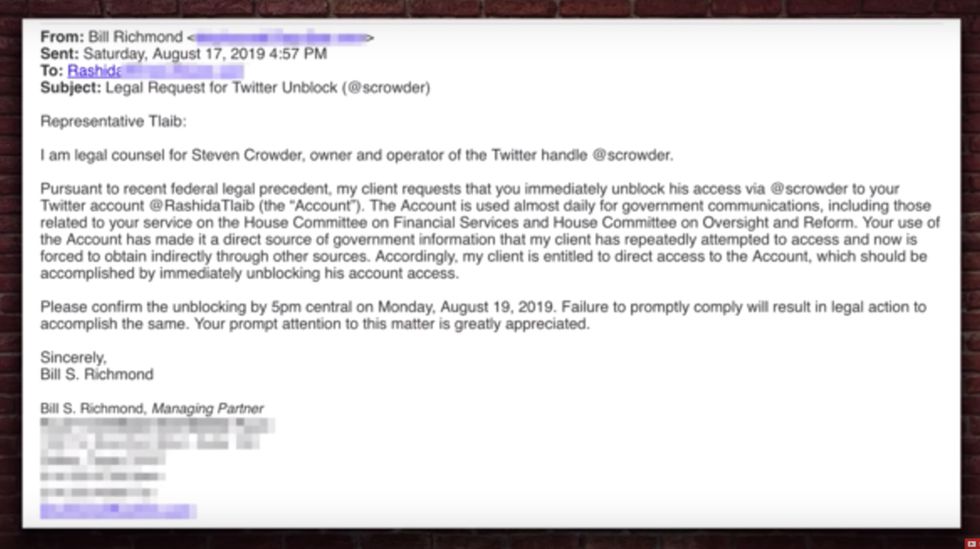 Image source: YouTube screenshot
Richmond pointed out that Tlaib's camp responded within "two business hours."
The response was concise.
A man identified as Andy, and who referred to himself in the message as the Tlaib camp's senior policy counsel, responded, "@scrowder is no longer blocked from accessing @RashidaTlaib."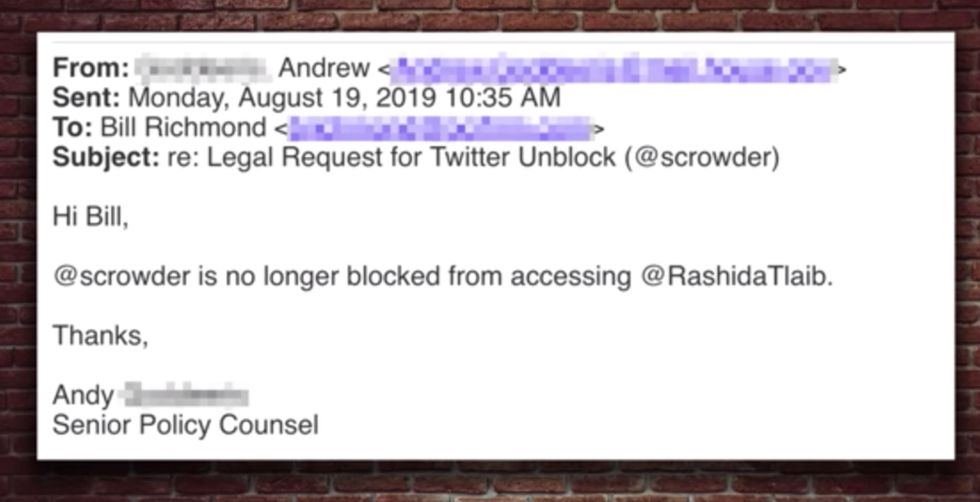 Image source: YouTube screenshot
"Know your rights," Crowder said during the broadcast. "Know where you stand. Understand what legal options are available to you."
Crowder also added that it's important to keep lawmakers accountable.
"These people live as though they're above the law," he said.
Richmond added, "Reach out. There's some kind of natural obstacles that they put in place. If you want to go through the website ... or you can tweet directly. Don't give up, keep doing it. Eventually they're going to have to get to a place where they're gonna not block anyone, period. Which should have been their policy in the first place."
LEGAL UPDATE: Rashida Tlaib Caves to Half-Asian Lawyer! | Louder with Crowder www.youtube.com
Anything else?
Rep. Alexandria Ocasio-Cortez (D-N.Y.) thinks that she should be exempt from this precedent and requested earlier in August that a lawsuit filed by former New York State Assemblyman Dov Hikind (R) be thrown out.
Hikind filed a suit against Ocasio-Cortez after she blocked him on Twitter.
The former assemblyman pointed to the ruling that Trump couldn't block people on Twitter in his suit.
Ocasio-Cortez reportedly insisted that Hikind "lacks standing to bring the action" and insisted that she wasn't properly served with the former assemblyman's suit.
Ocasio-Cortez's legal team reportedly requested that the suit be thrown out with prejudice so Hikind could not file a second time.