The legendary "Dirty Harry" movie franchise is famous for a number of things, among them iconic actor Clint Eastwood and his portrayal of the lone-wolf, take-no-prisoners inspector, his .44 Magnum handgun, and elaborate foot chases amid a San Francisco backdrop.
Well, what was caught on video earlier this month on a Frisco freeway likely would make for a nifty scene in a "Dirty Harry" flick — if not for the fact that it was quite real. All that was missing was Clint and his hand-held cannon.
What happened?
A tow truck driver on southbound Highway 101 captured on cellphone video a crazy foot chase involving plainclothes San Francisco police officers and suspects in a string of vehicle burglaries, KGO-TV reported.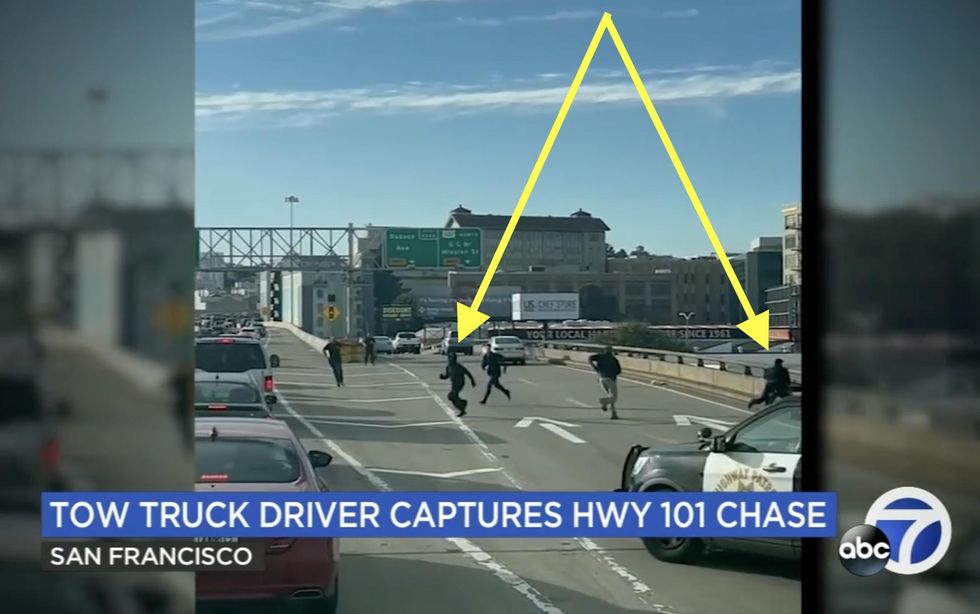 Image source: KGO-TV video screenshot
In the clip, the driver can be heard shouting, "You got 'em! You got 'em! You got 'em!" as one masked suspect — dressed in a dark hoodie and dark clothing — runs right past his truck while Trisha Yearwood's 1998 hit "How Do I Live Without You" plays on the radio, the station said.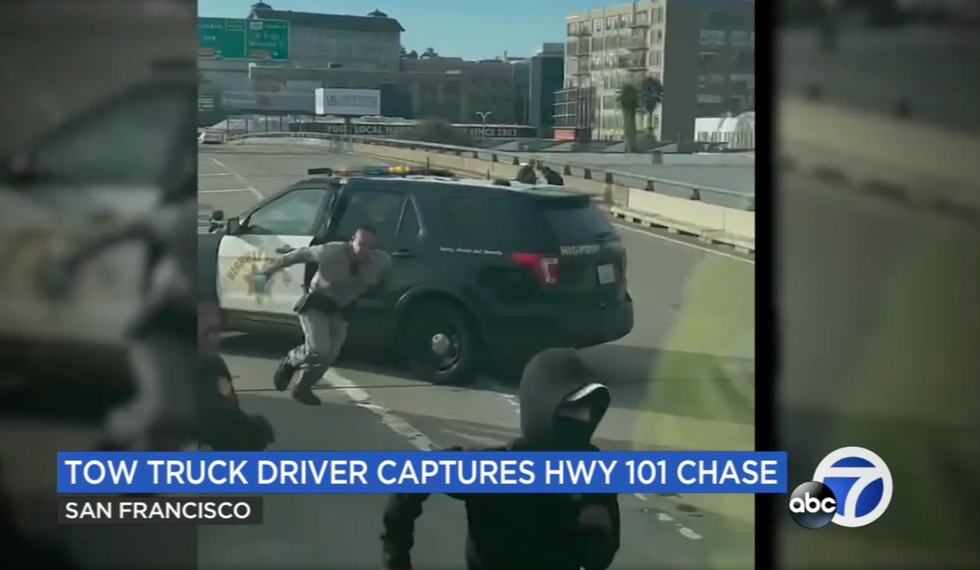 Image source: KGO-TV video screenshot
That suspect had already evaded at least four cops as he scampered across four lanes of traffic.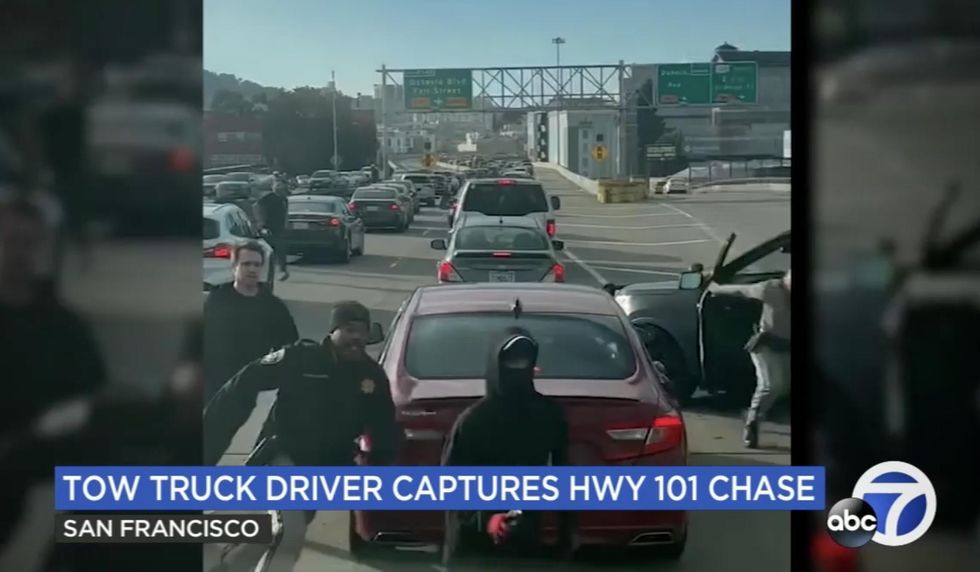 Image source: KGO-TV video screenshot
Seconds before, another suspect is seen tripping and falling as he runs toward a highway barrier, after which a cop easily wraps him up.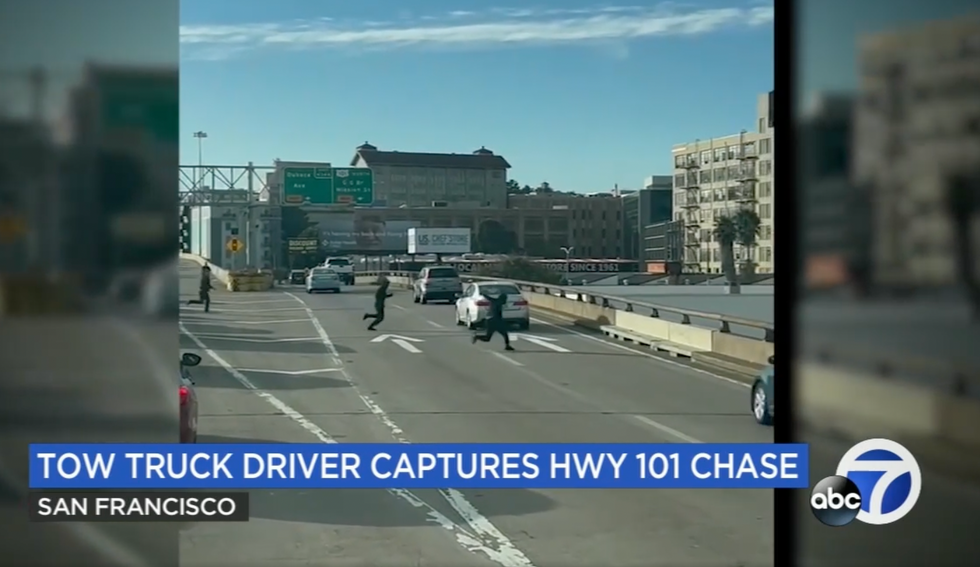 Image source: KGO-TV video screenshot
Police were performing citywide auto burglary and robbery abatement operations Nov. 11, SFGate reported. Police that day also got at least six calls in a three-hour period related to the same getaway vehicle, KGO said.
Officers just after 3 p.m. spotted a vehicle matching descriptions they were given in the area of Market and Octavia Streets and followed it as the driver turned on to southbound 101, SFGate reported.
The driver soon pulled over on the freeway shoulder, after which all three occupants got out and ran, SFGate added. One of them had a gun, KGO noted.
Police put on their running shoes, too.
The suspect with the gun threw the weapon on the ground during the foot chase, police told SFGate, adding that police recovered it.
"I was like, 'Damn, something is going down!" the tow truck driver told KGO.
You gotta ask yourself one question: Do I feel lucky?

In the end, three suspects were arrested — and right on the freeway, the KGO said.
One of them is an unnamed 17-year-old, KGO reported. Then there are two adults:
Jonathan Joseph Caruso faces charges including auto burglary, possession of stolen property, and resisting arrest, the station said. Caruso also had a warrant against him out of Pittsburg, KGO said.
Angel Herrera was booked for driving a stolen vehicle and other charges related to auto burglaries and possessing stolen property, KGO said.
The adults were booked into county jail, SFGate reported, and the juvenile was released to his mother.