© 2023 Blaze Media LLC. All rights reserved.
'The most famous Hitler phrase there is in the world': Spectator booted from US Open after German player hears 'unbelievable' words
A spectator was ejected from a U.S. Open tennis match early Tuesday after German player Alexander Zverev told an official he heard "the most famous Hitler phrase there is in the world" coming from the stands.
What are the details?
Zverev, the No. 12 seed who was serving at 2-2 in the fourth set of his match against No. 6 Jannik Sinner of Italy, walked over to chair umpire James Keothavong and pointed toward the spectator, the Associated Press reported.
"He just said the most famous Hitler phrase there is in the world," Zverev was heard telling the umpire in the live video of the match. "He just said the most famous Hitler phrase there is in this world. It's not acceptable."
With that, Keothavong turned backward in his chair and pointed toward the area in the stands and began an interrogation of sorts.
"Who's the smart guy who said that?" the umpire hollered. "Put your hand up! Who said that?"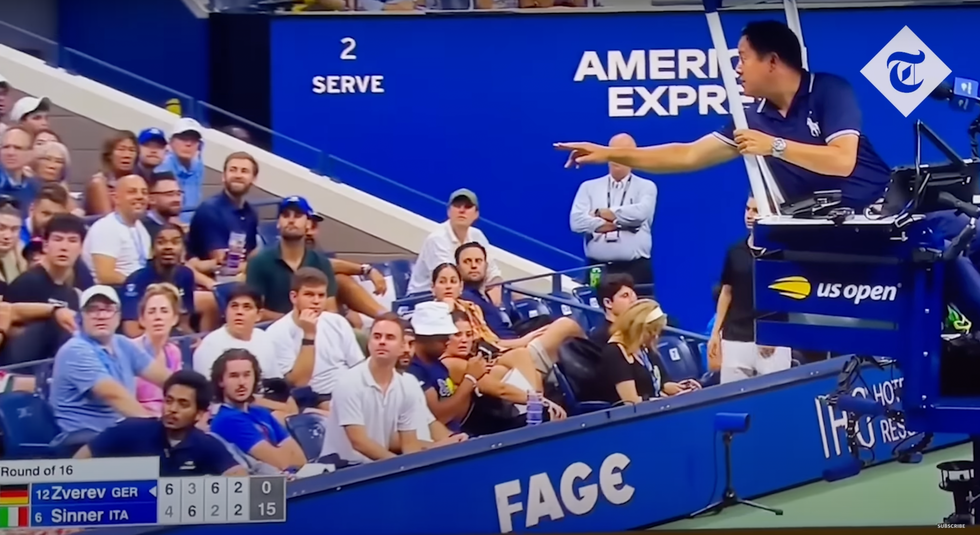 Image source: YouTube screenshot
A spectator was identified by others seated near him, the AP said, after which security officials escorted him out.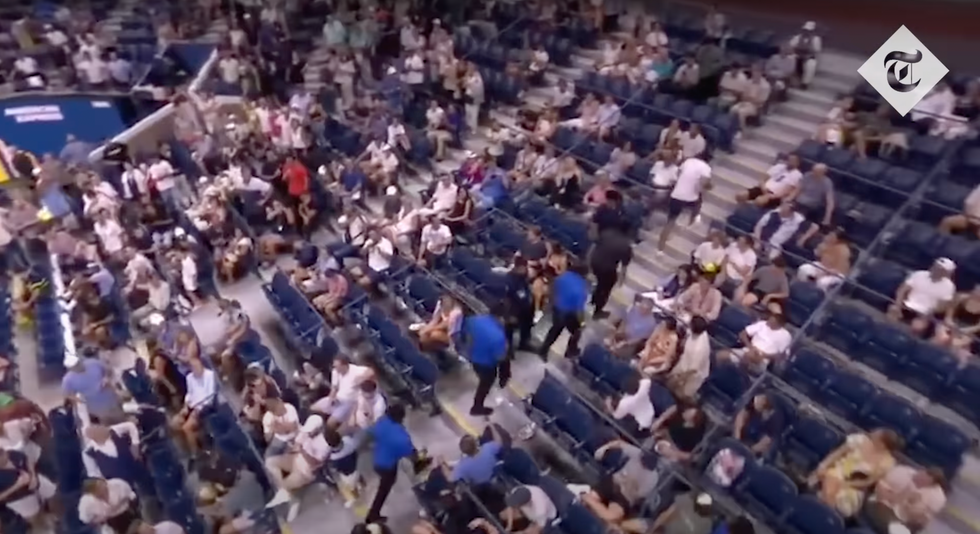 Image source: YouTube screenshot
U.S. Tennis Association spokesman Chris Widmaier said "a disparaging remark was directed toward Alexander Zverev. The fan was identified and escorted from the stadium," the AP reported.
What did Zverev say he heard?
After winning the match in five sets, Zverev said he's heard fans make derogatory comments before but not involving Hitler, the outlet noted.
"He started singing the anthem of Hitler that was back in the day. It was 'Deutschland über alles,' and it was a bit too much," Zverev added, according to the AP.
Zverev also said, "I think me being German and not really proud of that history, it's not really a great thing to do, and I think him sitting in one of the front rows, I think a lot of people heard it. So if I just don't react, I think it's bad from my side," the outlet added.
Anything else?
NBC News, citing German broadcaster Deutsche Welle, said "Deutschland über alles" translates to "Germany above all" and was part of the song officially declared the Weimar Republic's national anthem in 1922.

More from the news network:
After Adolf Hitler rose to power in the 1930s, the Nazi regime began to misuse the verse, however, leading public singing of the anthem to be banned after World War II in 1945.

Years later, then-Chancellor Konrad Adenauer asked that the song be reintroduced, but only with the third verse being sung: "Einigkeit und Recht und Freiheit / Für das deutsche Vaterland," which translates to "Unity and justice and freedom / for the German fatherland," Deutsche Welle reported.
US Open fan ejected for saying "the most Hitler phrase there is" at German playeryoutu.be
Like Blaze News? Bypass the censors, sign up for our newsletters, and get stories like this direct to your inbox. Sign up here!

Want to leave a tip?
We answer to you. Help keep our content free of advertisers and big tech censorship by leaving a tip today.
Sr. Editor, News
Dave Urbanski is a senior editor for Blaze News.
DaveVUrbanski
more stories
Sign up for the Blaze newsletter
By signing up, you agree to our
Privacy Policy
and
Terms of Use
, and agree to receive content that may sometimes include advertisements. You may opt out at any time.