Piers Morgan this week interviewed an 18-year-old British social media star who calls himself "Mizzy" and who's gained recent fame for recording videos of himself pulling vicious public pranks on unsuspecting people and then posting the clips to TikTok.
What has Mizzy recorded himself doing?
One time, the enterprising lad entered the home of a London family without their permission, freaking out the homeowners and their young kids, the New York Post reported.
He also walked up to an elderly woman sitting on a park bench and ran off with her tiny dog, which no doubt dealt some emotional distress to the woman. Mizzy, on the other hand, thought it was hilarious: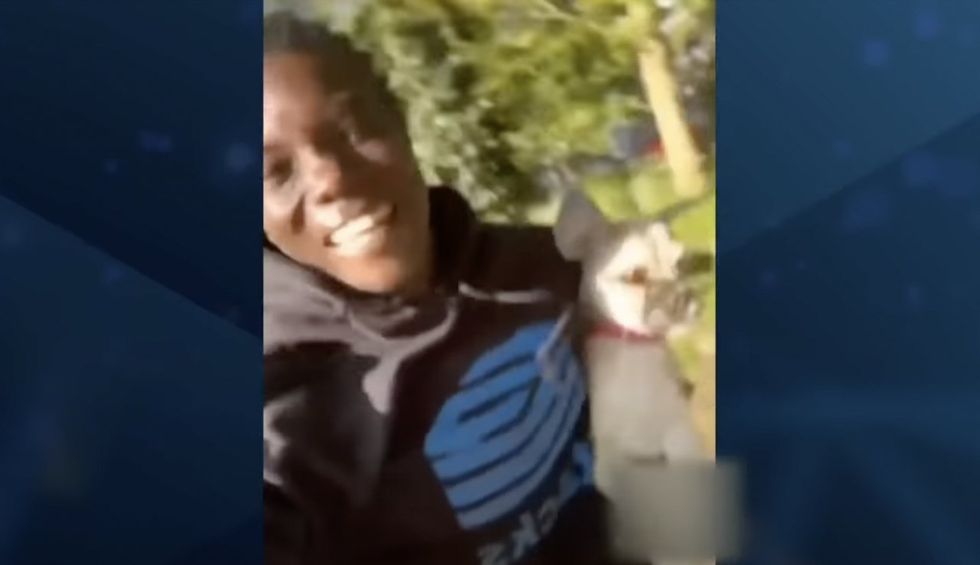 Image source: YouTube screenshot
He also was seen jumping on the back of an Orthodox Jewish man, after which, the victim bolted into a street: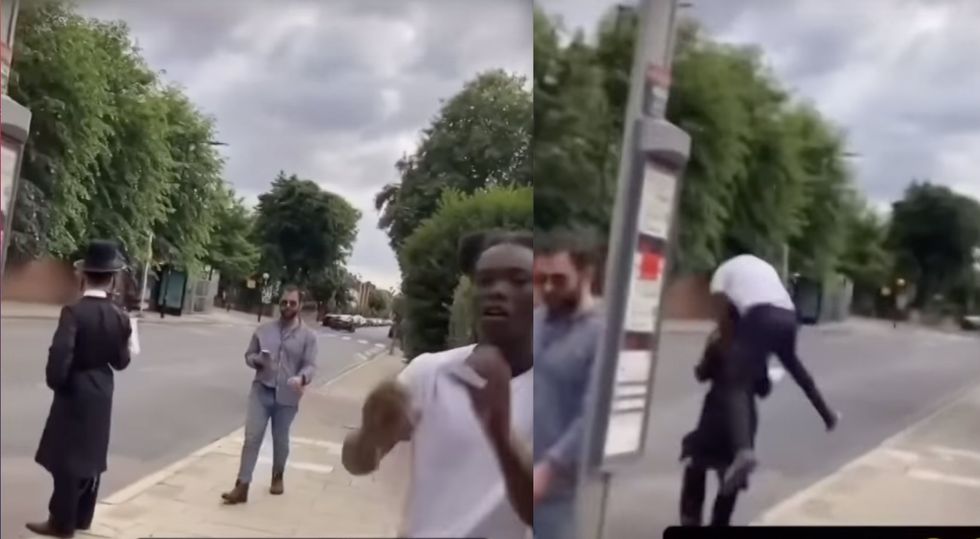 Image source: YouTube screenshot, composite
He's also walked up to strangers and asked them, "Do you wanna die?" which these days easily can be construed as a physical threat.
The clip that got Mizzy in trouble is the one featuring him with other males strolling into a family home and pretending they mistook the home for their "study group" locale — and then they enter the living room and actually sit on a couch, the Post said.
They left the home after the owner directed them to the front door, the paper added.
More from the Post:
Following a major online outcry, Mizzy was finally arrested and charged with violating a Community Protection Notice he'd been issued last year. It stipulated that he shouldn't trespass on private property, the BBC reported.

Along with the [$400] fine, he received a two-year criminal behavior order, which forbids him from directly or indirectly uploading videos to social media without the consent of the subjects
What happened during the interview?
Mizzy — whose real name is Bacari-Bronze O'Garro, the paper said — immediately turned on the bluster with Morgan, overconfidently referred to the much older host as "mate," and continually tried to gain control of the interview.
"This whole public out-roar just makes me laugh," Mizzy told Morgan.
The host asked him, "Why in the name of so-called prankster humor, why cause so much alarm and distress to so many people? You get your kicks out of doing that?"
Mizzy offered that the outrage has been unfounded because "people are getting hurt over something that didn't happen to them."
When Morgan pressed further, Mizzy accused him of playing the race card — which Morgan naturally found preposterous.
"I don't care about your skin color, Mizzy," Morgan told the kid. "I care about the fact that you've been terrorizing all these people for a sustained period of time."
The interview continued to be punctuated by Mizzy trying to gain control of it and interrupting Morgan, who ended up calling Mizzy a "complete moron."
Anything else?
The Post noted that Mizzy, in a Twitter clip posted Wednesday, said he's done with public pranks: "I just wanted to let you guys know, I ain't a prankster no more. I got everything I wanted out of pranks."
Piers Morgan vs TikToker 'Mizzy' After His Arrest For His Pranksyoutu.be
Like Blaze News? Bypass the censors, sign up for our newsletters, and get stories like this direct to your inbox. Sign up here!