The correct answer on a Gettysburg College introductory biology quiz indicated that President Donald Trump is a "eugenicist," Young America's Foundation said.
The term "eugenics" refers to the racist science of human reproduction based on what are deemed desirable traits.
What are the details?
YAF said it obtained documents showing the quiz from Betty Ferster — an adjunct assistant professor — that included a multiple choice, fill-in-the-blank question beginning with "Mr. Trump is an ____"
The correct answer, the outlet said, was "Eugenicist — the 'science' of human improvement through better breeding. It was discredited in 1939 but Trump thinks he's smart because his uncle was an MIT professor and healthy because he has good genes — we don't know if he's healthy, they haven't released the results of his last check-up. He's orange."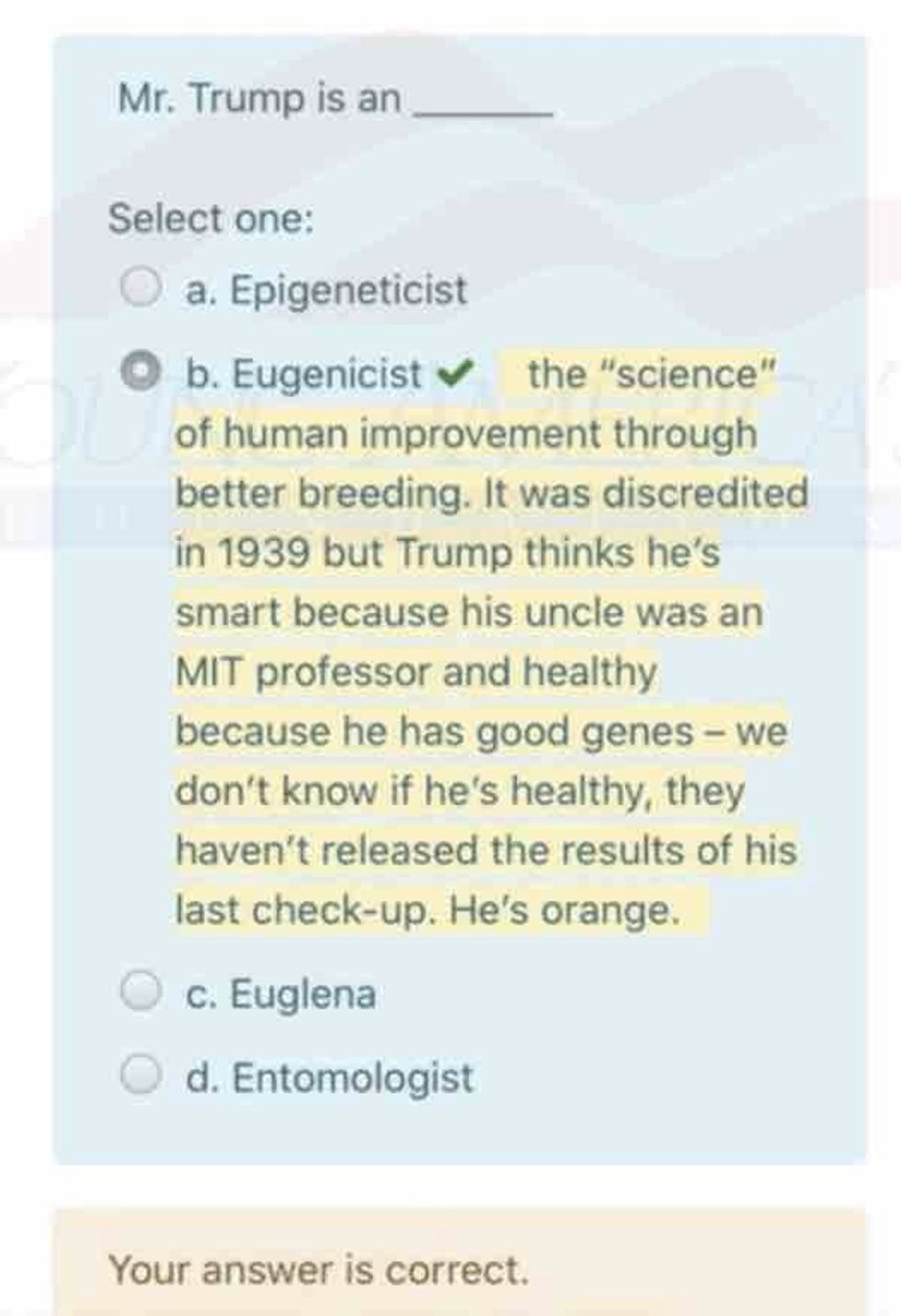 Image source: Young America's Foundation, used by permission
YAF added that the question was the only one containing a political theme, as the other four questions dealt only with biological concepts such as pleiotropy, heritability, and twins.
The outlet said a student brought the issue to YAF's attention through its Campus Bias Tip Line and that the student preferred to remain anonymous over fear of retribution. Fox News said the quiz took place during the spring 2020 semester.
How did folks react?
One commenter on the YAF story regarding the incident said the professor should be "relieved" of employment for the quiz question and answer, and another encouraged parents to "reconsider sending their children to any college that finds this acceptable."
What did Gettysburg College have to say?
A Gettysburg College spokesperson told Fox News the school's office of the provost immediately investigated the matter as soon as it was brought to light.
"Gettysburg College and the instructor both recognize that this incident is inconsistent with our commitment, detailed in our Freedom of Expression Philosophy, to sustain a community in which all members feel their ideas, opinions, and beliefs are respected and protected, even when those ideas are not shared universally," the spokesperson added to the cable network. "The instructor has acknowledged it was a mistake in judgment and explained to us that, when a student expressed concern last spring, she apologized."
(H/T: Red State)