President Donald Trump isn't one to ignore protesters at his rallies. For every barb and chant they throw at him, Trump always seems to have a zinger up his sleeve to throw back at them.
It was no different at his rally Thursday night in Manchester, New Hampshire, as Trump tore into a guy he assumed was a protester:
Donald Trump fat-shamed a protester at one of his ralliesyoutu.be
"That guy's got a serious weight problem," Trump told the crowd after eyeballing a scene in the seats behind him. "Go home. Start exercising. Get him outta here, please. Got a bigger problem than I do. Got a bigger problem than all of us."
Oops
Problem is, the guy Trump called out is actually a supporter of his.
Bloomberg senior White House reporter Jennifer Jacobs noticed that the man in question actually had "alerted security" and then was "pumping his arms in triumph for having gotten rid of the three protesters."

After the rally, Fox News interviewed the man the president called out — Frank Dawson, a Navy veteran with 31 years in law enforcement — and got his reaction to Trump's errant barbs.
"Turns out, he was talking to you," Fox News' Griff Jenkins told Dawson.
"He was, because he didn't see me rip the signs away from those three people that were sitting near us, and they were trying to cause a ruckus," a smiling Dawson replied, adding that he wasn't going to let protests happen "beside me because I'm trying to listen to my president."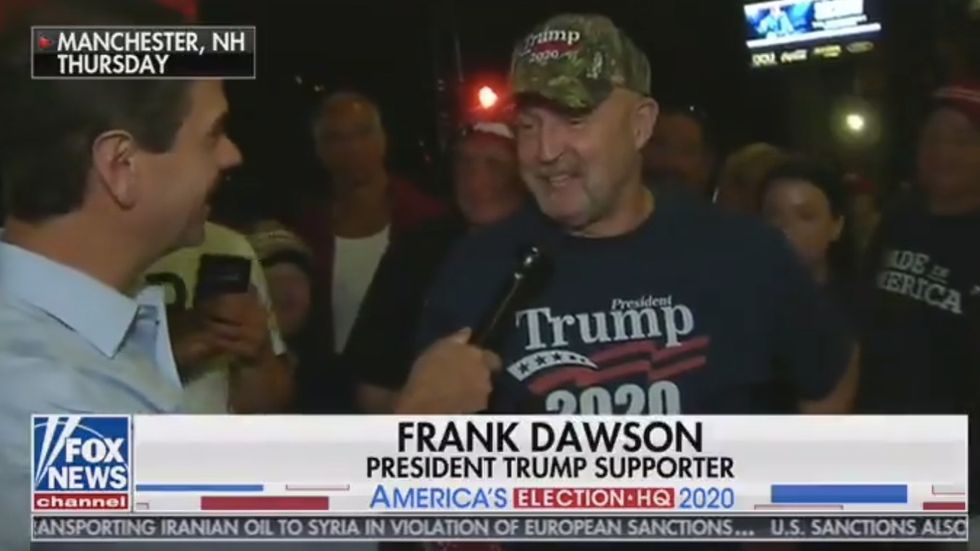 Image source: Twitter video screenshot
Dawson added, "But I think he thought I was part of it, but I wasn't — I was the good part of it."
Any hard feelings?
As far as Dawson's concerned, "everything's good, I love the guy, he's the best thing that ever happened to this country."
The guy President @realDonaldTrump said was "overweight" and needed to "go home and exercise" turned out to be a Tr… https://t.co/WWZj1Ajmaw

— Eddie Zipperer (@Eddie Zipperer) 1565952869.0