Students for Life America set up a pro-life display of small pink crosses on the campus of Whatcom Community College in Bellingham, Washington, last month — and caught a vandal on camera brazenly pulling them from the ground and gathering them in his arms.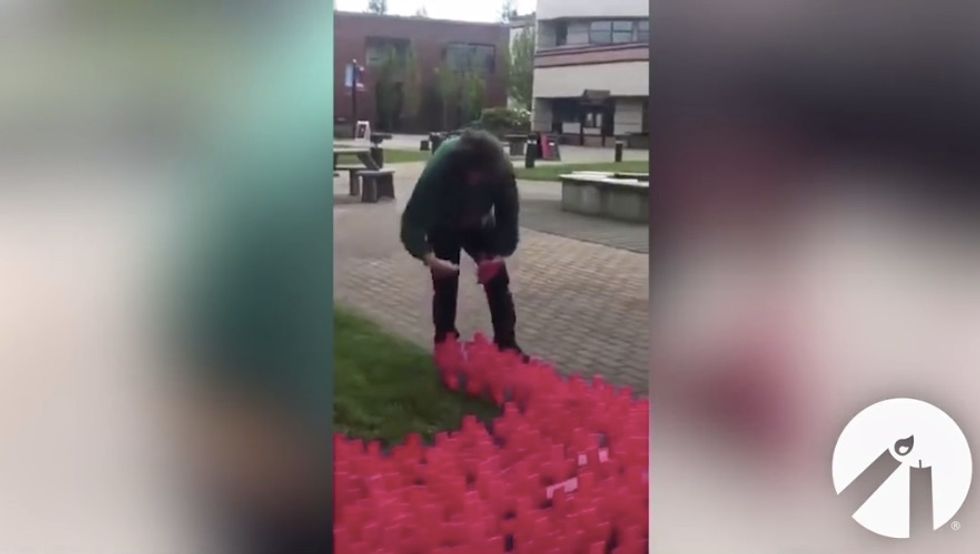 Image source: YouTube screenshot
What happened next?

As has become common with pro-life college students, the Students for Life members confronted the vandal but didn't touch him. They simply told him to stop and that he's stealing private property.
"Why are you doing this?" a pro-life student asks the vandal.
"Because I disagree with the message," he replies.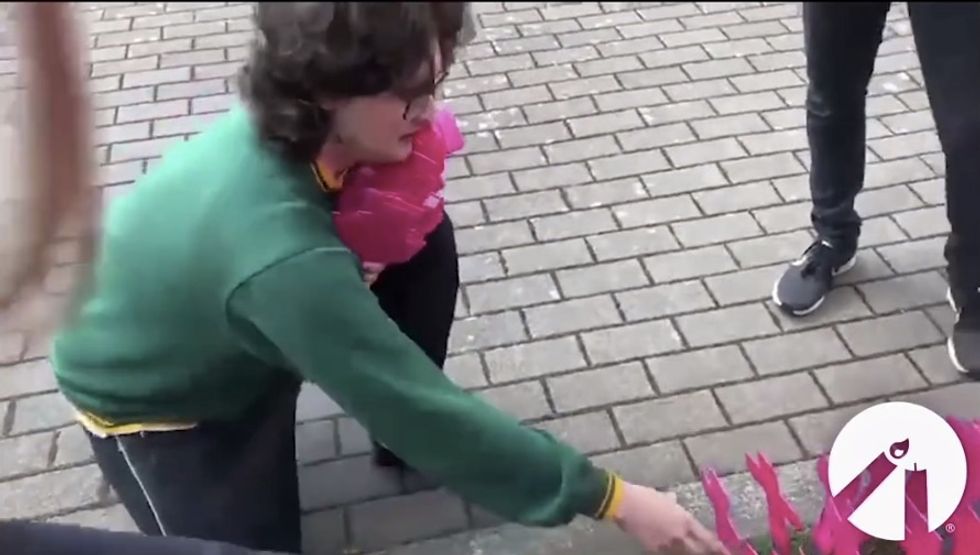 Image source: YouTube screenshot
"So it's better to violently act out rather than to talk about something?" the pro-life student asks.
"Yeah, because pro-life arguments have about as much merit as, like, flat-Earth arguments," he replies.
"Aren't you for free speech, though?" another pro-life student asks the vandal, who simply replies with a groan.
When he's told again he can't steal the crosses, his confidence appears to grow.
"I can't do that? Then what's stopping me right now? How am I still doing this?" the vandal replies mockingly. "This is incredible. I didn't even think I could carry this many."
One pro-life student tries to block further cross stealing by standing in front of the vandal — but to no avail.
"Dude, I've got reach," he says sarcastically. "I'm like Kareem. You're not blocking me."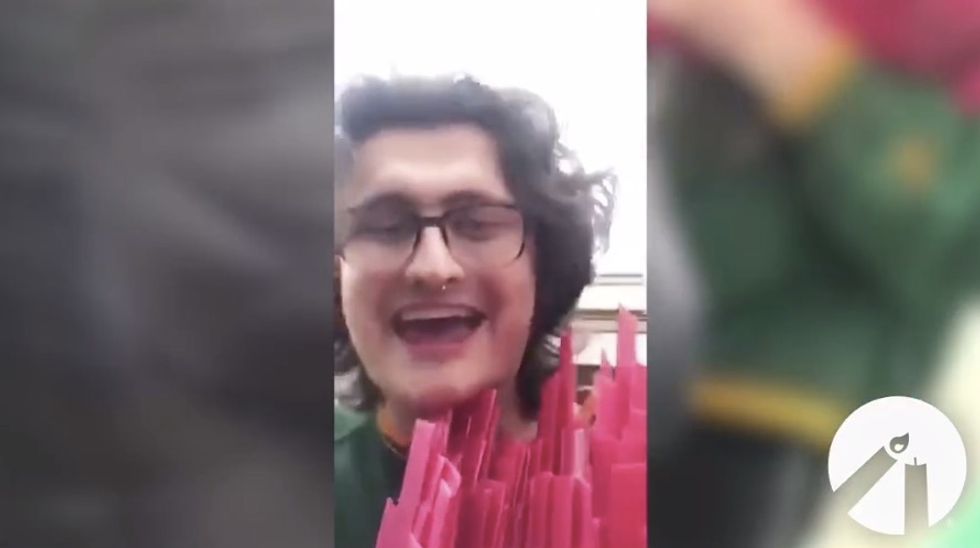 Image source: YouTube screenshot
Oops
But after the vandal gathered a bunch of the crosses in his arms and walked toward a campus building, he was met by an older individual who appeared to be a college staff member — and who told him to turn around and put the crosses back.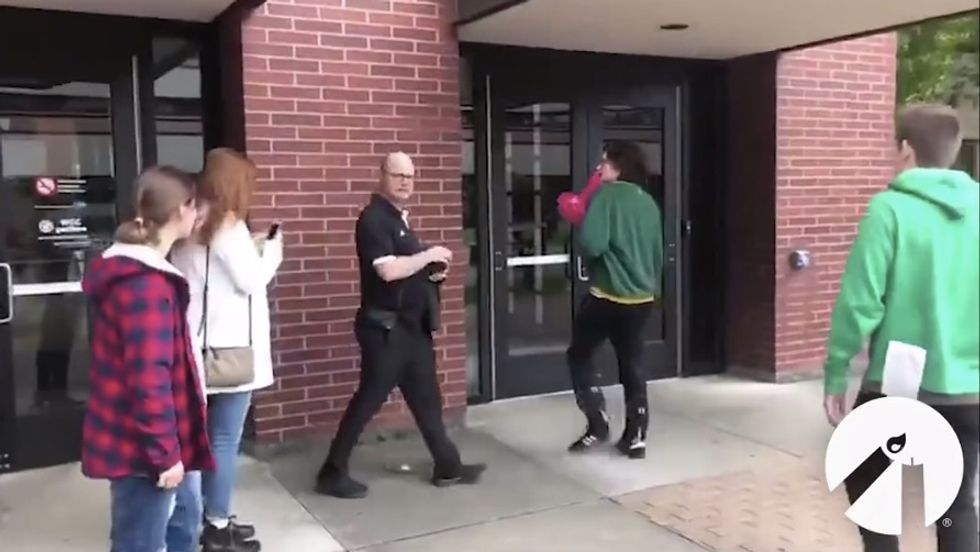 Image source: YouTube screenshot
And wouldn't you know there were no snarky comebacks?
The vandal immediately did an about-face and dropped the crosses on the spot where he pulled them up.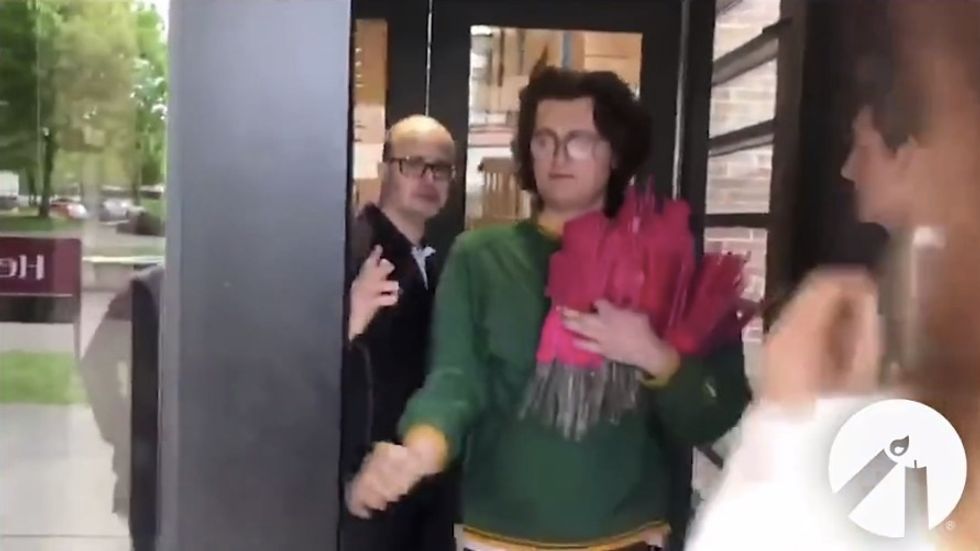 Image source: YouTube screenshot
"Thank you," the authority figure said. "You don't have to agree with them, but you do have to give them the same access everybody else has."
Matt Lamb, communications director for SFLA, told the College Fix in an email that the pro-life students weren't pressing charges since the crosses were returned and the vandal wasn't someone of more influence, such as a professor.
"Even though this type of bullying is getting pretty common, it still takes me off guard that some people have the audacity to steal our stuff right in front of us," SFLA Washington Regional Coordinator Katie Lodjic — who witnessed the act — said. "For all their talk of 'open-mindedness' … they really need to practice what they preach."

Pro-Choice Vandal Caught On Camera At Whatcom Community Collegeyoutu.be