Heavily armed leftists apparently acting as security for a march in Portland earlier this week pointed their guns at a lone motorist and threatened him before the fed-up driver exited his truck and pointed his own gun at them — and then all hell broke loose.
What are the details?
Video showed a large group of leftist militants marching down a Portland street Wednesday reportedly to remember Patrick Kimmons, a black man fatally shot by Portland police in 2018.
But a vehicle apparently leading the group came upon a pickup truck driver who was traveling toward the marchers, and the lead vehicle blocked the driver's path — and in seconds, numerous militants descended upon the pickup truck driver and began threatening him.
Thing is, though, the driver had a gun, too — and the heavily armed militants didn't like that one bit.
"You better f***ing not!" one leftist was heard yelling at the driver. "Put your f***ing gun down!"
The driver, standing behind his truck door, pointed at one particularly well-strapped leftist and twice yelled back, "You got about five seconds to lower that f***ing weapon!"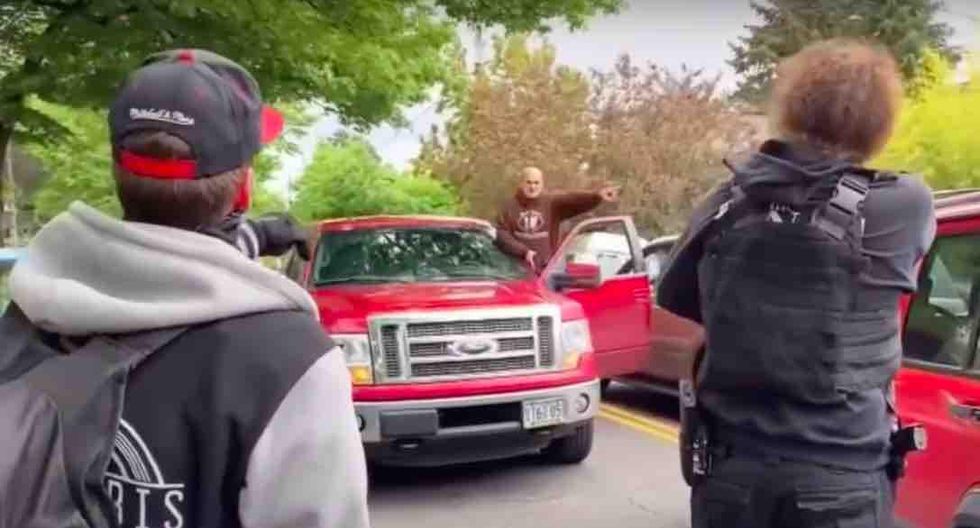 Image source: YouTube screenshot
The lone driver — who faced about a half dozen armed leftists in the standoff — jawed with the hostile group, calling them "c**ksuckers" and "f***in' idiots" and repeatedly ordering them to "shut up."
One leftist told the driver that his "vehicle is a deadly weapon" — which didn't go over too well with the driver who noted all the rifles pointed in his direction.
As the driver got back into this truck and began to move past the militants, one leftist called him a "f***ing Nazi" as others demanded he "get outta here!" Then just before he reached the intersection — apparently after one of the leftists hit or threw something at his truck — the driver stopped, got out, and confronted the group.
The situation grew tense, with many people screaming, and the driver grabbed his gun and moved forward on one of the rifle-wielding leftists —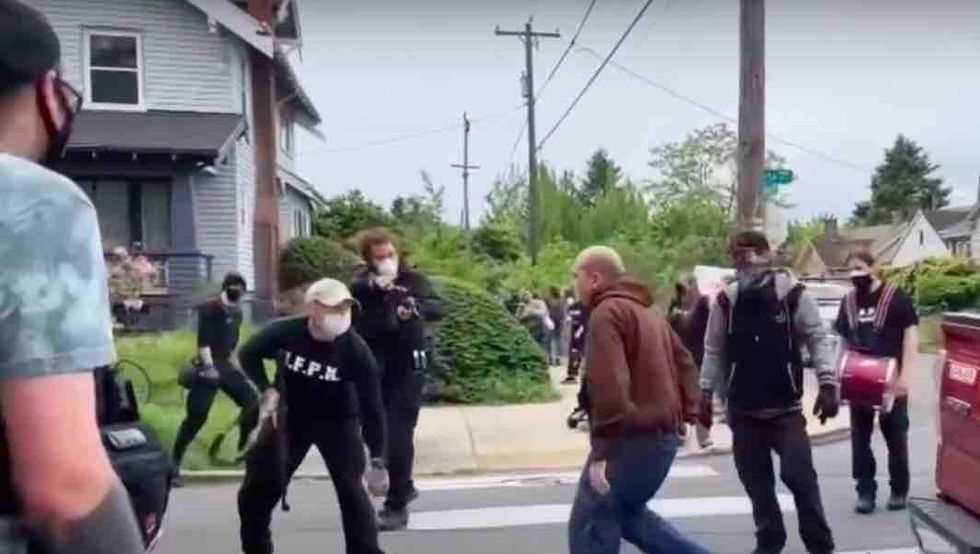 Image source: YouTube screenshot
— who promptly shoved the driver backward.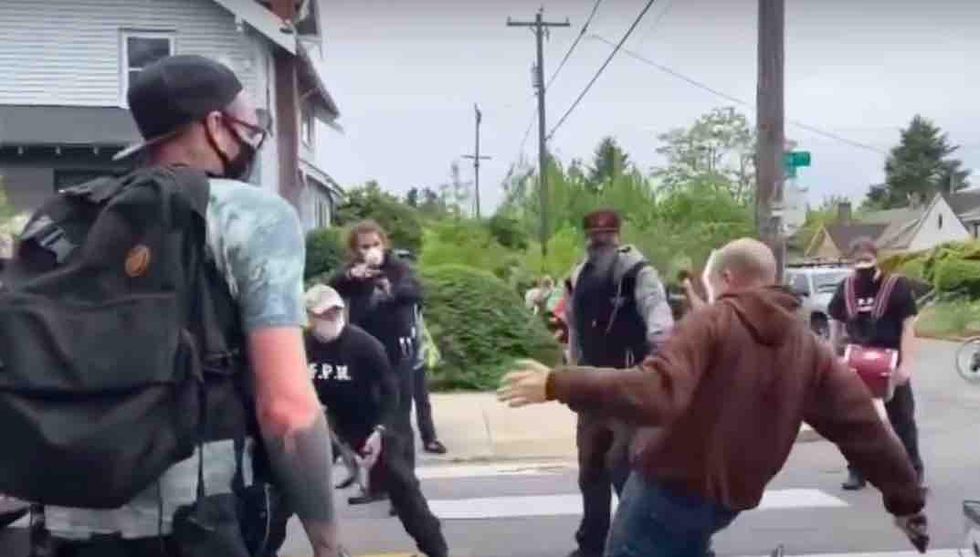 Image source: YouTube screenshot
With that, the driver regained his footing and drew his gun on the group.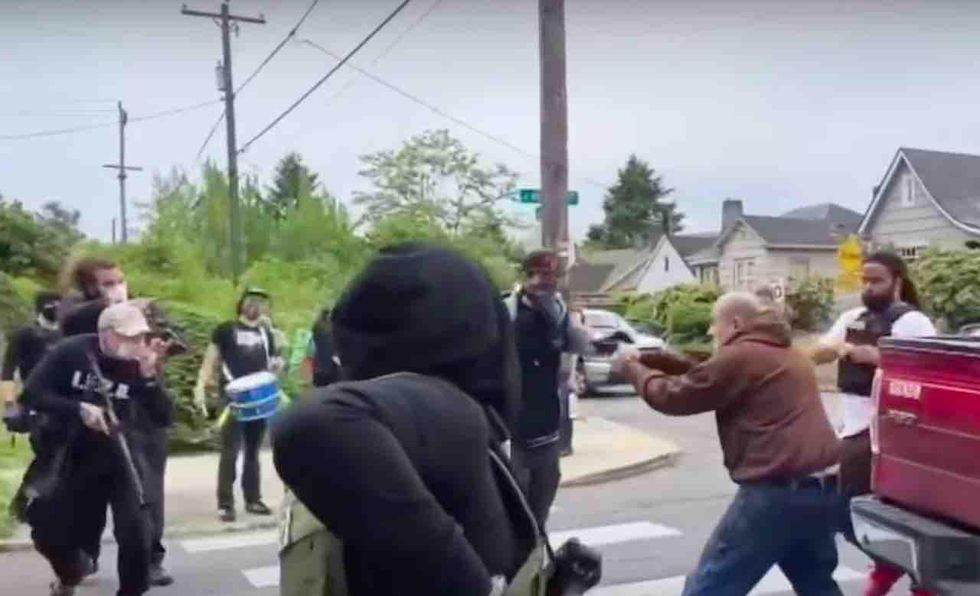 Image source: YouTube screenshot
But he was tackled from behind after which numerous militants piled on him.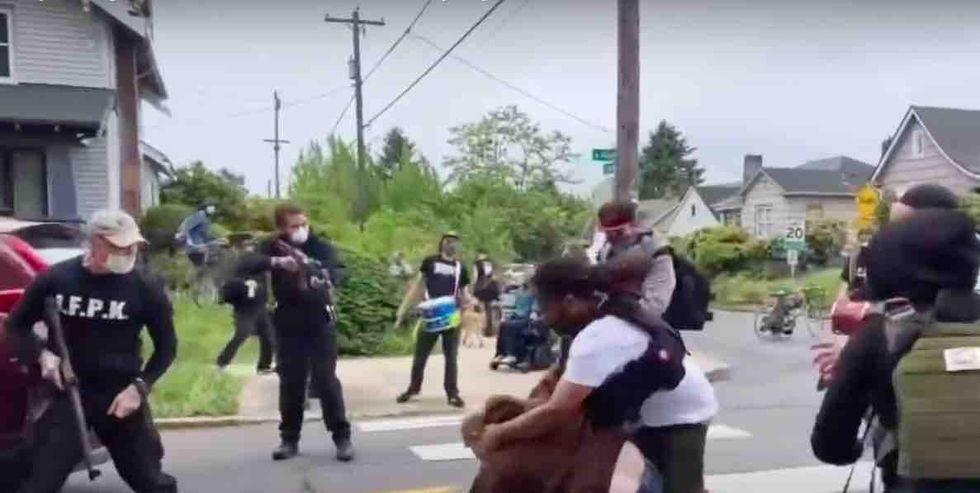 Image source: YouTube screenshot
Soon the driver was requesting an ambulance, asking for his gun back, and telling the leftists that he's a disabled Marine.
Here's the video. (Content warning: Language):
While Oregon is an open-carry state, gun owners cannot do so in Portland unless they are concealed carry license holders and their guns are not loaded.
But wait! There was more fun!
If you thought that was enough left-wing lawlessness for one day, there's video of the same armed group attacking a different vehicle whose driver didn't obey their orders and moved through and past their blockade.
As you can imagine, the militants didn't like that too much — and apparently broke the red SUV's windows and punctured at least two of its tires while managing to get the driver to stop.
"You f***ed with the wrong f***in' people, bro!" one particularly erudite leftist hollered at the motorist.
The militants claimed one of their comrades was hit by the SUV and continued to threaten the driver. Eventually the apparently injured motorist exited the vehicle as one of the militants said on camera they were giving medical aid to him.
Here's the clip of that confrontation. (Content warning: Language):
What did police have to say?
Portland police said they were called Wednesday around noon about a pedestrian struck by a vehicle near North Interstate Avenue and North Killingsworth Street. But police said they found no pedestrians who claimed to have been struck.
Police said they knew the reported incident was related to the march, which they said had moved away into nearby streets by the time they arrived at the scene — and added that the march featured some people "openly carrying firearms."
More from the police:
Additional calls came in from people who had been driving vehicles in the area and who were blocked by the crowd in the street. One person said people in the crowd broke out their vehicle windows, damaged tires, and sprayed them with some kind of irritant near North Interstate Avenue and North Killingsworth Street.

A person in another vehicle blocked by the crowd near North Alberta Street and North Michigan Avenue got into a dispute with people who surrounded him and took a firearm from him, as well as tools and keys.

Portland Police attempted to collect as many statements as possible from those involved. Officers will document as much of the incidents as witnesses share and will attempt to gather available evidence, including video for follow-up on any criminal allegations.

One person was transported by ambulance to the hospital following one of the altercations.