Surveillance video caught the moment an Asian man was punched, fell to the sidewalk, and then was hit with a flurry of about a dozen punches to the head and back, KPIX-TV reported.
And it all went down as the victim's 1-year-old child sat in a stroller just feet away in front of Gus's Community Market in San Francisco on Friday afternoon, the station said.
KPIX said the attack against the 36-year-old father came out of nowhere — and from behind.
⚠️ TW / ASIAN FATHER ATTACKED IN MISSION BAY WHILE WALKING WITH 1-YEAR-OLD IN STROLLER The attack happened Friday… https://t.co/xwnTD0vRFp

— Betty Yu (@Betty Yu) 1620184697.0
San Francisco police told the station that officers were patrolling the area and immediately arrested 26-year-old Sidney Hammond who faces charges of assault, false imprisonment, and child endangerment. KGO-TV reported that Hammond was arrested less than a month earlier after an assault and for stealing at the same location.
Police added to KPIX that Friday's attack appeared to be random, and no words were exchanged.
The victim's child was unharmed, the station said.
A father's worst nightmare: 'I couldn't protect my child'
The victim spoke to KGO in the aftermath and said "my sense of security has been shattered."
Going only by "Bruce," the victim added the station that he was waiting to cross the street with his child when the attack commenced.
"I was right on the ground, and in that exact second I was trying to shield my head and prevent any worse injuries," he told KGO. "I couldn't protect my child. I was on the floor, and he was in a stroller that was slowly rolling away, so it's definitely very scary as a parent."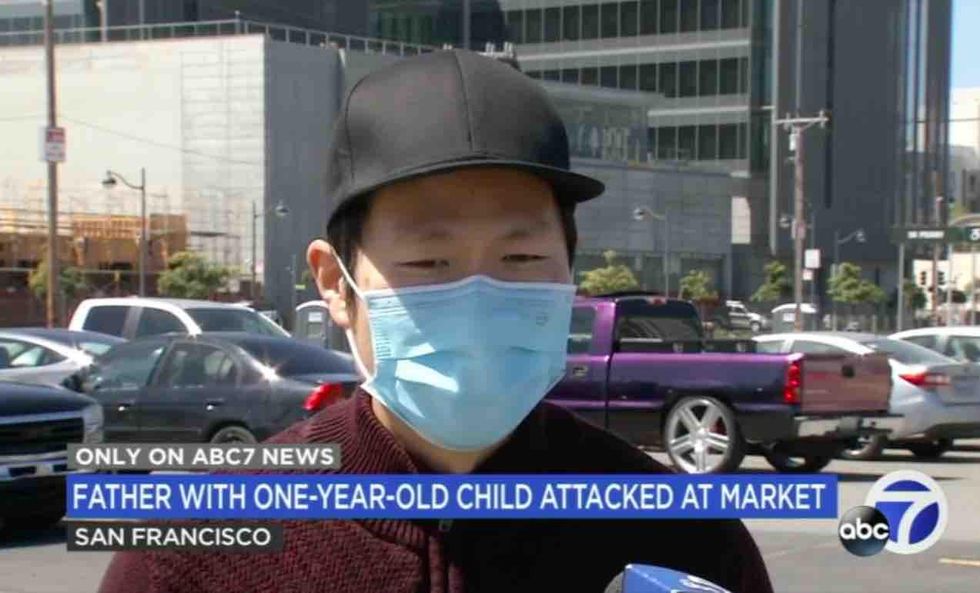 Image source: KGO-TV video screenshot
More from the station:
When asked if he thought the incident was racially motivated, Bruce said the thought did cross his mind, especially given the random nature of the attack and the number of attacks on Asian Americans in the past year.

The incident is shocking to nearby business owners, such as Nani Tsegaye of Tadu Ethiopian restaurant. She says her store location in Mission Bay has actually been broken into and robbed more times than their Tenderloin location, and that dealing with crime is the price of doing business in San Francisco.
"It was a heartbreaking experience," Tsegaye told KGO. "We just expect something to happen now more than we expected before."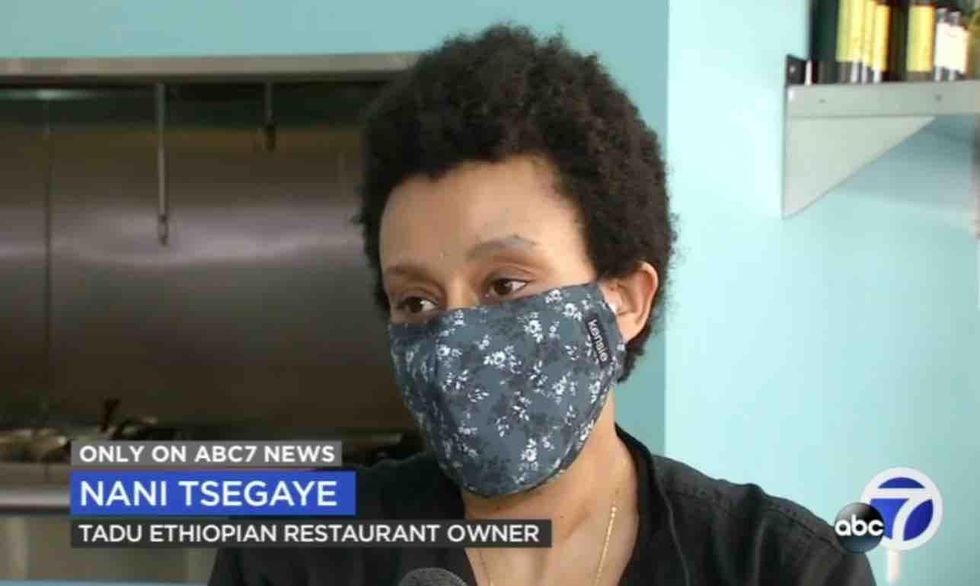 Image source: KGO-TV video screenshot
Anything else?
The victim told the station he was speaking out to raise awareness and that he has a wish for the suspect: "That my attacker can be somewhere where he can't harm anyone else, or if he needs help he can get the help he needs."