And in it she stereotypes Asians.
What are the details?
Her tweet from 2011 tells another individual that "u look asian with those closed eyes!"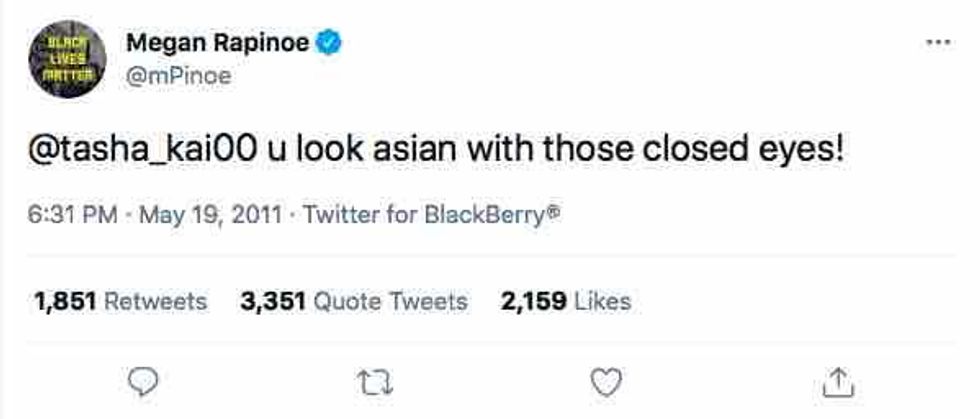 Image source: Twitter
According to the Sports Room, the account Rapinoe tagged in the tweet — @tasha_kai00, which no longer exists — belonged to former professional soccer player Natasha Kai, who the outlet said is of Hawaiian, Chinese, Filipino, and Caucasian heritage.
Now what?
As of late Thursday afternoon, Rapinoe does not appear to have explained the nature of the tweet to her 923,000-plus Twitter followers. And the tweet itself still was active as of 4:30 p.m.
Given that folks far and wide have been canceled into oblivion for uttering such stereotypical statements, one might guess that Rapinoe could have some cleaning up and 'fessing up to do if she is to survive this. But then again, Rapinoe — who came into prominence after kneeling for the national anthem a la Colin Kaepernick — is a powerful woman with untold numbers of fans and admirers, and she might simply choose to ignore the whole thing.
How are folks reacting?
The tweet is newly resurfaced, so reaction is still pretty fresh, but the tweet is picking up steam — and so are the comments about it. Here's a sampling:
Oh, and here's that speech noted previously in which Rapinoe tells her listeners, "We have to be better":
Soccer player Megan Rapinoe urges crowd at NYC celebration to 'do better'youtu.be