Christian Tinsley told KCAL-TV that a group of boys have been bullying her daughter for months, and even after disciplinary action, the bullying has actually worsened.
On Tuesday morning, Tinsley dropped off her daughter at Niguel Hills Middle School in Laguna Niguel, California, and Tinsley told the station her daughter started crying and begged to stay in the car.
"She made a comment to me that if she wasn't as strong as she was, she would have killed herself," Tinsley added to KCAL. "That's when Mama Bear mode went into effect."
'Mama Bear' shows her claws
So that morning Tinsley actually entered a classroom and read the riot act to the male students she believed were responsible for the bullying, the station said — and it was all caught on video.
"If you all bully my daughter, if you look at her the wrong way, if you breathe the wrong way, send your mom to me," Tinsley was seen telling the 8th-grade classroom on a clip apparently recorded by a student, KCAL said. "Sisters, aunts, anybody over 18, I'll f*** 'em all up, do you understand me?
She added, "Y'all think y'all bullies? I'm the big bully, OK? Let that be known and understand that. You leave my daughter alone, and I mean it. And if I have to come up here again I'm causing problems."
The raw video of Tinsley's tirade also shows her remarking to the class that she's prepared to hand out "ass whoopins for free" if anyone bothers her daughter again.

But wait, there's more
To put a lil' exclamation point on her speech, Tinsley left a stack of tickets behind in the classroom that read, "Free Ass Kicking. Must be 18 or older to redeem," a station reporter said.
Look closely at the tickets left in a #classroom by a #mom in Orange County. She went on a rant after she says bull… https://t.co/MSr7GvO43I

— michele gile (@michele gile) 1557961364.0
What happened next?
The classroom teacher contacted the front office for help, the assistant principal soon escorted out the parent — and she's been banned from campus, the station said.
In addition, the Orange County Sheriff's Department has been asked to investigate the case, Principal Tim Reece told KCAL.
It's unclear how exactly the mom got on campus, but Reece noted to the station that visitors are required to sign in at the front office.
What did the mother in question have to say?
KCAL tracked down Tinsley, and she told the station that while she doesn't believe she handled the situation correctly, she didn't appear to show any regret, either.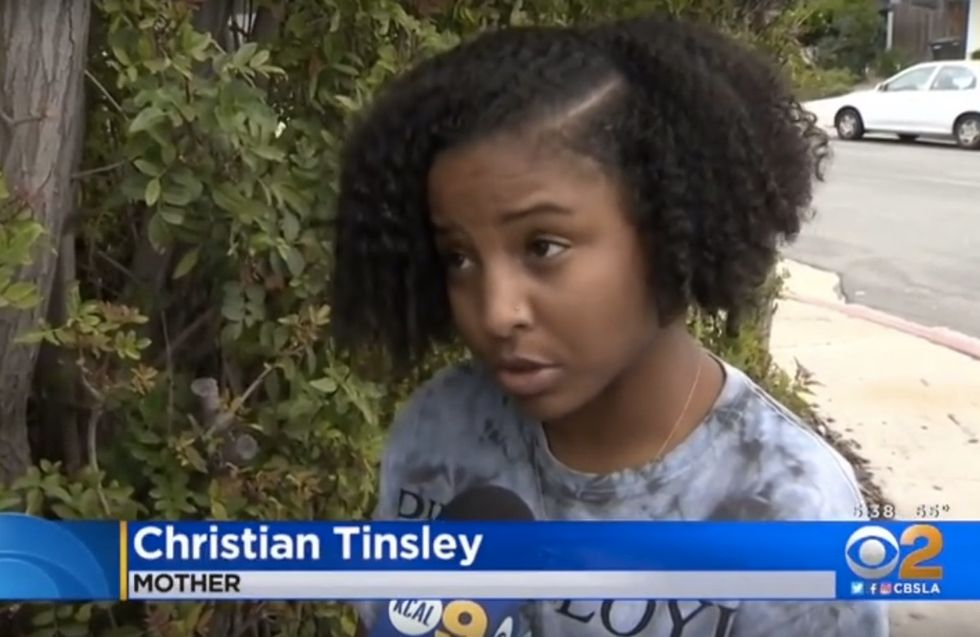 Image source: YouTube screenshot
"I do think that sometimes when you've done everything you can do the way you're supposed to do it, and it hasn't been resolved, then sometimes as a parent, as a mother, as someone above the age of 18, you have to decide if you're willing to go a step further and deal with any consequences," Tinsley told KCBS.