Students for Life at the University of Michigan said the group set up a Cemetery of the Innocents on campus Friday with the school's permission to memorialize lives lost to abortion — but the 1,000 mini pink crosses placed in the grass attracted the ire of those opposed to the pro-life cause.
Throughout the day individuals continually pulled the crosses from the grass and placed them in trash bags, the group said. In the afternoon, Kaylena Wiederhold, Michigan Regional Coordinator of Students for Life, confronted the individuals — and one exchange was caught on camera.
What went down?

One woman sporting a black jacket, dark sunglasses, and pinkish hair — hey, it kinda matched the color of the crosses, at least — was asked why she was pulling up the memorials.
"Because we disagree with it," she replied.
When asked why she was taking the Students for Life property, she answered, "This is your property? You paid for this?"
Not only that, but the group had a permit — and then she continued with more silliness: "Just because you have a permit doesn't mean this property is yours."
Fortunately, uniformed officers approached the scene, and our oh-so-woke hipster told them "we were just cleaning up this garbage on this school campus, but we realize that apparently this is somebody's property, and you're telling us to leave it, I'm assuming?"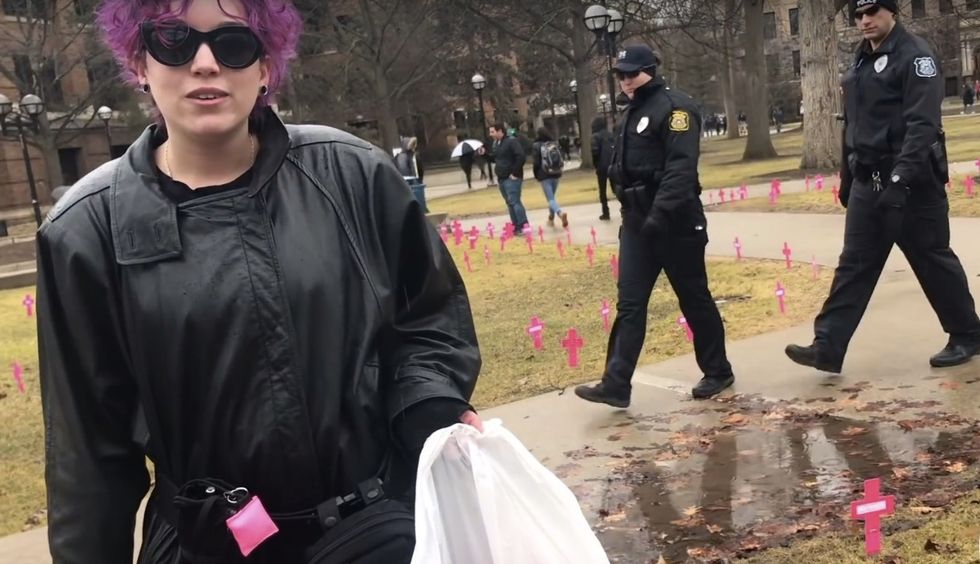 Image source: YouTube screenshot
Correct, the cops said.
You'd think at that point she might exude a hint of humility or embarrassment, but alas, no. When asked to put the crosses back where she found them, the woman instead turned her garbage bag over and dumped the crosses on the ground.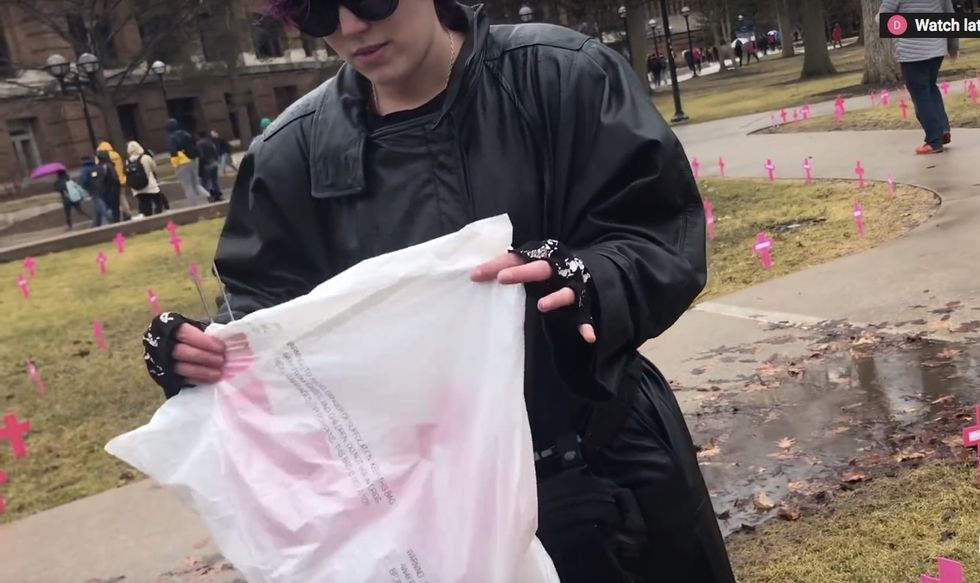 Image source: YouTube screenshot
"I'm not really sure the way I found them, to be honest; you guys laid them out," she said before turning and apparently walking away.
So sassy.